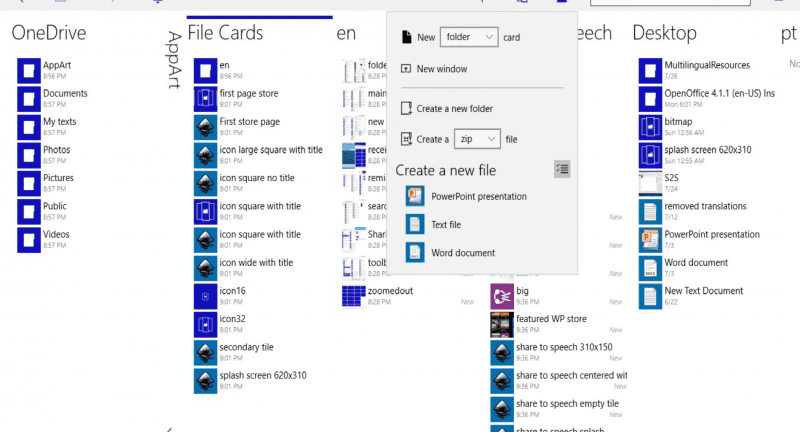 While Windows 10 mobile does have the File Explorer universal app as it's official, built in file manager app, some users may want some more advanced features.
File Cards, an app from the developer of Share to speech that was previously limited to Windows 8 has just been recompiled and launched for Windows 10 with support for Windows mobile.
Here's what the app offers over traditional file managers in the developer's own words (mildly edited)
With File Cards you will be able to see all your important folders as the cards in the one view and easily navigate to the new ones. It will help you to stay organized, productive and more tidy.
Add any file to the new items panel as a template and use it to create new files in the cards.
Looking for that excel file and you know that it is in one card, just have hard time to find which one? Now it is easy, just apply the item type filter across the cards and you will easily see just those cards that have excel files.
You know that file is in some subfolder, but don't know which one? Now just one click makes that folder flat showing the contents of all subfolders.
 File cards is a great app to receive and save any content. Save shared texts and images as a new file in some of the cards that represent your folders, or move or copy shared files and folders into them.
Keyboard shortcuts implemented, works great for both touch and mouse!
If you have dozens of folders, it might be hard to scroll to the right one. But there is the Zoomed out view for that.
I've given the app a bit of a run through and I can confirm it's actually pretty nice to use. It's unique in terms of how file managers generally work in that it is not just a file viewer, but a the equivalent of a "start screen" for folders.
Whether you'd like it or not, will depend a lot on what you need from file managers and how you use them.
The app costs £3.89 with a 7 day free trial so you can give it  try and see how it works with your workflow.