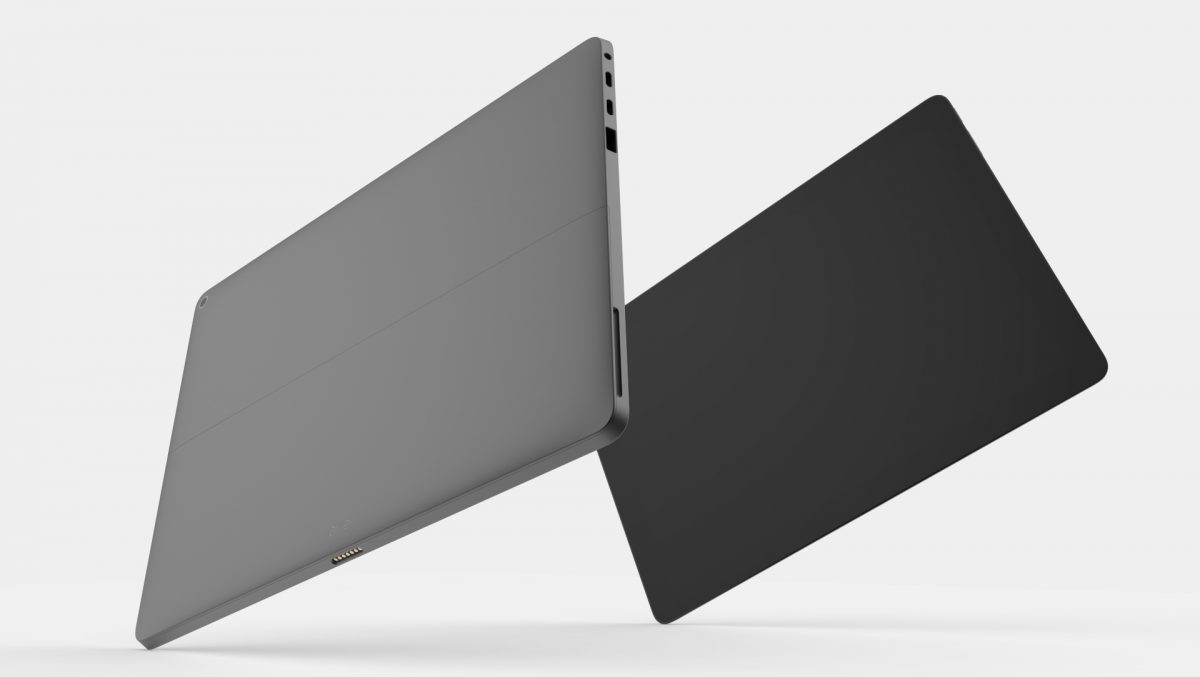 Eve held an AMA a few hours ago on their upcoming Eve V Surface-like hybrid PC. Their process is different from the usual OEM by being largely led by the demands of potential buyers, who have a large input in the design and features of the tablet.
Eve co-founder and CEO Konstantinos Karatsevidis and Microsoft digital transformation lead Vesku Paananen answered a variety of questions.
The Eve CEO revealed the most information, saying for example that their tablet will support the Surface pen, and if possible will support the Surface Dial. Their wireless keyboard will also feature a precision touch pad like the Surface tablets.  Unfortunately the actual Surface keyboard will not be compatible as the pins are proprietary.
The wireless keyboard will be supplied with each unit, but different layouts may cost a small fee.  Whether the pen will be included or sold for a small fee is still being decided.
In addition they are planning on working for Mozo for accessories, and plan on selling the tablet for about 18-24 months, with support for 2-3 more years after.
They are also working on a docking station, and are exploring an external GPU for better gaming support.
The device will ship with zero bloatware and will be sold for the lowest price which is still profitable.
At present the device is in the electronics lay-out stage for testing and debugging, and Microsoft is assisting with this stage, in particularly making sure Windows run well on the hardware.
They said Eve will almost certainly make a phone in the future, but they are not sure what OS yet. An x86-based phone running full Windows would require a new processor, with Eve saying:
I would definitely see more opportunities if an x86 (full windows with phone mode) phone was possible. IMO that would require a CPU that is possible, but not yet in mass production. Of course I can't disclose any details on rumors.
Here's the full spec sheet of the device revealed so far:
Display: 12-12.5″ IPS LCD, 2160x1440p or better
Processor: Intel 7th-gen "Kaby Lake" CPUs
Graphics: Intel HD
RAM: LPDDR3, 8 GB or 16GB
Storage: 128 GB, 256 GB, or 512GB SSD
Battery: 10 hours or better
Wireless: WiFi ac 2×2, WiDi or Miracast wireless streaming, Bluetooth 4.0, GPS
Camera: Front: 720p HD autofocus or better
Audio: Stereo speakers or better
Sensors: Luminosity, Magnetometer, Gyroscope, Hall Effect, NFC
Ports and connections: 1xUSB 3.1 gen 2 Type A, 1xUSB 2.0 Type A, 1xUSB 3.1 gen 2 Type C, 1xThunderbolt 3, 1×3.5 mm audio, MicroSDXC
OS: Windows 10
The device is expected to hit Indiegogo in November and should be  priced somewhere around $900 (excluding tax) — but the company  has previously noted that the final price might be slightly lower.