| Sponsored |
"How to remove management from the iPhone? Due to specific restrictions, I cannot manage my iOS device properly. What is the quickest and non-technical solution available?"
So, you are using a company-issued iPhone with MDM lock enabled and now wish to remove the remote management. The process might sound a bit technical, but it really isn't, especially if you know the correct solutions.
It is where our thorough guide will help you. We'll explore what remove management is and the quickest solutions to remove it on your iPhone or iPad.
What is Remote Management on an iPhone/iPad?
Apple is well-known for providing state-of-the-art security for its products. In addition, iOS devices include features designed to enhance users' efficiency in completing daily tasks.
Remote management is a built-in feature that enables organizations, businesses, or schools to remotely control iPhones or iPads issued to employees and students. With it, they can manage apps and limit device content consumption.
By creating a Mobile Device Management (MDM) profile, businesses can limit or restrict iPhone usage and manage data, such as erasing it in emergencies like hacking incidents.
The next section will explore solutions to remove remote management from the iPhone or iPad.
Ask the Admin
Let's start with a simple solution.
If you feel your iPhone is being monitored, visit your company's administrator, and ask them to remove the restrictions.
You might have to answer a few queries on why you wish to remove remote management from the phone, but the process is as easy as they come!
However, if the administrator refuses or you have trouble contacting them, check out the best method to remove this restriction yourself.
Remove Remote Management From iPhone without a Password Using Unlockit iPhone.
What if you have to perform an urgent task on your iPhone that requires removing remote management, and you cannot reach the company or school administrator?
In that case, you should remove it yourself. We know that the process sounds a bit time-consuming and technical.
However, with software like Foneazy Unlockit iPhone screen unlocker, you can bypass this restriction without jailbreaking the device or performing similar drastic measures.
Unlockit bypasses the iPhone's MDM lock without entering the profile username and password.
Other than this, the software offers the following features:
Unlock iPhone Screen Passcode
Remove the Apple ID and iTunes Backup Encryption
Remove the Screen Time Passcode
This program is compatible with all the latest iOS versions, and you can download it on a standard Mac or Windows PC.
Once downloaded, apply the following steps to remove remote management from the iOS device:
Step 1: Launch the Software
Run Unlockit on your computer!
On the Home Screen, click the Bypass MDM Lock mode.
Step 2: Connect the iPhone/iPad
Next, connect the locked iPhone to the desktop via a USB or lightning cable.
Step 3: Remove Remote Management
After your device is connected, click Start. Unlockit will notify you of the successful removal of remote management. Click Done, unplug the iPhone, and verify the changes.
Here is a video tutorial for removing MDM profile in just one click.
Remove Remote Management from iPad or iPhone via Settings
As long as you know the Apple credentials of the MDM-locked iPhone or iPad, you can easily remove it from the Settings menu.
The steps are as follows:
Go to the iPhone Settings, and tap General.
Select VPN & Device Management.
Tap the Device Management Profile option.
On the bottom of the screen, select Remove Management.
Enter the password.
That's it!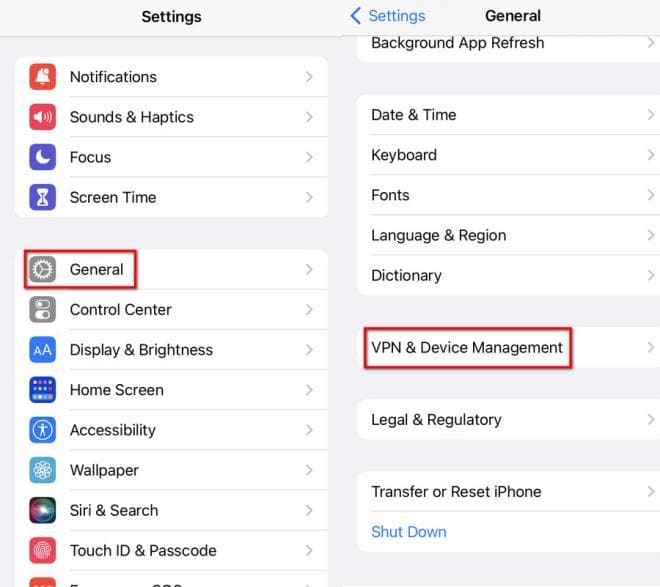 FAQs
Follow this FAQ section for valuable tips and solutions to manage the MDM lock on your iOS device.
1. Will jailbreaking an iPhone remove MDM?
The whole concept of jailbreak allows users unrestricted access to their iPhones or iPads. It lets you remove the MDM lock, but it may come at the cost of compromising security.
2. How can I remove MDM from my iPhone without a password for free?
The quickest way is by entering a password to remove the MDM from the device via Settings. You can also contact the administrator who set up remote management on the iPhone.
However, for a hassle-free solution, choose Unlockit iPhone!
3. Will I Lose Previous Data If I Remove MDM?
No!
As long as you know the credentials of the Remote management lock and use solutions like Unlockit or iPhone Settings to remove MDM, your data is safe!
The issue only occurs if you are required to reset the device if the solutions mentioned in this article do not work(which is a rarity).
To Conclude
We have shared three efficient methods to remove remote management from the iPhone. It is up to you to decide which solution is better suited to your requirements.
However, if you do not know the Apple ID credentials and can not contact the admin(for any reason), we recommend Unlockit iPhone.
This software can remove the MDM lock virtually without asking for prerequisites.
So, what are you waiting for? Try this solution today!