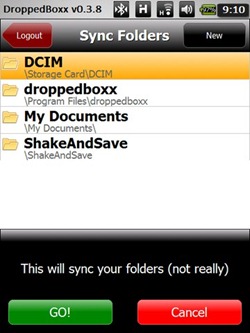 You wait a whole day for a bus to arrive, then 3 come along at the same time. Such also seems to be the case with Dropbox, which has recently received its first Windows Mobile client, and has not just been blessed with a second, this time a free effort by d1k_is from XDA-Developers.com.
While not as polished as Cloudfiles, this app has many interesting features, such as allowing one to take a picture and then automatically upload it to your Dropbox.
The full list of features (current and future) are below.
Features (Currently)
Login (of course)
Browse Dropbox files and folders
Download Files
Download then email
Upload files
Take photo and upload
Delete Dropbox Files
Features (Future)
Copy/move files around dropbox
Sync Folders
Record audio and upload
Create new Folder
Display account usage
Track application (self) usage
Read more in this XDA-Developers thread, and download the cab directly from here.
Via Pocketnow.com