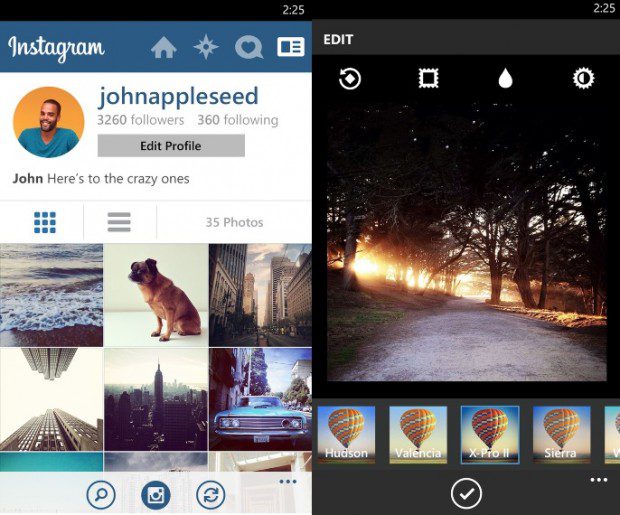 Yes, Instagram beta app is now available for download from Windows Phone Store. This is just the first release of the app, so don't expect all the features on other platforms in this app. The app offers all basic Instagram functionalities except video upload. You have explore, feeds, and profiles options along with all Instagram filters. There are few other things that are missing from this app such as tagging photos with people, geotagging, and in-app camera for photo capture.This app is being developed by Instagram team at Facebook, so expect updates often. Instagram commented the following on the app launch,
We wanted to make Instagram available to people with Windows Phones as quickly as possible, so we focused on creating an awesome experience with Instagram's core features. We're not finished, and our team will continue developing the Windows Phone app to keep releasing features and bringing you the best Instagram possible.
App Description:
Over 150 million users love Instagram! It's a simple way to capture and share the world's moments on your Windows Phone.
Customize your photos with one of several gorgeous and custom built filter effects. Transform everyday moments into works of art you'll want to share with friends and family.

Share your photos in a simple photo stream with friends to see – and follow your friends' photos with the click of a single button. Every day you open up Instagram, you'll see new photos from your closest friends, and creative people from around the world.

Features:
• 100% free custom designed filters: XPro-II, Earlybird, Rise, Amaro, Hudson, Lo-fi, Sutro, Toaster, Brannan, Inkwell, Walden, Hefe, Nashville, 1977, and others.
• Linear and Radial Tilt-Shift blur effects for extra depth of field.
• Instant sharing to Facebook, Twitter, Flickr, Tumblr and Foursquare
• Unlimited uploads
• Interact with friends through giving & receiving likes and comments
• And much much more…
Download the app here from Windows Phone Store for free.