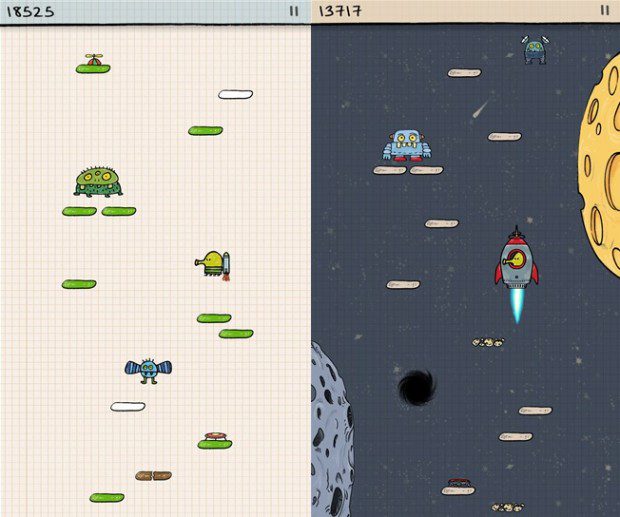 Doodle Jump, one of the most popular mobile games is now available for Windows Phone 8 devices. Even though the app was available long back for Windows Phone 7 devices, its developers took a long time to publish it for WP8 devices. This WP8 version does not have Xbox LIVE integration, so you won't be able to earn any achievements.
How high can you jump?
Journey up a sheet of graph paper, perpetually jumping from one platform to the next, picking up jet packs, avoiding black holes, and blasting baddies with nose balls along the way. Laugh with delight as you blow past other players' actual score markers scribbled in the margins. And be warned: this game is insanely addictive!

Features:
– Many fantastical worlds to play in – Space, Jungle, Soccer, Underwater, Snow, Halloween, Ice, Easter, and now NINJA!!
– Awesome power-ups to pick-up (JET PACKs, PROPELLER HATS, ROCKETS, trampolines…)
– Trippy obstacles to avoid (UFOs, black holes, and many, many monstrous monsters)
– Mad platforms to jump on (Broken, moving, disappearing, shifting, EXPLODING…)
– Global leaderboards, fun achievements! Beat your friends' scores!
The game still remains addictive as ever and you can download it for $0.99 from Windows Phone Store here.