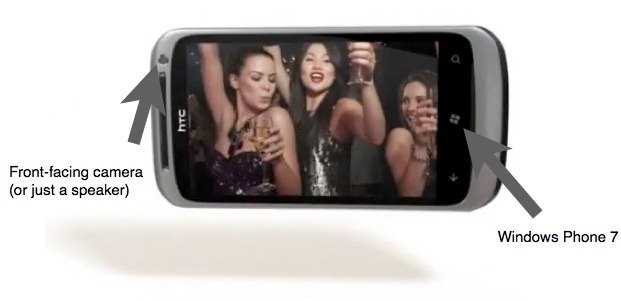 PopHerald.com has noted that the HTC device leaked by Pocketnow yesterday with a rumoured 16 Megapixel camera also features a front-facing camera.  Connecting some dots, they also note that while Microsoft has not announced anything about this feature, they did say Skype, which supports video calls on the iPhone and Android, will also be coming to Windows Phone 7 in a few months.
Of course there is a more pedestrian explanation for the camera – the base device for the image is the Android HTC Desire S, which does of course have a front-facing camera, but then whoever created the image did bother to remove the Android buttons, and could as easily have removed the camera also.
Do our readers think there is a chance near-term Windows Phone 7 handsets will have front-facing cameras? Let us know below.