Some things are just better off not said.
Recently, a user on Twitter, Patrick Burtchaell, found a new email that had been sent to his roommate from a Microsoft recruiter. The message started off by inviting its "bae interns" to attend Internapalooza, held in San Francisco, and to "get lit," hang out, and party at the event. The event is to be held on July 11, where other partners like Google and Snapchat will be attending.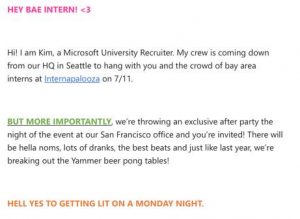 Following this interesting attempt from Microsoft to communicate a hip message, a spokesperson from the company issued a response, stating:
The email was poorly worded and not in keeping with our values as a company. We are looking into how this occurred and will take appropriate steps to address it.
Well, then.
How would you have reacted to this email? Hit us up in the comments.