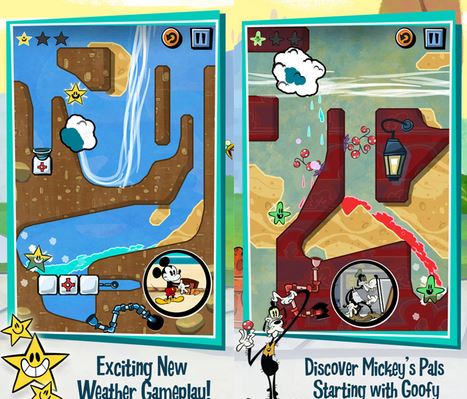 Disney Mobile Games is releasing a new game title called Where's My Mickey? for Windows Phone devices tomorrow. Disney already has Where's My Water? and Where's My Perry? in Windows Phone Store and they are releasing their latest game Where's My Mickey? at the same time as iOS and Android counterparts. This game will cost $0.99 in Windows Phone Store and $4.99 in Windows tablets and PCs.
Here is the game description about this game from Polygon ,
The levels look and feel like interactive cartoons, with short scenes playing out between each of the five episodes' 20 stages. Scenarios include needing water to make lemonade, growing flowers and putting out a rapidly-spreading fire. Unlockable bonus levels are hidden throughout the game, and tablet users have access to 20 bonus "XL" levels designed for larger screens. All versions also include two extra levels starring Goofy.

Where's My Mickey? introduces new weather mechanics for wind, clouds and plants to the series — these systems help players transport water down through each level. A new liquid is also introduced in the title: a red soda-pop-like substance called "fizz" that tastes good to Mickey and friends but will disintegrate plants and some other objects on contact. The game will also include a collectibles feature. Collectibles can be found throughout levels, hidden in dirt and other debris.
You can download it from Windows Phone Store here tomorrow.
via: Windowsphonetaly