Microsoft announced yesterday a set of changes to its enforcement of Windows store guidelines. As Microsoft moves the Windows store to its one stop shop for media and apps, cleaning up the store from junkware and spam is now a priority for the company. This reinforced guidelines are explained on Microsoft's own blog here, but the main idea of the exercise is summarized in the opening paragraph:
As of today, we are enforcing a more robust approach to 10.1 app certification policy ("Distinct Function & Value; Accurate Representation") for both new and existing apps to ensure customers can easily find high-value, high-quality apps when shopping in Windows Store. These changes will help customers more rapidly find the apps they are specifically seeking. We will identify apps that are not following the policies, informing developers of issues we locate, and removing apps that don't comply. This effort will be focused in four areas that I will describe in more detail in this post:

Eliminating app clutter
Ensuring apps are appropriately priced
Distinguishing informational apps
Ensuring relevant app titles and keywords
That's all well and good and as people who have written several articles on the quality of the app store, this change is welcomed by us. However, in times like this, while Microsoft always almost removes small time apps which violate their terms,  immunity is granted to apps which have a large mainstream following. Sometimes unduly. Readers will have a list of apps which clearly have no reason to still be in the store. To start off this discussion, I'll focus on three mainstream apps in the Windows Phone store which (to me), fall afoul of Microsoft's guidelines.
Tumblr – Tumblr is one of the major apps for content creation on all platforms and today maintains a superfluous presence on the Windows Phone store. The app was released in 2013 and last received an update in the same year. To make this worse, the app has a bug that makes it increase in size the more you use it. In fact, I have often run out of storage space on my phone after 5 minutes of browsing Tumblr. Not posting, not uploading gifs, just browsing.
Your app must not jeopardize or compromise user security, or the security or functionality of the Windows or Windows Phone device(s), system or related systems and must not have the potential to cause harm to users or any other person.
Its clear that use of the Tumblr can impair the ability of a less savvy user (one who may not check storage sense), to make use of their device. When Windows Phones fill up with space, it becomes near impossible for apps to run. Users who have those as their main computing devices (children, people in third world countries) may have no way of understanding what they did wrong as they would not even be able to check the browser. This is in clear violation of the above rule and were this a more careful developer, it would have been fixed.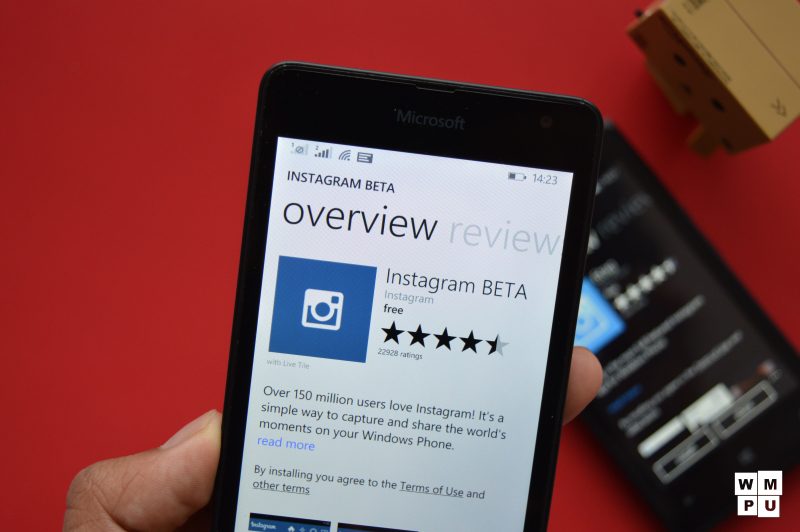 Instagram Beta – Instagram is a contentious matter for Windows Phone users. On the one hand we have the fully functional third party app 6tag for those who would like to actually use Instagram. On the other hand, we have the all but discontinued Instagram Beta app which has not received an update in year and is not acknowledged by the firm at all. Don't believe us? Check Instagram's history page here, you would be forgiven for thinking they haven't launched a Windows Phone app yet.
Your app must be fully functional and offer customers unique, creative value or utility.
Instagram Beta  falls far from being a fully functional app due to its Beta status. It existed in the store under the understanding that it would be updated till it reached feature parity. Yet here we are, two years later, still Beta.
We wanted to make Instagram available to people with Windows Phones as quickly as possible, so we focused on creating an awesome experience with Instagram's core features. We're not finished, and our team will continue developing the Windows Phone app to keep releasing features and bringing you the best Instagram possible.
As it stands now, Instagram's own Instagram app offers customers nothing that a multitude of third party apps on Windows Phone don't already offer. It does nothing particularly good on its own, and well exists just as a reminder of Instagram's symbolic presence on Windows Phone.
YouTube – There is no YouTube app for Windows Phone. The "app" developed by Microsoft is nothing more than a web shortcut to the YouTube mobile site. Its not even a web wrapper, it is strictly speaking, just a tile that links to the website. I shouldn't even need to cite developer guidelines here. The only question that needs be asked here is "Were this another developer, would Microsoft allow their app in the store?".
The screenshots, app name, developer name, tile, category and app description, and any other related metadata you provide with your app, should make it easy for a user to understand the functions, features, and any important limitations of your app.
Ultimately this is just a thought exercise. In reality,  there is one law for the famous and one for the not so famous. Were these apps by lesser developers, there is no doubt that Microsoft would not even allow them to pass go. On the flipside, it is quite shameful that large companies do not consider keeping their services at parity or at near parity on all platforms. The fact that the first-party Instagram beta is the worst Instagram app on the Windows platform  everywhere speaks volumes in itself. I understand that more leeway is given to large companies as they tend to be more visible, but the term "taking liberty for license" comes to mind here. Sound off in the comments below. If the rules were applied equally which "mainstream" "popular" apps would bite the dust. LinkedIn? Google? Let us know in the comments below.