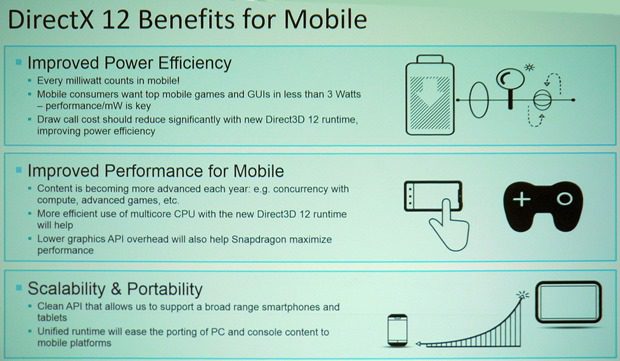 Microsoft today announced DirectX 12 for the desktop, and also for tablets and smartphones.
For the desktop it provides a lower level of hardware abstraction, allowing games to significantly improve multithread scaling and CPU utilization.  It will also offer reduced GPU overhead via features such as descriptor tables and concise pipeline state objects and a set of new rendering pipeline features that will dramatically improve the efficiency of algorithms such as order-independent transparency, collision detection, and geometry culling.
On mobile however it will offer improved power efficiency, more efficient use of multi-core processors and lower graphics API overhead which will help Snapdragon maximise performance.
The API will also offer a unified runtime which will ease the porting of PC and console content to mobile platforms.
DirectX 12 is only coming to the desktop in Holidays 2015, so now is not the time to start holding our breath, but when it comes it will hopefully bring with it a plethora of desktop quality games to our phones.
Via Twitter.com