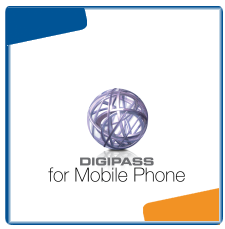 Press Release: VASCO Data Security Inc. (www.vasco.com), a leading software security company specializing in authentication products, today announced that DIGIPASS® for Mobile now is available to Windows Mobile users. Both DIGIPASS for Mobile and DIGIPASS® for Mobile Enterprise Security Edition support Windows Mobile, facilitating the deployment of authentication using the mobile phone for online banking and the use in corporate environments.
DIGIPASS for Mobile is VASCO's authentication solution which leverages Internet enabled mobile telephones for authentication purposes. DIGIPASS for Mobile can be used for two factor authentication and digital signature for m-banking, e-banking and e-commerce. It can also be used for authentication purposes in corporate environments: gaining secure remote access to corporate networks and business applications. With DIGIPASS for Mobile now available for Windows Mobile, VASCO covers a vast majority of all mobile platforms commonly used. The availability of DIGIPASS for Mobile for Windows Mobile facilitates the deployment of authentication especially in corporate environments. In the enterprise environment, Windows Mobile enabled mobile phones are extensively used by staff, which makes the mobile phone extremely suited for secure remote logon to the corporate network and the business applications.
DIGIPASS for Mobile can rapidly be deployed through download or for corporate deployments the USB connection can be used by IT staff to efficiently port the authentication application directly onto the mobile phone. For service providers and mobile application developers wanting to integrate authentication functionality directly into their application, VASCO also has a software development kit (DIGIPASS® API). With DIGIPASS API, One-Time Password (OTP) and digital signature functionality is integrated into the application without having to change the existing user experience or the back-end infrastructure. DIGIPASS for Mobile uses 3DES and AES and respects ANSI X4.13 specifications, widely used in the banking community. DIGIPASS for Mobile uses proven VASCO VACMAN® authentication technology and supports more than 400 types of mobile phones.
"Mobile phone users are increasingly embracing mobile services. As a result the mobile platform is becoming more and more attractive to hackers. Traditional Internet fraud schemes are moving towards the mobile environment. With DIGIPASS for Mobile companies offering their services online or mobile site service providers can enhance security of their online service channels through the authentication of their users and by digitally signing transactions. With DIGIPASS for Mobile becoming available to Windows Mobile users, we are convinced that the corporation will increasingly embrace the use of authentication," says Jan Valcke, President and COO at VASCO Data Security.
A demo of DIGIPASS for Mobile is available on: http://dp4mobile.demo.VASCO.com