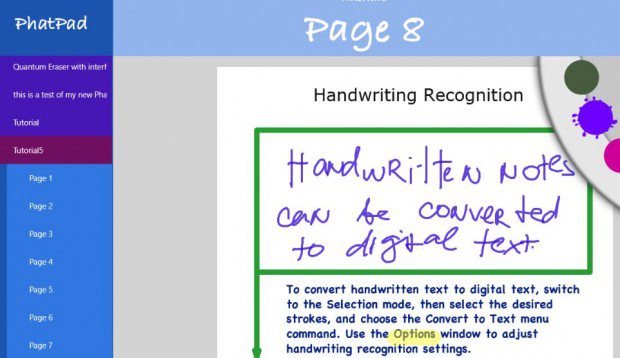 Long time Windows Mobile users will well recall Phatware and Phatpad, the company who specialized in handwriting recognition on Windows Mobile, and who's technology was behind the build-in functionally in the OS.
Of course neither handwriting recognition or Phatware made the jump to Windows Phone.  This is about to change however, as  PhatWare Corporation today announces the availability of the new version of WritePad handwriting recognition Software Development Kit (SDK) for Microsoft Windows 8/RT and Windows Phone 8.
WritePad SDK for Windows and Windows Phone enables handwriting-based text input which automatically converts to text in third-party applications on Windows-based devices.  This would be ideal for developers who want to make stylus-based apps specifically to use on the new large phablets set to be released soon on Windows Phone.
WritePad SDK Features:
Recognizes natural handwritten text in a variety of handwriting styles: cursive (script), PRINT and MIXed.
Recognizes dictionary words from its main or user-defined dictionary, as well as non-dictionary words, such as names, numbers and mixed alphanumeric combinations.
Provides automatic segmentation of handwritten text into words and automatically differentiates between vocabulary and non-vocabulary words, and between words and arbitrary alphanumeric strings.
Does not require a user to train the software and allows for most users to achieve high accuracy right "out of the box".
Reliably recognizes handwriting and provides spell checking and word completion features.
The new version of the WritePad SDK now features the smallest and fastest handwriting recognition engine on the market. WritePad SDK supports 11 languages in a single static library, making it perfect for embedded devices and applications.The WritePad SDK is also available for OEM licensing.
New features in the WritePad SDK:
Handwriting recognition engine is now packaged as a single static library for all supported languages, enabling the support of handwriting recognition for several different languages in a single app.
Support for Windows 8 (Desktop and Metro; x86, x64), Windows RT (Metro; x86, x64, ARM) and Windows Phone 8 (x86, ARM).
Support for seven new languages, bringing the total count of supported languages to 11, including English (US, UK, US Medical), Danish, Dutch, Finnish, French, German, Italian, Norwegian, Portuguese (Brazil, Portugal), Spanish, and Swedish.
Improved recognition quality of individual letters and words in print and cursive modes.
Extended digital ink manipulation and serialization API.
Updated sample code that demonstrations how to call native WritePad API from .NET and Windows Store applications.
WritePad SDK includes handwriting recognition engine static libraries and dictionaries for all supported languages, API header files, documentation, and sample code in C++ and C# allowing easy integration with new or existing Windows applications or devices. WritePad SDK evaluation is free, while commercial redistribution is royalty-based.
Developers who want to integrate the WritePad SDK in their apps and request an SDK evaluation and commercial pricing should visit PhatWare's web site at www.phatware.com