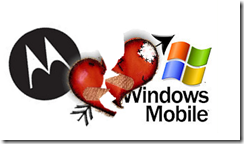 Motorola and Windows Mobile has had a stormy on again, off again relationship in the last 12 months, but until now we had all believed Windows Mobile 7, like a baby had just to prevent a divorce, would fix everything.
Unfortunately it appears that was overly optimistic.  CNET Asia spoke to  Spiros Nikolakopoulos, vice president and general manager for Asia Pacific and International Distribution for Motorola's Mobile Devices business, to find out more about the company's plans.
When asked about the smartphones Motorola intended to release in 2010, Spiros said:
"There will be between 20 and 30 smartphones globally and, at this moment, all of them will run Android. Naturally, not all will be available everywhere as it depends on the company's partnership with the various telco operators in each country. For non-smartphone models, they will run either Brew or the Motorola's own operating system."
With Windows Mobile 7 handsets strongly expected to arrive this year, it appears clear Motorola will not be a launch partner, and after having placed all bets on Android, may never make a Windows Mobile handset again.
Of course the company is only aiming for 5% of the global handset market, and clearly see a role of complete irrelevance for itself soon.
Good luck Motorola.
Read more here.