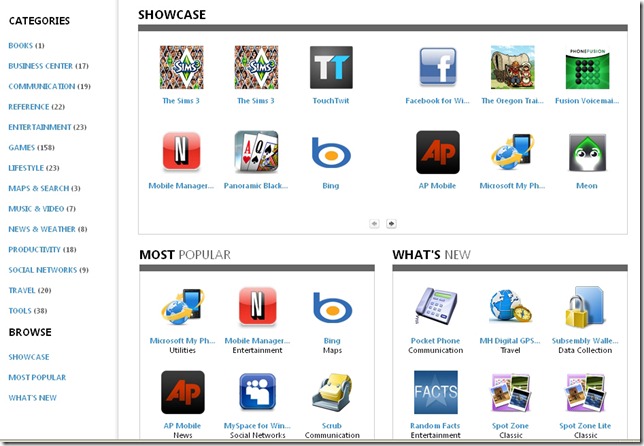 It seems Phase 2 of Marketplace for Windows Mobile is on us, with the he Windows Mobile Developer Blog announcing:
Starting today, Windows phone customers can browse, buy and download applications online at the Windows Marketplace for Mobile site. The selected applications are delivered wirelessly to the customer's Windows phone and install the next time the Windows Marketplace client runs on the device. This creates another way for customers to easily find and purchase applications and gives developers a whole new level of exposure.
The website can be found at marketplace.windowsphone.com and allows one to buy apps which are then downloaded over the air next time you run Marketplace.  No side-loading is allowed yet.
The update also brings the next level of security for apps which allows apps to be tied to hardware.
Some time later this month Marketplace will also be extended to Windows Mobile 6.0 and 6.1.  At present there is also no evidence of the ability to switch to Marketplaces from other countries.
Via WMExperts.com