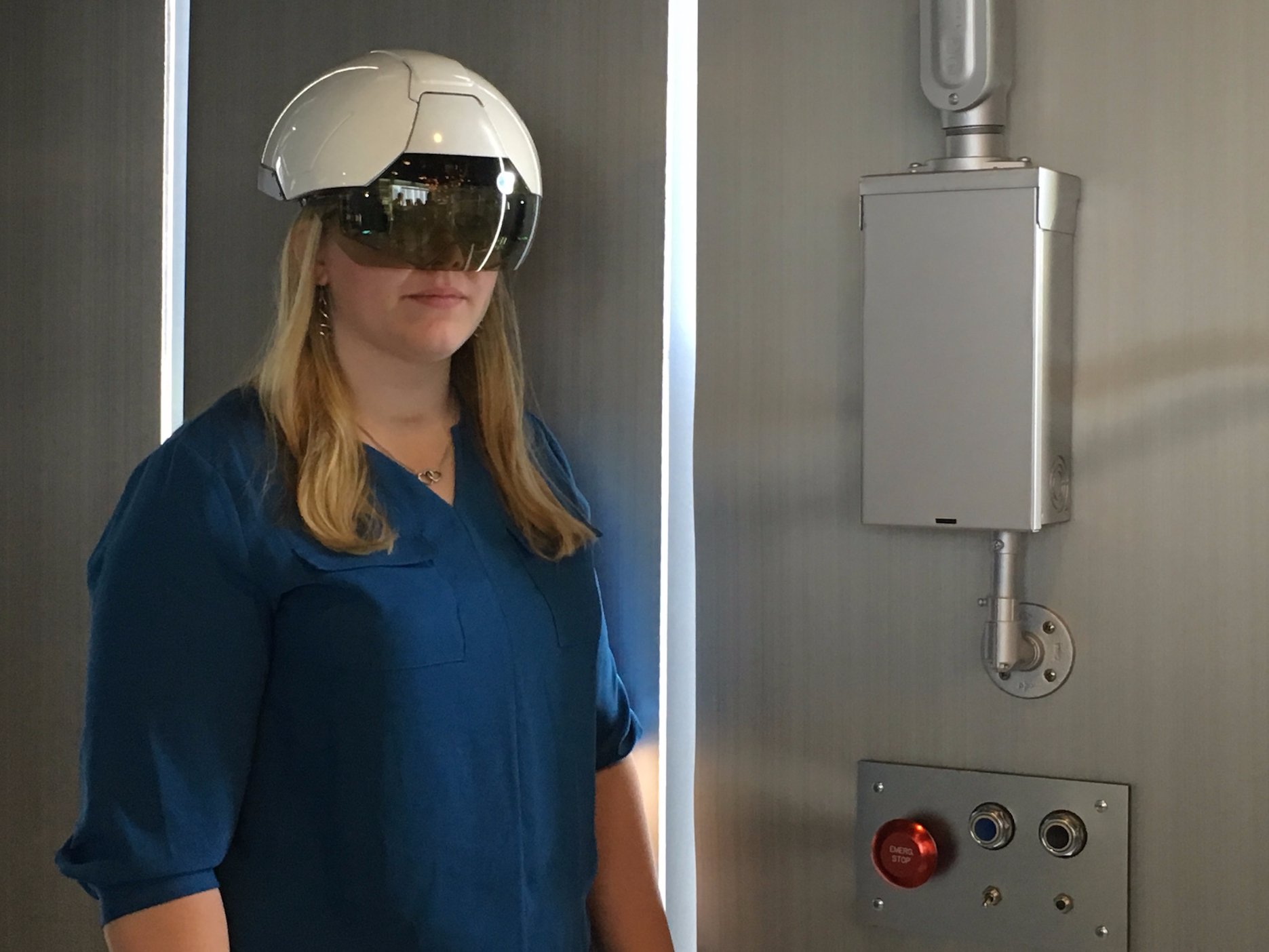 There are a large number of Virtual Reality headsets, because frankly the technology is relatively trivial. The same can not be said for Augmented Reality, which overlays computer-generated graphics over the real world and which is altogether a technologically more challenging project.
In the augmented reality arena there is really only Microsoft and Magic Leap, with the later being more talk than action.  Another competitor has however entered the ring, and has already attracted clients and funding.
The  Daqri smart helmet is a hardhat with integrated "photonic display" with a wide field of view, Intel CoreM processor, Intel Realsense depth sensor in both the front and rear, thermal camera, and is designed to be used not in an office, like the Hololens, but in industrial settings such as chemical factories and such, with  a battery life designed to be long enough to wear it out in the field. Two USB ports let companies add accessories like flashlights or gas detectors to the helmet itself, freeing up worker's hands from needing to carry anything on the job.
"Users are provided with unprecedented levels of information about the world around them for the most precise display and tracking possible," said the company on its website.
The smart helmet knows how you move through a space, and it can map the environment and start to create a 3D reconstruction of a facility," said the company. "When you have multiple people wearing the smart helmets, they share that information and you build an entire model of that facility with that combined data."
The hat would let workers easily identify complex pipes, gain heat vision, and share their field of view with supervisors who can guide their every move.
"It erases the line between what you know and what you don't know," says Matt Kammerait, VP of Innovation for Daqri.
The hardhat could eliminate costly errors and let less experienced workers do more.
Announced more than a year ago, the device is now entering trails with a number of companies. Companies like Hyperloop, Siemens, and Autodesk have already ordered the Daqri helmets to put them out in the field, with several pilots going across many industries.
"On the consumer side, you don't have demand generation," says Kammerait." Industry is always looking for ways to be more efficient."
"We're supply constrained, not demand-constrained," Kammerait adds with a smile.
See a video of the device in action below:
Like the Hololens the headset will cost in the "thousands of dollars" but this is a price industry are willing to pay for a useful tool.
Do our readers think Hololens has real competition in the enterprise arena? Let us know below.