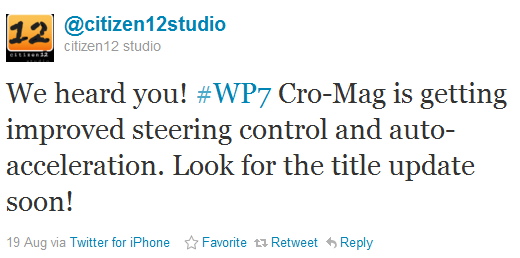 Cro-Mag Rally was potentially a great game ruined by poor controls. Â The app only scored 2/5 in our reveiw, with Andrew saying this about the controls:
First, the control scheme is painful. Controlling your vehicle is a challenge. You also lack an e-brake (so you can't exactly drift around corners), and if you hit reverse while moving forward, the car unrealistically stops super fast. There's also very little precision in the handling, and everything is moving so fast that you can't really keep your car in control. The mini-map in the upper right hand corner is absolutely useless, since you have to stare at it for at least five seconds before it makes any sense. The only redeeming quality about the game is the nice variation between levels, the decent power-ups and weapons that can be used, and the selection of vehicles.
It seems Citizen12 Studio has been listening, as they tweeted from their official account:
We heard you! Cro-Mag is getting improved steering control and auto-acceleration.
According to the tweet we can expect an update soon.
It is great to see responsive developers, who will hopefully correct all the issues and make this game of the quality one expects of an expensive Xbox Live title.
Read our full review of the unfixed version here.
Via Electronic Theatre.