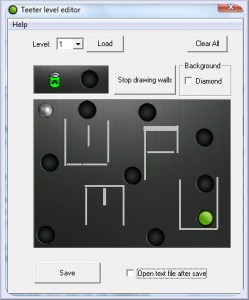 Teeter is the incredible addictive Accelerometer-based maze game that ships on the HTC Touch Diamond and Pro. Unfortunately it is so addictive that many owners have already beat the 30 levels and are left wanting more.
Fortunately the layout for each level are stored in simple text files, but creating your own from first principles can be quite difficult. Fortunately Alp Trex from XDA-Developers.com has made it easy, by creating a level editor for the game.
The software, which runs on the desktop, does not allow you to create levels beyond 30 (a limitation of the Teeter game), but does allow you to modify the existing levels. The levels are stored in simple text files named 1.txt, 2.txt etc, and need to be copied from the \Windows directory on your smartphone. Because the new levels will overwrite the old it is a good idea to back up the existing files in a safe location, then copy them into the Teeter Level Editor directory, from where they can then be modified by the app.
To make the modified levels available on your smartphone they need to be copied back to the \windows directory. The files are however write-protected, therefore you will need an app like Total Commander to actually copy the files .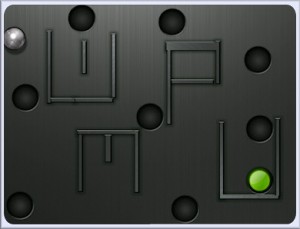 After that, start Teeter and enjoy your new levels. Here is a WMPoweruser level (right click and save as) just for our readers to download. Again, don't forget to first back up your old levels, and remember that you can only overwrite the old levels with an app like Total Commander.
If anyone makes any levels they consider great, leave a link in the comments and we will make it available to all our other readers.
Download Teeter Level Editor from this XDA-Developers post here.