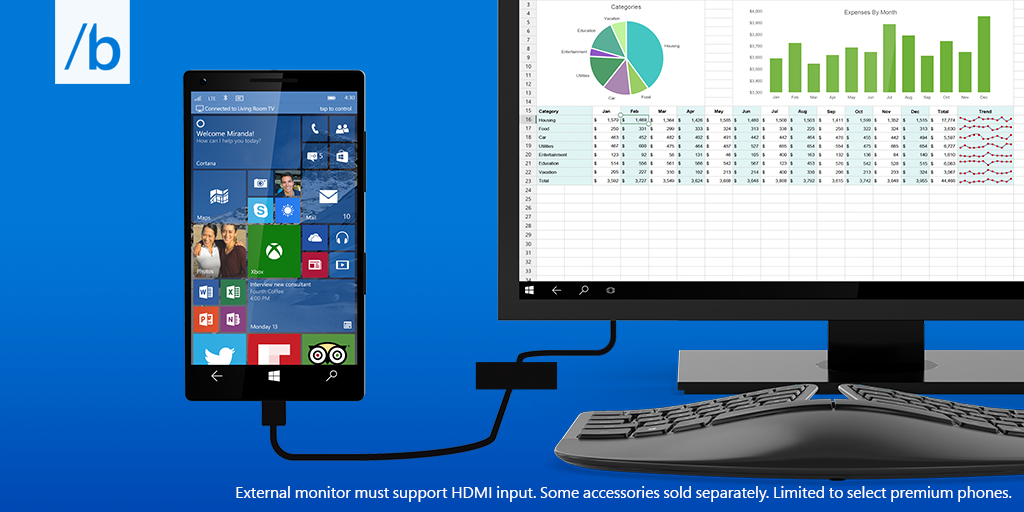 With Windows 10 Mobile Microsoft is really catching up to other mobile operating systems, but unfortunately most of the new features are just that – catching up, and do not represent new unique selling points. iOS devices can Airprint, Android handsets have USB OTG and Cortana will becoming to both operating systems eventually.
The ability to change a Windows Phone into a Windows desktop is however uniquely Windows, and Microsoft's implementation appears pretty good.
It has however been difficult to convince the western press of the value of the feature when everyone already has a personal desktop. In emerging, mobile first markets however Continuum could really sell Windows Phones, if Microsoft sells the feature well first.
To sell Continuum on Windows 10 Mobile, we suggests Microsoft set up standing docking stations with around 10 screens, keyboard and mice in popular shopping malls which would only be accessible to Windows 10 Mobile users, allowing them to browse the web, check their email and more with a great big screen experience.
The kiosk should of course sell cheap docking stations for less than $20, and of course Windows 10 Mobile handsets which can use the feature.
I believe seeing the feature in action can sell Windows Phones by itself, if promoted well, and would raise the profile of Windows Phone users as the only ones to carry a full Windows PC in their pockets, which is again a very positive association in some parts of the world.
What do our readers think of the idea? Let us know below.