6 months ago Satya Nadella said Microsoft would be changing their mobile strategy including concentrating their resources in the markets where they do well.  This resulted in Microsoft dropping carrier support in several regions, including Canada and New Zealand.
We can now add Argentina to the list, with Claro Argentina no longer selling any Windows Phones.
Interestingly the reason given by Claro support provides some background to Microsoft's decision.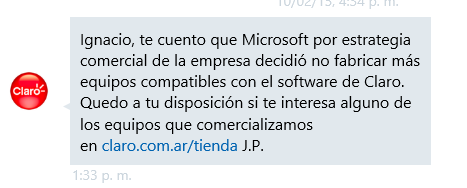 The text roughly says Microsoft has decided to no longer make software specifically for Claro.  Presumably customizing phone software for small carriers with limited sales was costing more money than it generated, explaining a bit better why Microsoft withdrew from small markets.
Are any of our readers affected by this issue in your region? Let us know below.