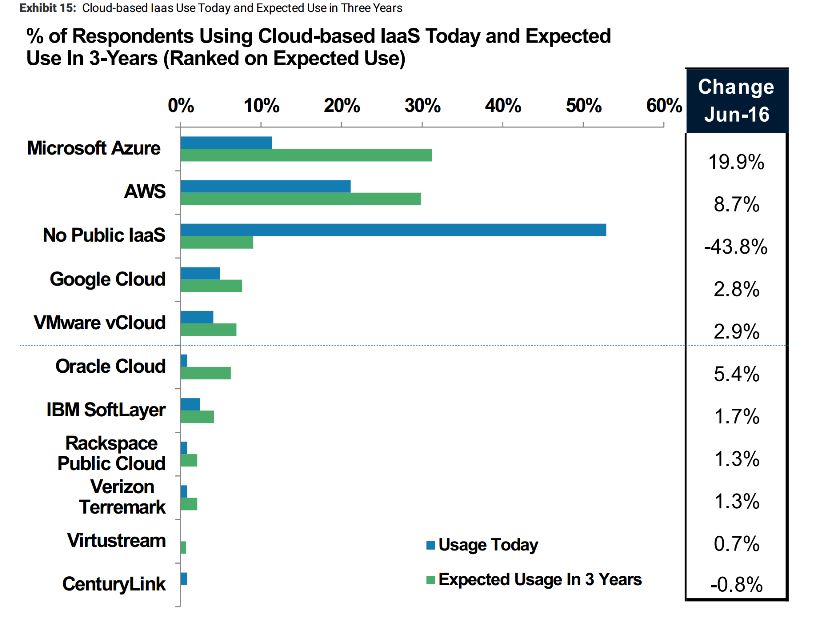 Amazon has the lion's share of the coud services market but Microsoft's Azure is a fast growing second.
The market consists of Infrastructure as a Service (the underlying servers, storage and networks necessary for cloud computing) and Platform as a Service (the higher-level tools and services needed to create and deploy cloud applications).
Now a new survey of 100 Chief Information Officers (CIO) (75 from USA and 25 from Europe) suggests that by 2019 Microsoft's Azure will overtake Amazon's AWS with more than 30% of Infrastructure as a Service (IAAS) market share.
The survey, conducted by Morgan Stanley, shows roughly 31 percent of the CIOs will be using Azure for IaaS, up from 12%, versus around 30 percent using AWS (up from 21% at present).
The size of the public-cloud IaaS is set to grow strongly, with only 10% of CIOs expecting not to be part of the market, down from 55% holdouts at present.
The survey found Azure (18% share) is already leading AWS (16% share) in PaaS, and Azure will grow even further to 27.8% vs 22.4% for AWS.
The 95% of CIOs also believe that their spending on Software as a Service (SaaS) will either be flat or increase over the next 3 years, up from 90% in a 2015 survey asking the same question.
Applications like Adobe, HubSpot and Salesforce are expected by migrate to the public cloud at an accelerating rate and on-premise apps are expected to decrease.
The growth of the market is good news for Microsoft as they pivot increasingly to a cloud company, and it seems in many ways the more important cloud becomes, the more companies wish to turn to trusted vendors such as Microsoft.