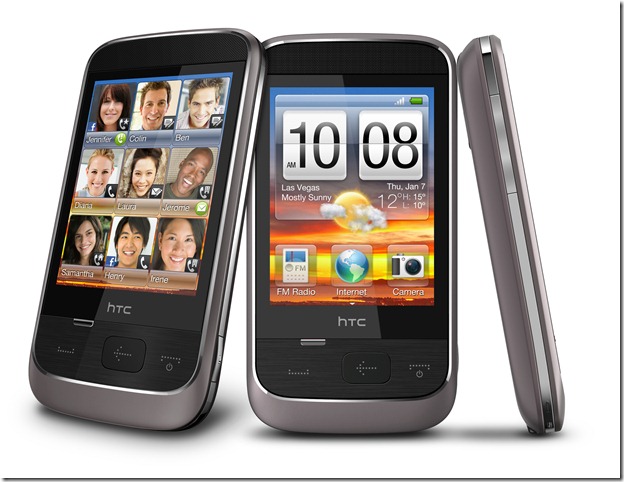 Featuring an extremely paradoxical name, the HTC Smart is HTC's first dumb phone, based on the Qualcomm BREW Mobile Platform with HTC's Sense UI overlay.
HTC's press release is below:
HTC Corporation, a global smartphone designer, today unveiled HTC Smart, a new type of smartphone that creates a new category of easy-to-use, connected smartphones that are accessible by people all over the world.  "HTC has always focused on listening to customers and setting the stage for new mobile categories and HTC Smart is the response to customer demand around the world for an easier-to-use, affordable smartphone," said Peter Chou, chief executive officer, HTC Corporation. "Just adding a touch interface doesn't mean a phone is a smartphone; The integration of HTC Sense brings an unparalleled smartphone experience for people looking to do more on their phone."

Bringing HTC Sense To The Masses

HTC Smart begins with a friendly compact touch design and integrates an intuitive user experience that is centered around HTC Sense, an HTC design philosophy that puts people at the center by focusing on three core areas: Make It Mine, Stay Close and Discover the Unexpected.  HTC Smart enables personal customization of each person's own phone experience.  It also provides a quick and easy way to see what friends are up to via various social networks as well as quickly communicating over the phone, through text messaging or email.

"HTC Smart breaks new ground in delivering the powerful, in-demand smartphone features that consumers want on a more accessible device for global markets," said Paul Jacobs, chief executive officer, Qualcomm Incorporated.  "We are pleased to be supporting HTC as they utilize the capabilities of Qualcomm's Brew Mobile Platform open operating system to offer high-end capabilities and a compelling mobile user experience at mass-market price points."

Qualcomm Brew Mobile Platform (Brew MP)

HTC Smart utilizes Qualcomm's Brew MP, a popular mobile operating system that enables smartphone devices to be offered at more aggressive price points, providing HTC with the flexibility to deliver smartphone features on devices across multiple tiers.

Availability

The HTC Smart will be available this spring across Europe and Asia.
The phone features a 300 Mhz processor, QVGA screen, 256 MB ROM and 256 MB RAM, European 3G, 3 megapixel camera and 3.5mm headphone jack.
Commentary
It is of note that even a free OS like Android was not cheap enough to allow HTC to access the pay as you go market. This is because a smartphone OS brings with it certain hardware requirements such as a powerful processor, RAM and extra sensor support. Having a free OS does not mean much when you need $200 worth of hardware to run it.
This of course further suggests a role for an OS optimised for less demanding hardware such as Windows Mobile 6.5.x to continue to exist while Windows Mobile 7 would cater to the higher end of the market.
Hopefully this move will be successful for HTC, but we do doubt HTC has enough brand recognition, or the phone enough features to compete in the feature or fashion and style market.
A suggestion to HTC however, your slogan of bringing Sense to the Masses could do with some tweaking – we don't think the masses appreciate being called Senseless…