Is Copilot the best AI companion out there? Help us find out by answering a couple of quick questions!
Searching for an in-depth CCleaner review for Windows 11 & 10? Finding a stable and efficient optimization tool can be pretty daunting, given the market is saturated with PC repair software. Still, CCleaner has stood the test of time.
In this article, I'll explore all the capabilities of this software and provide you with a comprehensive review of CCleaner. Whether you're an experienced user or a beginner, this guide will provide all the details you need to know.
So, let's discover if CCleaner truly deserves its position as one of the best PC optimization tools!
What Is CCleaner?
CCleaner was designed by Piriform Software and released in 2004. The main objective of this app is to safely remove any unwanted files and Windows Registry entries from your device. This ensures your PC will always perform at total capacity while offering system stability in the long run.
The software is available for Windows, Mac, and Android devices, allowing you to optimize their performance quickly.
Key Features
Cleaning Unnecessary Files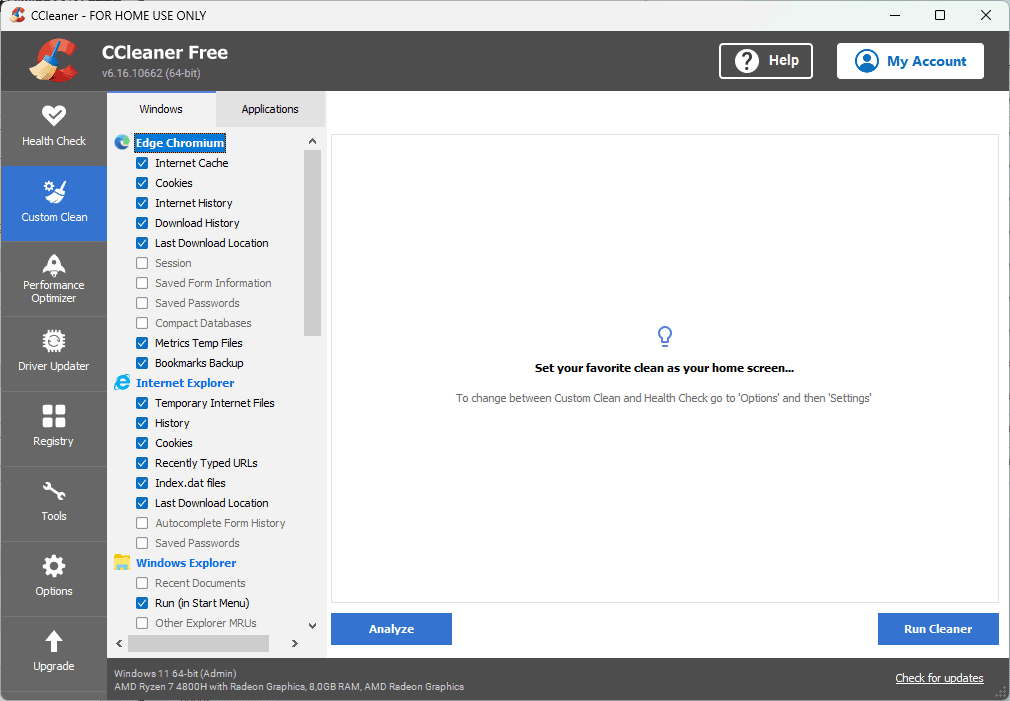 One of the most essential features of CCleaner is its ability to analyze and remove unnecessary files from your device's storage. It deletes all the files that cluttered your system (temporary files, logs, and cached data).
You can choose which elements to remove, thus ensuring no vital information is lost.
Registry Cleaning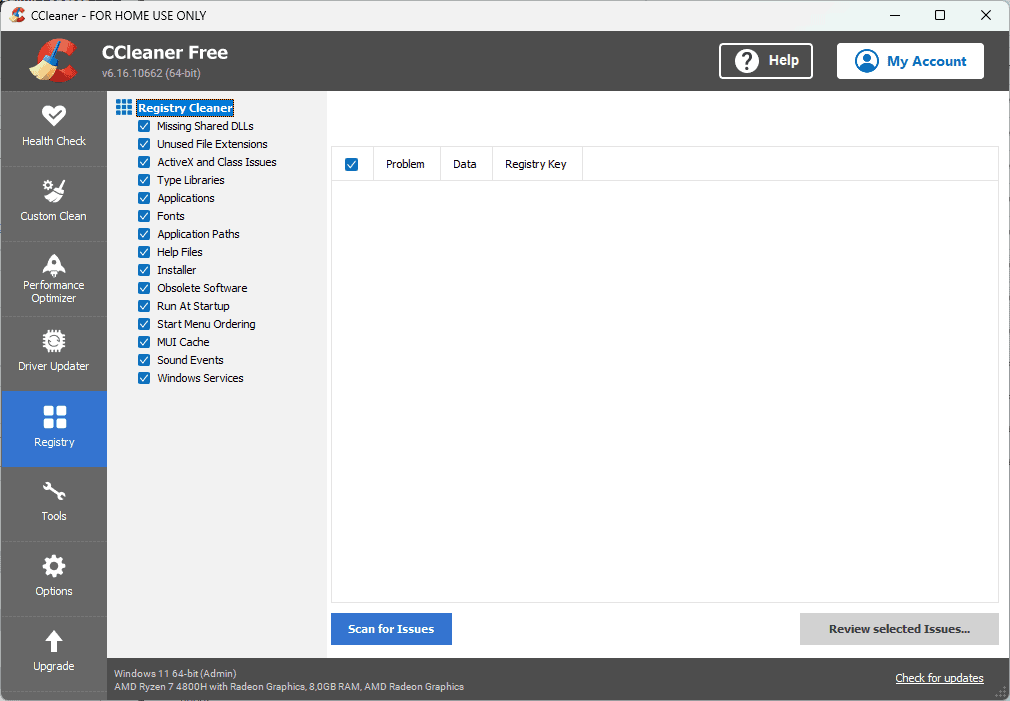 Your device's Windows registry is vital to your OS because it contains various configuration settings and data. In time, the registry can become cluttered with obsolete entries, which can cause performance issues.
CCleaner's registry cleaner automatically identifies and removes outdated keys while ensuring your device runs optimally. It covers a variety of registry types:
Missing Shared DLLs
Unused File Extensions
ActiveX and Class Issues
Type Libraries
Applications
Fonts
Obsolete Software.
Note: I recommend creating a backup before attempting changes to your system's registry. This will ensure that your system is safe no matter what changes occur.
Browser Cleaning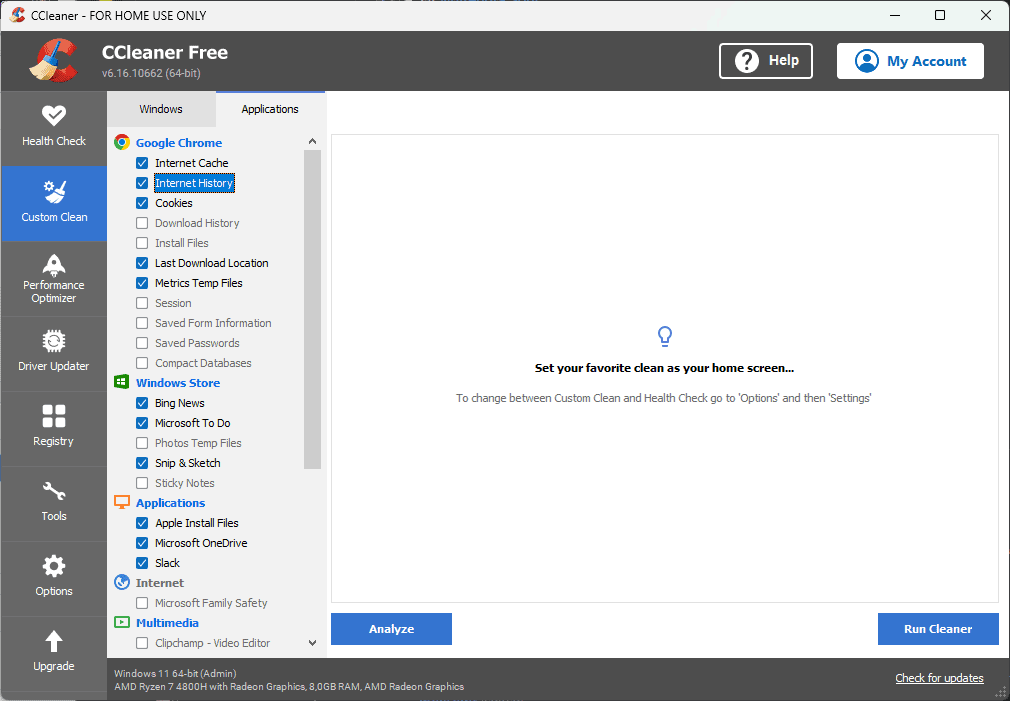 Even though there are many browser options on the market, they all have one thing in common: they need to be refreshed occasionally.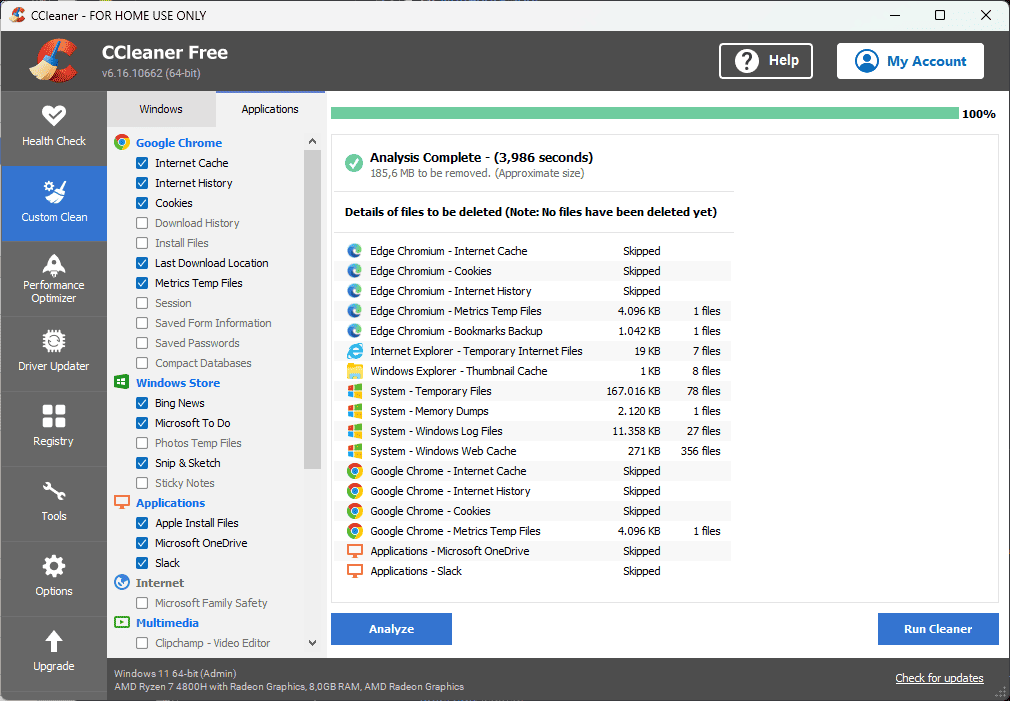 As you can see from the image above, your browser stores cookies, cached files, and browsing history in small files. They can add up in time and cause your system to slow down.
This is where tools like CCleaner come in, allowing you to automatically scan your browsers and remove temporary files.
Startup Optimization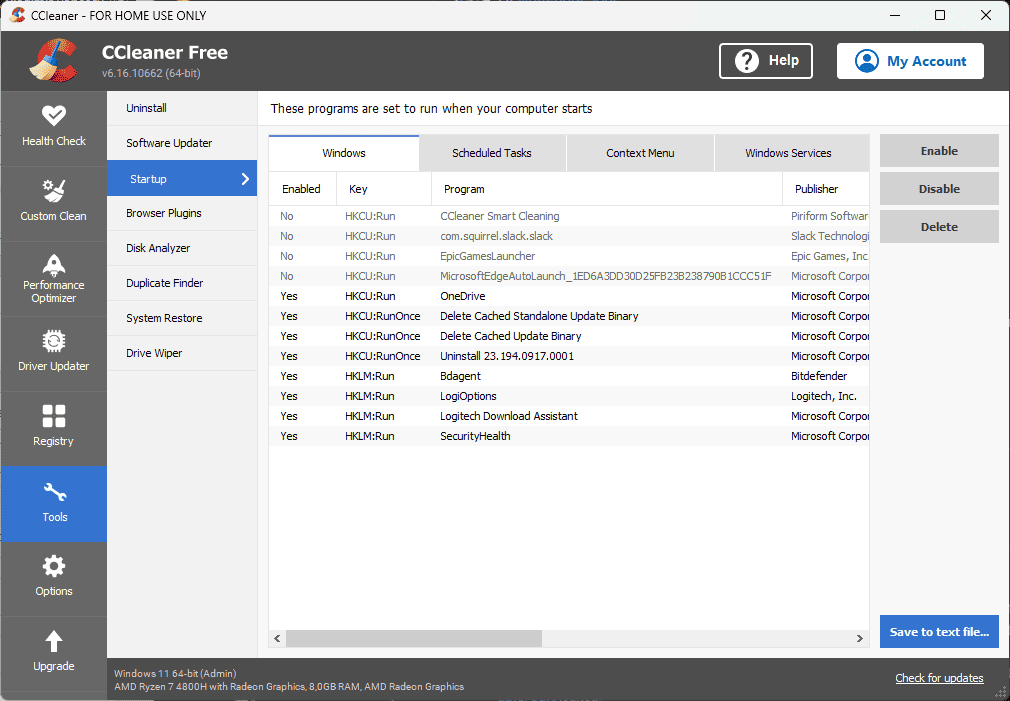 Having to wait for your PC to turn on can be annoying. CCleaner allows you to scan your device for all the software that runs when you boot your device in Windows and easily disable any options.
Removing unnecessary apps will reduce the boot time and allow you to access the information you want faster.
Real-time System Monitoring (CCleaner Pro)
This feature is only available in the Pro version of CCleaner. It ensures that your system's health is kept at the highest standards while informing you with real-time pop-up alerts about any issues.
It constantly scans your system for any problems and the alert system allows you to react accordingly.
Customization
One of the most critical aspects of using CCleaner is that you can do it on your own terms. You can easily customize how the software acts, whether it's the registry, an overall system cleanup, or removing software. This process ensures that you can, at any point, clean only a part of your registry or remove the caches just from one browser and not all the installed software.
Scheduled Cleaning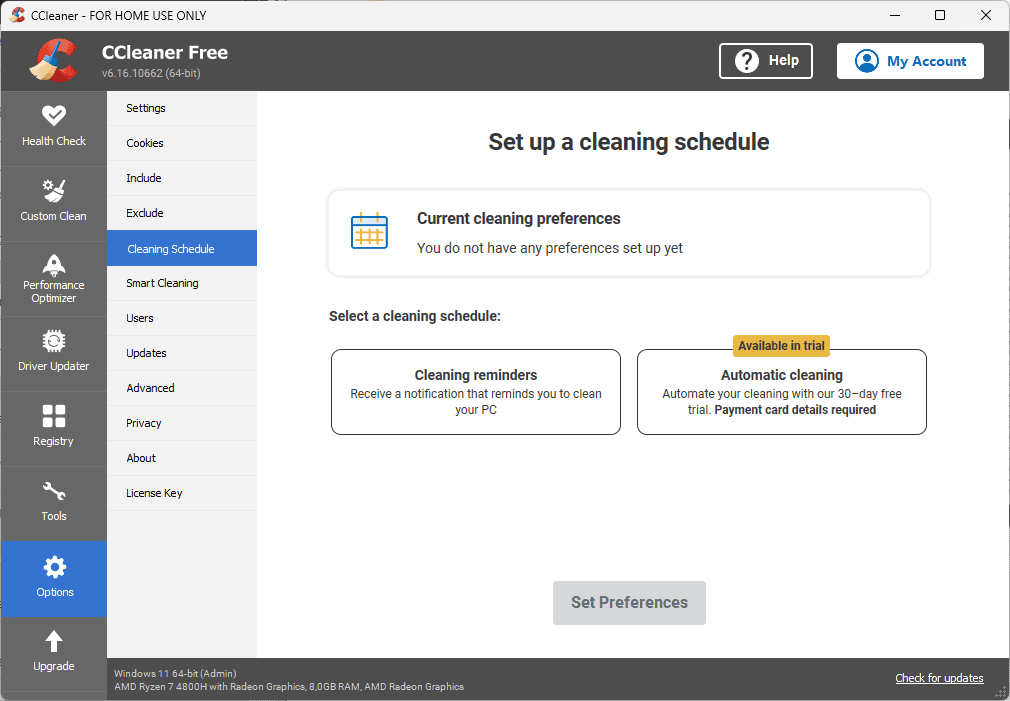 Another element that can impact your experience with this software is the powerful scheduled cleaning option. This feature ensures you can set up a customized schedule for the software to perform any maintenance activities on your device.
Disk Analyzer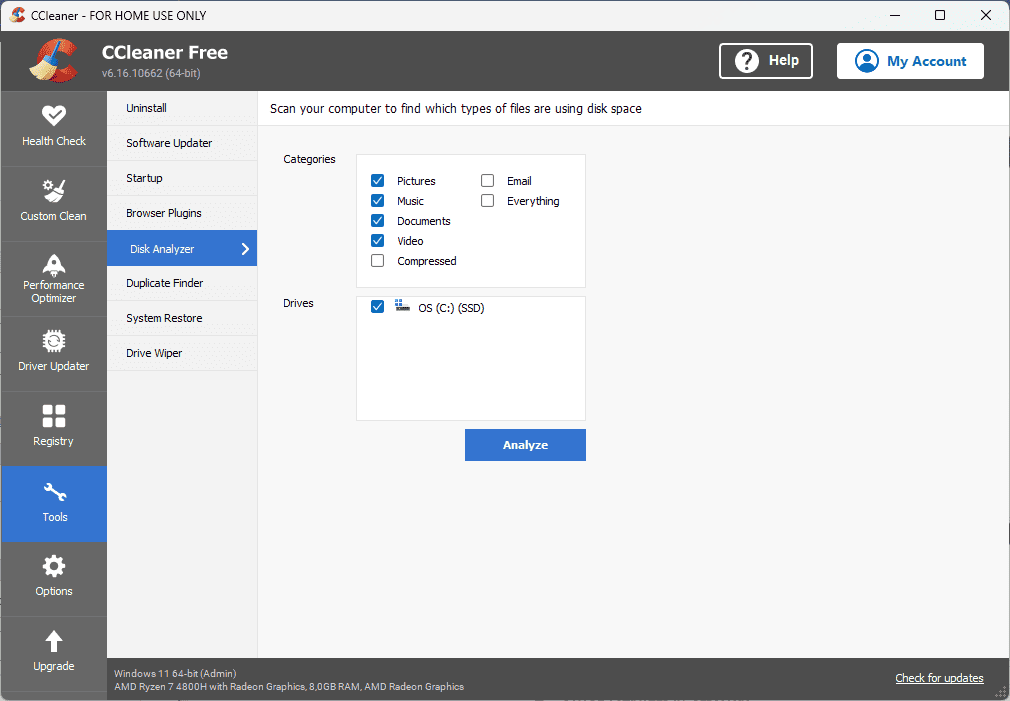 CCleaner's Disk Analyzer keeps your PC's disks in top shape. It also lets you optimize the storage space used on your local drives.
Here's how it works:
Open CCleaner, click the Tools icon, and open the Disk Analyzer.
Choose which categories of files you like to search for on the respective drive (or choose to scan everything).
Click the Analyze button for the software to initiate the process.
Arrange the results by type, path, or the last modified date to identify the exact software you're searching for.
To select only specific files, you can tick the box next to them.
Right-click the selected files, and choose Delete Selected Files.
Software Updater (Pro)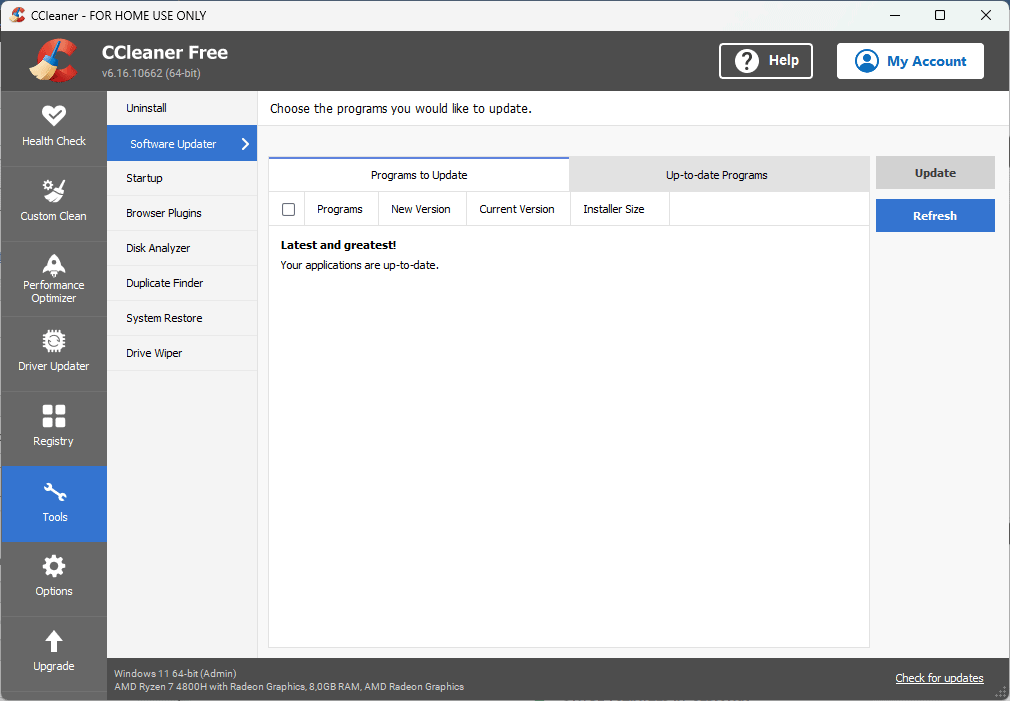 The Software Updater is a premium feature built into CCleaner. It makes sure that all the software installed on your device is kept updated at all times. Furthermore, the download sources are always safe and correct, so you don't have to worry about it.
Here's how to access it:
Open CCleaner Pro and click on Tools from the left side panel.
Click Software Updater to initiate the scanning of your device.
Once the scan has been completed, you can choose specific apps or click Update All to resolve all issues.
Drive Wiper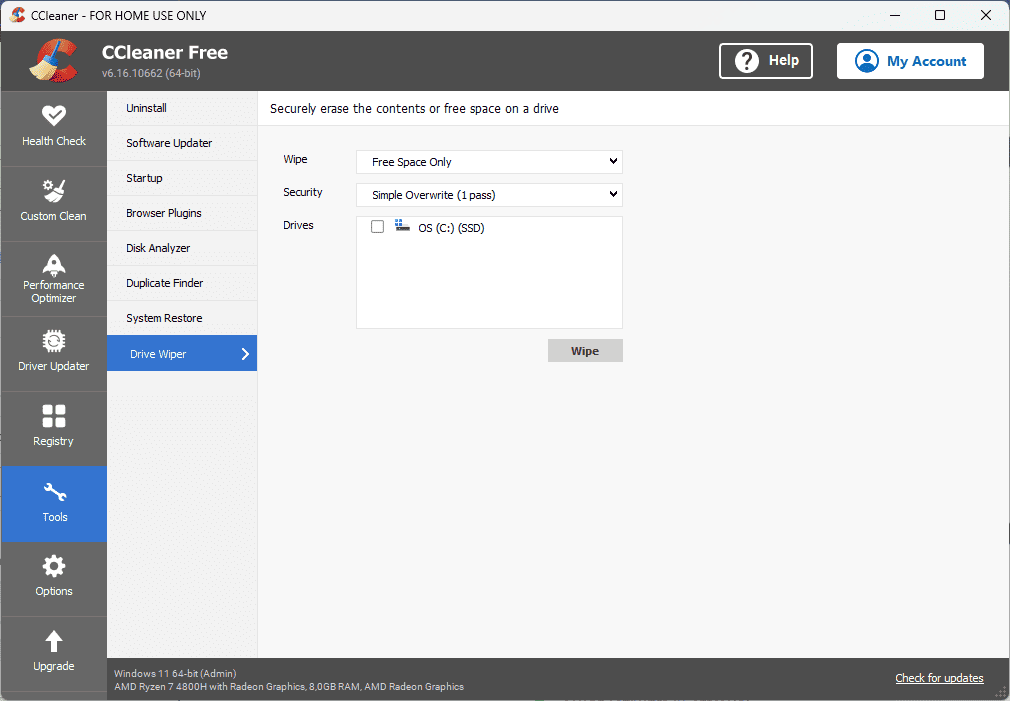 Simply put, the Drive Wiper can free up space on your HDD/SSD. Here's how it works:
Open CCleaner and click on Tools, then select the Drive Wiper.
Choose what option suits your needs:
– Free Space Only – Leaves your standard files untouched
– Entire Drive – Erases all data from your hard drive
Select a specific drive and the type of security you need (Simple Overwrite is sufficient).
Wait for the removal process to complete.
Note: The Drive Wiper removes any remaining traces of deleted files, making them unrecoverable.

Note 2: Back up any important data before using this feature.
User Reviews and Ratings
I've also investigated what other users have said about CCleaner. You can check out the summary created below:
SiteJabber – CCleaner has a rating of 2.71/5 stars from 34 reviews, which indicates that the users who reviewed this app here weren't very satisfied with the results.
Trustpilot – On TrustPilot, CCleaner has 4.2/5 stars from over 20292 reviews, indicating that most customers were delighted with their purchase and the software's capabilities.
G2 – On G2, users have also praised CCleaner's capability to remove any garbage and update drivers.
CCleaner Pro Version vs Free Version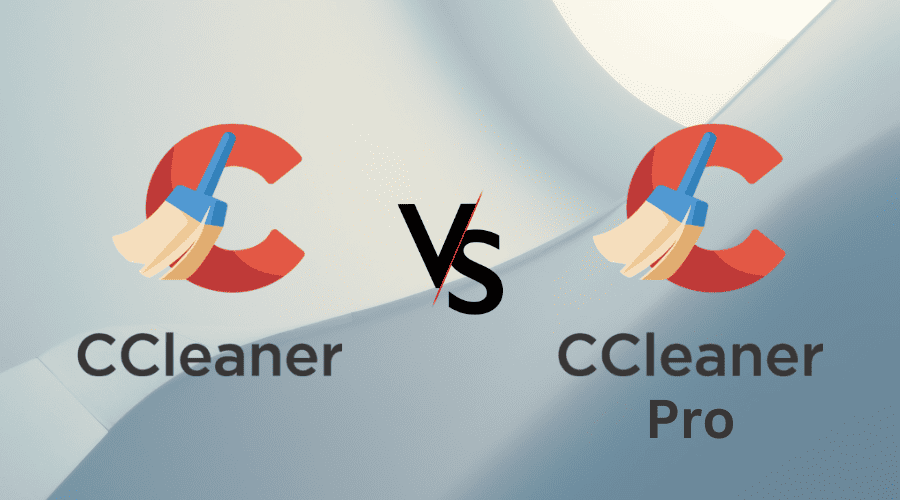 Here's a helpful comparison table if you're debating investing in CCleaner's premium plan:
| Features | CCleaner Free | CCleaner Pro |
| --- | --- | --- |
| Basic PC Cleaning | Removes unused files | Same as the Free version |
| Privacy Protection | Erases browser search history, cookies, and caches | Same as the Free version |
| Registry Cleaner | Helps you manage the registry of your Windows device | Same as the Free version |
| Startup Manager | Speeds up your system boot by optimizing which apps are allowed to start | Same as the Free version |
| Real-time System Monitoring | Not Available | Keeps track of changes and performance fluctuations in real-time |
| Automatic Software Updates | Not Available | Automatically updates all your software to ensure the best performance and system stability |
| Built-in Secure Delete Tools | Not Available | Permanently erases files from your system |
| Priority Customer Support | Not Available | Piriform offers priority email support for Pro users |
Choosing between the Free and Pro versions will come down to your personal preferences and needs. Still, the free plan is an excellent tool if your goal is basic cleaning and privacy protection.
On the other hand, if you want to take advantage of all the other perks of using CCleaner, consider investing in the Pro version.
The Premium Bundle also includes some other valuable tools in your subscription, which are worth mentioning:
24/7 Premium Tech Support
Access to Kamo (Online tracking & privacy software)
Access to Speccy Pro (Inspects and monitors system information)
CCleaner Pricing
CCleaner Professional offers various subscription plans, depending on the number of PCs you want to use the software on.
CCleaner Professional for 1 PC – 1 Year License – $24.95
CCleaner Professional Plus for 3 PCs – 1 Year License – $39.95
CCleaner Plus for 3 PCs – 2 Years License – $69.95
Premium Bundle with Driver Updater for up to 5 PCs – $79.95, currently discounted to $64.95
There's also a 14-day free trial if you don't want to immediately commit to a plan.
You may also be interested in:
Conclusion
In today's CCleaner review for Windows 11 & 10, I've covered all aspects of this software, including what it does and why it's essential to have it on your device. Furthermore, I've presented you with the most critical features, user reviews, pricing, and a full-on comparison between the Free and Pro versions.
What do you think about CCleaner? Feel free to let me know in the comments below!