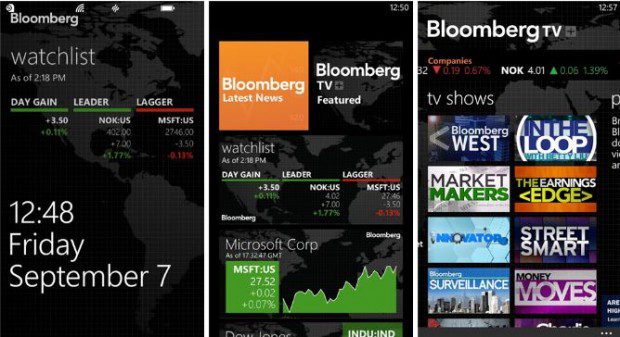 Bloomberg Finance app which was previously a Nokia Lumia exclusive app is now available for all Windows Phone device owners. Bloomberg has also updated their app with new UI and support for Windows Phone 8 features such as lockscreen support, new Live Tile size support and more. You can access business and finance news, market data and portfolio tracking tools from Bloomberg using this app.
Features:
– Latest Market Moving News including Bloomberg TV and Bloomberg Radio
-Customizable Watchlist – Track and analyze your stocks and holdings with detailed performance charts and summary visualizations
– Personalized scrolling ticker
– Currency Calculator
News:
-Latest market-moving news across 35 categories including: Economy, Politics, Technology, Health Care, Energy, Spending, Bonds, Commodities, Currencies, Emerging Markets,
-On demand access to Bloomberg TV and Radio, featuring critically acclaimed shows like Bloomberg West, Charlie Rose and Tom Keene and interviews with the most preeminent minds in business, finance, and economics.
– Get the latest news on companies in your Watchlist and on key events in the business world
Market Data:
– Latest market data for global Equity Indexes, Bonds, Futures, Commodities & Currencies.
– Personalize and access the markets that are most important to you
Watchlist:
– Track, manage and analyze your personal holdings (stocks, mutual funds, ETFs, currencies etc.) with powerful performance charts, including Leaders & Laggers and summary visualizations by Asset Type, Industry & Location.
– Access detailed company pages that include key statistics, financials and earnings updates.
Tools & Visualizations:
– Instant snapshot of how the world markets that are important to you are performing.
– Utilize analytical tools to better understand how companies and markets have performed.
Plus:
– Facebook, Twitter, Email Integration
Download it for Windows Phone 8 device here and Windows Phone 7.5 devices here.