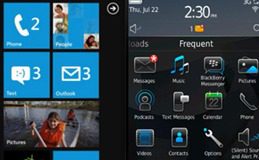 Blackberry is turning out to be a pretty great case study on how not to execute a turn-around, and I am sure for at least the next decade business schools will be talking about the foolhardy decisions their management have made over the last 18 months.
One thing Blackberry fans however remain proud of is their operating system and the updates it has received, with the refrain often being that the next software update will be the one that rescues the company from certain doom.
And looking at the features of the software update it is easy to see why they are optimistic.
Blackberry 10.1
Blackberry 10.2

PIN to PIN messaging
Improved attachment support
Custom notifications
HDR Camera
Fine cursor control
Remote file access to computers
Allows password paste into system fields
Fix for random software reboots
IMAP and ActiveSync email now have "Forever" as a sync option
New gesture in Hub to navigate between messages
Escalate a text to a call
Simple password
Facebook, Twitter, LinkedIn updates

Headless Apps
USB Host Capability
WiFi Direct and Miracast (Q10/Z30)
Flurry Analytics
Smart cards
Altimeter
Geofencing
Lock screen notifications
Android Jelly Bean runtime (4.2.2)
Multiple Alarms
Priority notifications
Toast notifications
Task Manager/Device monitor
Screen Reader Mode
Simple screen lock
Improved text selection/editing
Android HW acceleration
Dark/light theme toggle
I am sure even our readers will agree some of these features, such as USB Host, HDR mode, Miracast support, Geofencing and Android app compatibility, all added in less than a year, constitute pretty significant updates.
Over the same period Windows Phone added:
GDR1
GDR2
GDR3

Enhancements in Messaging
More efficient Bluetooth connectivity
"Always-on" setting for WiFi connections

FM Radio support on some devices
Lens application as the default camera
Data Sense for monitoring data usage on some devices
Bug fixes for Xbox Music
HTML5 updates for Internet Explorer Mobile
CalDAV/CardDAV support
"Other Storage" bug fix

Rotation lock
Support for up to 1080p displays
Supports the Qualcomm Snapdragon 800 quad-core processor
The ability to close apps in the multitasking view
Driving Mode
In comparison the list is much less impressive. We have however heard members of the Windows Phone developer team say that the less glamorous, under the hood changes is exactly what is responsible for the surge in Windows Phone adoption, with Joe Belfiore saying:
"The work we are doing is valuable, and a lot of people aren't aware of it,", noting that much of the work was directed at the foundation of Windows Phone, to add support for technology which will allow the OS to expand its market share, and therefore often only show up in new devices.
While Microsoft worked at making sure Windows Phone 8 could run in 512 MB RAM and on 800 Mhz processors, Blackberry's engineers were adding Micracast and USB Host support and doing nothing about the heavy OS, which requires 2 GB RAM and 720P screens to work. This allowed Microsoft to create what turned out to be hero devices like the Nokia Lumia 520, while Blackberry created the Blackberry Z30, which would be lucky to sell 1 million units.
While Microsoft, it seems very wisely now, addressed the expanding low-end, Blackberry was trying to fight the feature fight with iOS and Android, and losing badly.
Of course the question does arise – why cant we have both? Why cant we have a feature rich OS which addresses the requirements for expanding the market?
I am sure this will come eventually, but it is of course important to prioritize, and some features increase hardware requirements, and each additional feature adds to the time needed to test and certify the OS. As Belfiore mentioned, at the moment Windows Phone's greatest need is to expand its market share and get greater support by developers, and adding UBS Host and Miracast does very little to achieve this.
Do our readers agree that Microsoft is being a responsible steward of Windows Phone development? Let us know below.