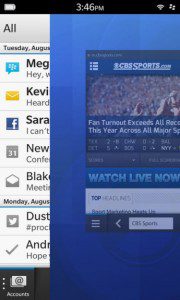 I watched some YouTube videos of the new BB 10 operating system in action, and I was thoroughly impressed with some of the features. The notification manager is hands down the most powerful notification manager ever seen. The ability to unlock your phone with one swipe is clever. The multitasking interface looks slick and WebOS-like. But it has a number of flaws too! Keep in mind that I've never used the new BlackBerry, and am basing my opinions on some simple YouTube videos.

Notification Manager:
BlackBerry
BlackBerry gets the clear win here. BB 10 has the best notification manager of any current smartphone OS. You can instantly filter down your notifications by application, view them all, or even remove specific apps. In terms of functionality, it destroys the competition. In terms of looks… well… it looks like a BlackBerry. Windows Phone completely lacks a notification manager, which is a flaw Microsoft has acknowledged. Hopefully Microsoft adds a notification manager sooner rather than later.
Viewing an Incoming Notification:
Everyone but BlackBerry
BlackBerry really screwed this one up. When you get a new notification while using your phone, you only get a sound/vibrate and a flashing orange LED light… no message appears on the screen. In order to see what the notification was, who texted you, and a brief snippet of what they said, you have to swipe and hold your finger up, and then swipe right to enter the notification manager. That's 1.5 actions.
On any other platform (iOS, Android, WP, WebOS), it takes zero user input to read a new notification! You can instantly see that your friend texted you he'll be at your house in 10 minutes, without doing any taps or swipes. Clearly the BlackBerry approach is worse.
Responding to an Incoming Notification:
Everyone but Android and BlackBerry
Both Android and BlackBerry fail at this scenario. Say your friend texts you while you're using your phone, and you want to reply to his message. On iOS, WP, and WebOS, you simply tap the message notification, and reply. One action.
With BlackBerry, you have to do their swipe up/hold + swipe right action, and then click the notification, which takes 2.5 actions. On Android, you have to first swipe down from the notification tray, and then click the message, taking 2 actions. iOS, WP, and WebOS clearly win here, taking half the time to respond to a notification. And when you're instant messaging someone, having to enter that notification manager every single time becomes a nuisance.
Turning on your Phone:
BlackBerry and Android
BlackBerry 10 has a cool new feature where you can power on your phone's screen in the same action that you unlock the lock screen. That means one less action! You just swipe up from the bottom of the screen, and the screen turns on and the lock screen drags up with your finger. Android also wins here since you can disable the lock screen. Some people like to get to their content faster, and BlackBerry and Android win here.
Info at a Glance:

Android and Windows Phone
Being able to see info like the weather, your upcoming homework, your stock info, or the latest news posts from your favorite blog without having to open any apps is extremely helpful. Both Android and Windows Phone let you do this, and they even let you bring information to your lock screen! Instead of having to jump into each app, you can quickly see what's new and important at a glance (assuming Live Tiles are working… haha).
BlackBerry 10 attempted to add a "widget" experience, but failed. Their multitasking pane (which displays up to 8 apps) serves as a dual purpose widget screen. Any minimized app displays a widget-like screen providing at-a-glance info like the current weather. However, this is quite useless since you cannot leave these apps pinned… meaning that your weather might drop off the screen if you open too many different apps. So it's a cool feature, but is poorly implemented.
Universal Search:
Everyone but Windows Phone
Universal search has been something Windows Phone has lacked since day one, and no progress has been made towards improving the situation. On BlackBerry, iOS, and Android, you can simply start typing and suggestions will be combined from your installed apps, your contacts, email messages, and more.