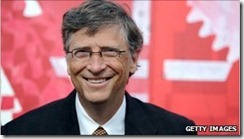 When Microsoft announced their $8.5 billion purchase of Skype many people saw it as the death knell of Steve Ballmer, calling it a massive lapse of judgement and demanded the return of Bill Gates.
Now the BBC reports that in fact Bill Gates fully supported the deal, and in fact helped convince the Microsoft board to approve it.
"I was a strong proponent at the board level for the deal being done," Mr Gates, Microsoft's chairman told the BBC's Hardtalk programme.
"I think it's a great, great deal for Skype. I think it's a great deal for Microsoft," he added.
Noting that the deal was strategic, Gates said:"The idea of video conferencing is going to get so much better than it is today. Skype actually does get a fair bit of revenue,"
"It'll be fascinating to see how the brilliant ideas out of Microsoft research, coming together with Skype, what they can make of that." he added.
Microsoft has said they would integrate Skype widely across their range of products, including Windows Phone, Xbox and Kinect.
The BBC is expected to release the full interview tomorrow at 4:30 BST.