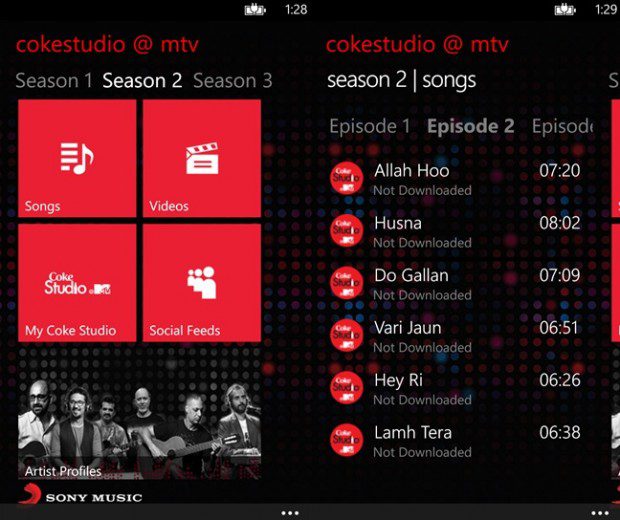 It was a great week for Windows Phone users in India because some high-profile apps got released in Windows Phone Store. CokeStudio @ MTV, a popular music app and Bigg Boss, one of the most popular reality show in India have released their official apps for Windows Phone devices.
CokeStudio @ MTV:
Awe-inspiring. Iconic. Magical
•3 words that says all about the Coke Studio @MTV experience
•Coke Studio @MTV is an inspiring platform where renowned and upcoming musicians from various genres get together to create an enthralling experience
•Breaking barriers, expressing oneself, celebrating… there's so much music can do… Music is for the soul, not for the ears !
•This App brings you the rich and diverse music styles of India that brings together the biggest musicians of India combining independent, classical, folk , Sufi and popular genre music in an all new setting encompassing all 3 Seasons; Producers like Rahman, Clinton Cerejo, Amit Trivedi, Ehsaan, Loy, Hitesh Sonik, Karsh Kale among others. Enjoy the music, the experience and the re-live moments with this Music App and share the ultimate fusion project with your friends!
Download it here from Windows Phone Store for free.
Bigg Boss:
Bigg Boss is a reality show where A number of contestants (known as "housemates") live in a purpose-built house and are isolated from the rest of the world. Each week, housemates nominate two of their peers for eviction, and the housemates who receives the most nominations would face a public vote.

Of these, one would eventually leave, having been "evicted" from the House. However, there were exceptions to this process as dictated by Bigg Boss. In the final week, there were three housemates remaining, and the public voted for who they wanted to win. The housemates in the Indian version are primarily celebrities. Housemates are overseen by a mysterious person known as 'Bigg Boss', whose only presence in the house is through his voice.

Using Big Boss app for Windows Phone app, you can look at the profile of the contestants, vote for them, watch previous episodes, exclusive videos and there is even a feature that allows you to watch exclusive live feed from the Bigg Boss house.
Download it here from Windows Phone Store for free.