Employing the best Windows 10 antivirus software to protect your PC involves doing a lot of research and figuring out which of their respective features fit your needs, then comparing them with all other options. As you can see, this sounds very tiring, but here is where we come to help!
Considering that the world is becoming increasingly connected through the means of the online world, security and privacy issues grow in number as well.
Microsoft has released a report about the year 2022 in a review of DDOS attacks. Below, you can get a glimpse of the results of the Microsoft security survey: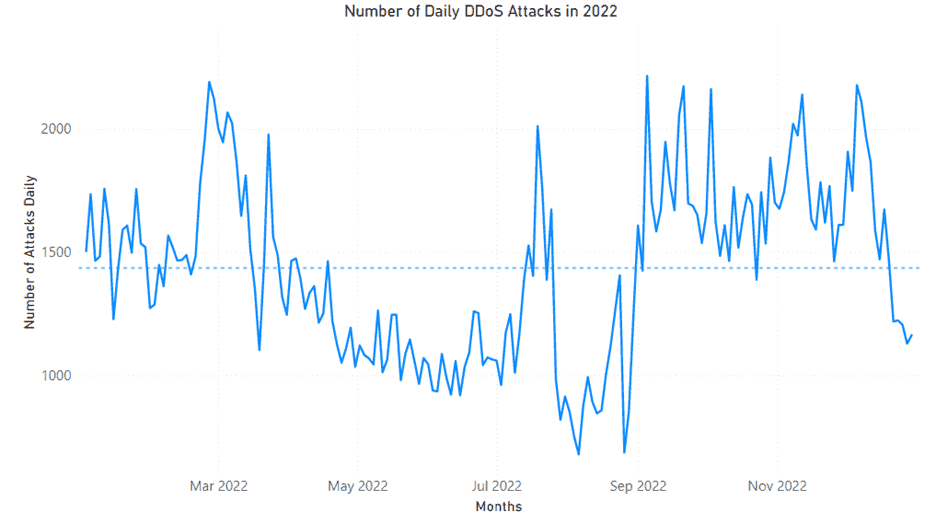 As you can see, DDoS attacks are more prevalent at the end of the year, and as that moment is closer to us for 2023, it's well worth ensuring that your system is protected from any possible intruders.
Below you can observe the percentages of what types of DDoS attacks were recorded during that year.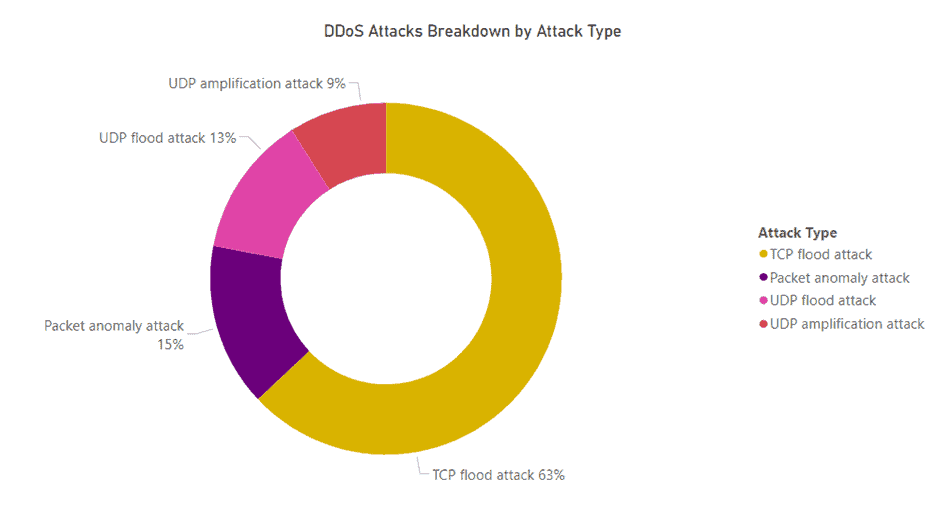 As you can see from the graph above, 63% of the attacks recorded in 2022 were TCP flood attacks, followed by attacks consisting of packet anomaly at 15%, UDP flood attacks at 13%, and UDP amplification attacks at just 9%.
In today's guide, we will take advantage of the experience of our software tester and offer you an easy-to-understand and encompassing guide, which will break down all the aspects of some of the top antivirus options for Windows 10. These software options will ensure that you will not become a statistic in the future graphs of online attacks produced by Microsoft.
Read the information and check the useful tables for a quick, informed decision.
Comparison Tables
Free Antivirus Options
| | | | | | | |
| --- | --- | --- | --- | --- | --- | --- |
| Antivirus | Detection Capability | System Performance | Features | Real-time Protection | VPN | Firewall |
| Bitdefender Antivirus Free | ***** | **** | **** | Yes | No | No |
| Malwarebytes Free | ***** | ***** | *** | No | No | No |
| Panda Free Antivirus | **** | *** | *** | Yes | No | No |
| TotalAV Free | ***** | **** | ***** | Yes | No | Yes |
| Avira Free Security | *** | *** | **** | Yes | No | No |
Paid Antivirus Options
| | | | | | | |
| --- | --- | --- | --- | --- | --- | --- |
| Antivirus | Detection Capability | System Performance | Features | Real-time Protection | VPN | Firewall |
| Norton AntiVirus Plus | ***** | ***** | **** | Yes | No | Yes |
| ESET NOD32 Antivirus | **** | **** | **** | Yes | No | Yes |
| Kaspersky Anti-Virus | **** | **** | **** | Yes | No | Yes |
| Bitdefender Antivirus Plus | ***** | ***** | ***** | Yes | Yes | Yes |
| McAfee AntiVirus Plus | *** | **** | **** | Yes | Yes | Yes |
Bitdefender Antivirus Free is a well-known choice among Windows 10 users, providing well-rounded protection against malware.
Another advantageous characteristic of this app is its lightweight build, ensuring that no matter the performance level of your Windows 10 device, it will work without problems. To top it off, it also comes with a user-friendly interface, making it easy to reach features even for beginners. If you're interested in finding the best antivirus for Windows 10 with free download, you found it! 
Pros
Excellent malware detection and removal
Powerful real-time scanning
Automatically updates
Minimal system resources impact
Cons
Quite limited in additional features compared to the paid version
Malwarebytes is well known on the web as one of the most efficient apps that resolve malware-related issues, including zero-day threats.
What makes this option reliable for Windows 10 users is the effective detection level and the capability to remove the identified malware completely without causing system instability.
Pros
Powerful at identifying and removing malware
Useful anti-exploit technology
Lightweight build with silent background run
Easy to access features from the interface
Cons
For better malware removal options, upgrade to the paid version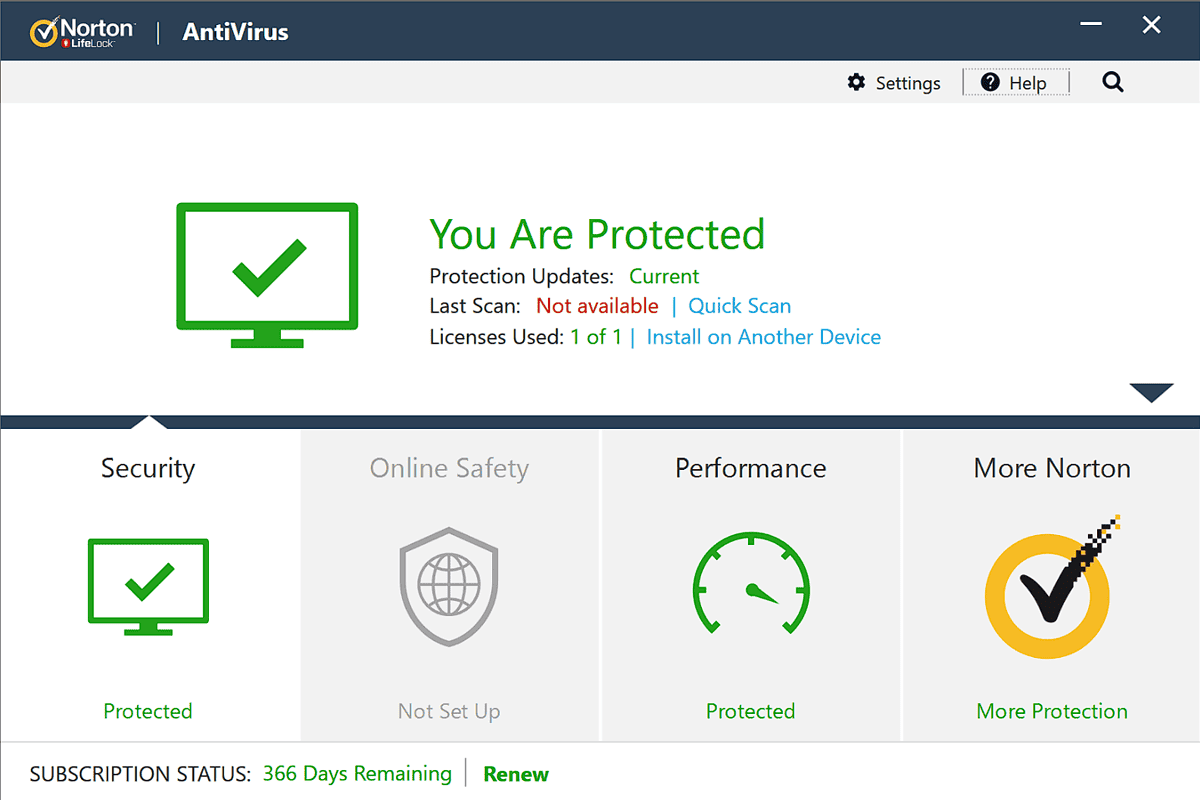 Norton AntiVirus Plus is another good antivirus for Windows 10, a versatile and powerful app that covers all Windows 10's user privacy and online security needs.
This useful antivirus software includes advanced malware detection features and ensures the safety of your PC by employing a two-way firewall.
Pros
Secure VPN is built-in
Two-way firewall for network protection
Password manager and parental control
PC optimization tools
Cons
Requires a lot of system resources during scans
Higher cost compared with other similar software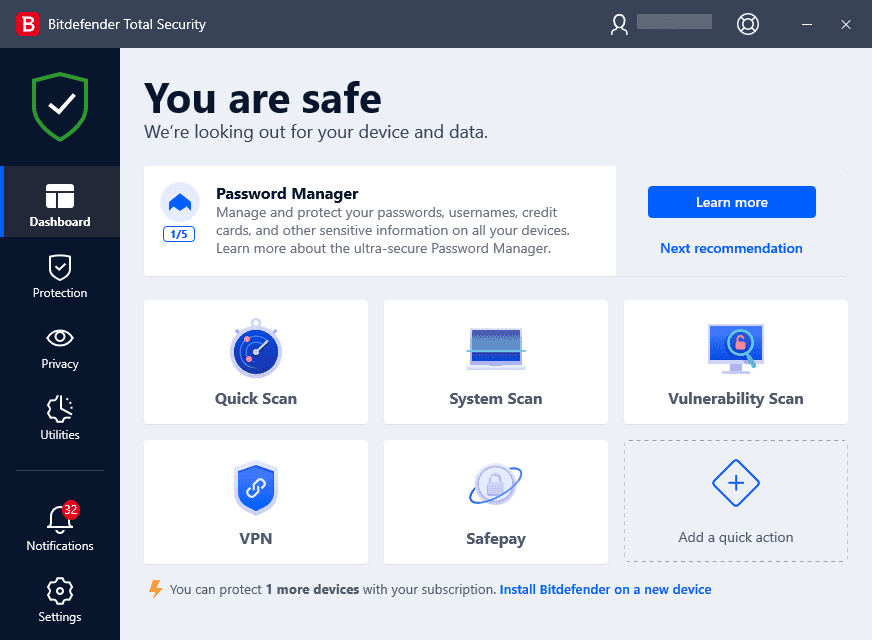 BitDefender Antivirus Plus is an excellent paid antivirus software for Windows 10, offering its users an in-depth overview of the security of their system.
This app combines the efficiency of the free version with upgraded and powerful ransomware protection while also including privacy-oriented and anti-phishing features. This makes this app the best paid antivirus for Windows 10, so don't hesitate to check it out!
Pros
Excellent malware detection and removal
Advanced ransomware protection
Privacy and anti-phishing features ensure secure browsing
Password manager
File Shredder
Cons
Higher cost compared to other alternatives
The additional features will use more system resources
5. TotalAV Free – Efficient security solution
TotalAV Free is another great antivirus option that ensures protection for Windows 10 devices and combines antivirus features and optimization tools.
Not only can you protect your PC from any online threats, but you can also ensure that it's running at peak performance by applying optimizations.
Pros
Protects against malware and online threats
Includes system optimization tools to increase performance
Password manager
User-friendly interface
Cons
Some of the optimization tools require the paid version
Kaspersky Anti-Virus is a reliable antivirus software that protects users from various malware types and online threats.
Windows 10 users can benefit from the powerful zero-day detection, anti-phishing, and anti-spam features, even though some of the features might be hiding behind a paywall.
Pros
Excellent malware detection rates
Detection based on behavior for zero-day threats
Anti-phishing and anti-spam features
Vulnerability scanner included
Cons
Frequent annoying pop-ups and notifications
Additional features are limited compared to other software options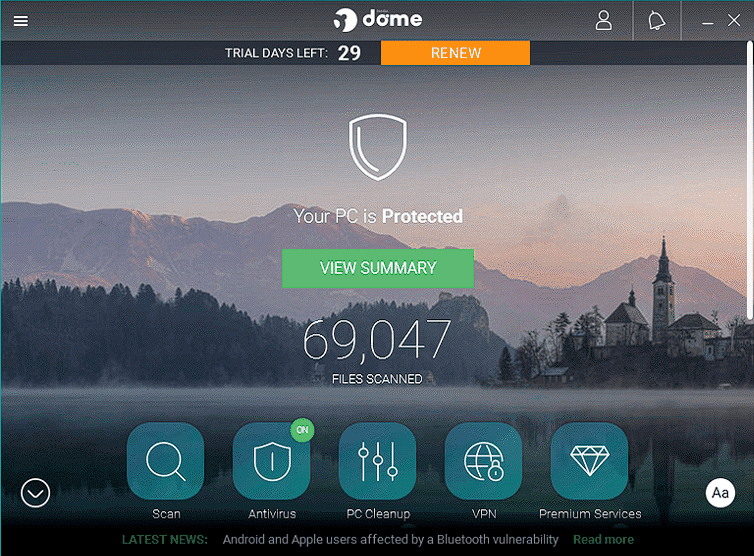 Panda Free Antivirus is one of the best virus protection options for Windows 10, a powerful cloud-based security option that offers its users a stable and efficient solution to malware with minimal impact on your system resources.
Users of Panda Free Antivirus also get access to USB device scanning to improve security, and the user-friendly interface makes it easy to use.
Pros
Real-time cloud-based protection
Very low impact on system resources
A User-friendly interface ensures quick access
Automatically updates to keep your PC secure
Cons
For full access to advanced features, the paid version is recommended
8. ESET NOD32 Antivirus – Lightweight antivirus for Windows 10
ESET NOD32 Antivirus is a powerful yet lightweight antivirus for Windows 10, which makes it a reliable and efficient PC performance booster.
Besides this, NOD32 enables users to quickly scan their PC and take advantage of the low impact on system resources. The built-in Exploit Blocker is another plus, offering proactive protection against attacks.
Pros
Fas scanning process
Low impact on system resources
Built-in Exploit Blocker with continuous protection
UEFI scanner for detecting malware at firmware-level
Included Gamer Mode to avoid distractions while playing
Cons
The higher-tier packages are limited
The user interface can be overwhelming for some users
9. Avira Free Security – Solid protection and cloud privacy features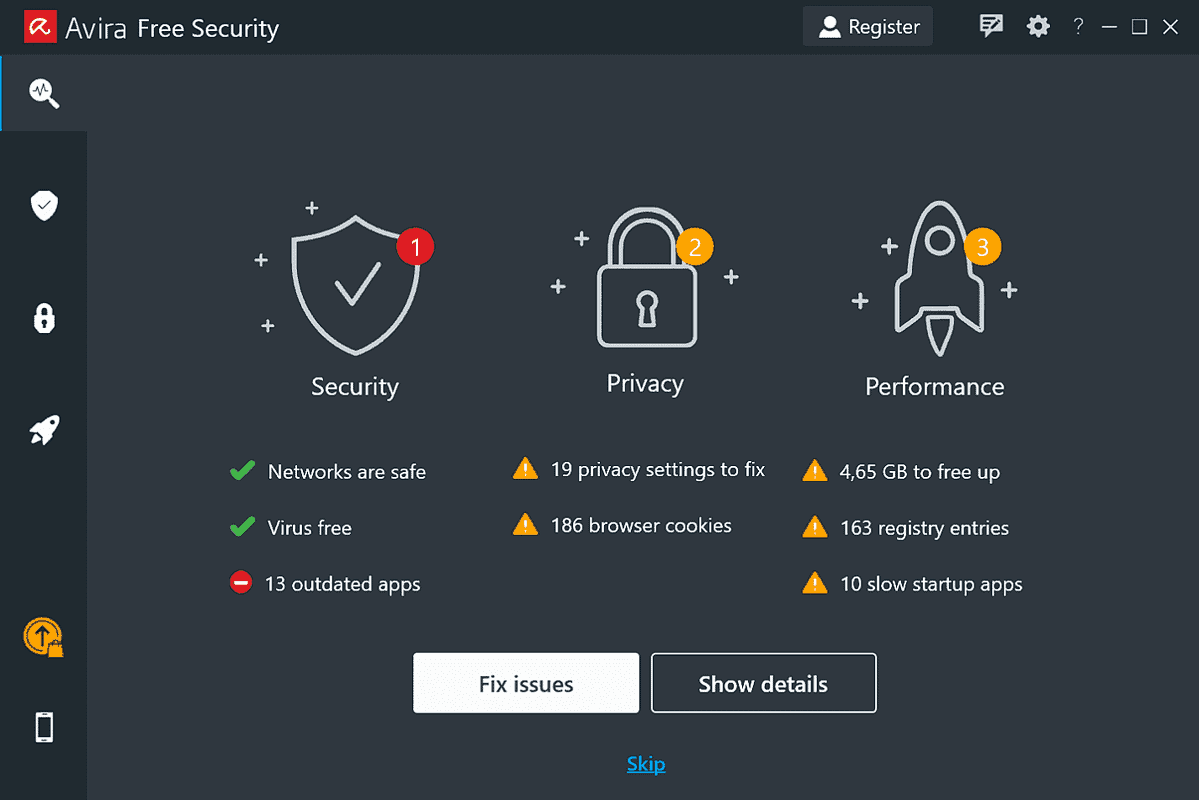 Avira Free Security offers Windows 10 users a complete antivirus solution, which includes varied privacy options that ensure you're protected online.
This software combines the latest security technologies and an easily-usable interface, making it a very good option for users of any caliber.
Pros
Real-time protection against malware, ransomware, and phishing attacks
Protects your browser from malicious downloads and websites
Includes a VPN for secure browsing
Low effect on system resources
Cons
The VPN service is limited to the free version
McAfee Antivirus Plus is another efficient antivirus software for Windows 10, providing you with a comprehensive suite designed for Windows 10 security.
When using McAfee Antivirus Plus, you can use the powerful real-time protection, firewall, secure web browsing experience, and performance optimization features.
Pros
Powerful protection against malware and other online threats
A firewall that ensures network security
System optimization tools to improve performance
Cons
Consumes a lot of the system resources during scanning
Does Windows 10 need antivirus software?
Yes, we recommend having reliable antivirus software installed on Windows 10 to supplement the built-in security features like Windows Defender.
Using updated antivirus software with decent capabilities will ensure that your private data won't be leaked online and that no third parties will gain access to it.
Is the Windows 10 built-in antivirus good enough?
Although Windows Defender is a reliable antivirus application, it's important to remember that new malware strains and sophisticated attacks are created frequently.
Third-party antivirus options offer more protection overall and include extremely important virus database updates.
It finally boils down to personal preferences and specific security needs, whether to use third-party antivirus software or rely on Windows Defender. We recommend exploring this guide and choosing either a paid or free antivirus option to supplement Windows Defender's capabilities.
---
Your particular requirements and preferences will determine the best antivirus program for Windows 10. Free antivirus apps like Bitdefender Antivirus Free and Panda Free Antivirus give little security, while paid software like Bitdefender Antivirus Plus and Norton AntiVirus Plus offer comprehensive security with extra features.
To make a wise choice and safeguard your Windows 10 machine, consider your spending limit and desired level of security.