Whether browsing the web for critical research or casually browsing online content, a web browser is a gateway to the online world. The speed and efficiency of your browser can significantly impact your efficiency or how frustrated you might get when the browser gets stuck randomly.
Choosing the fastest browser for PC is very important to rectify and prevent any uncomfortable situations like the ones mentioned above. In this article, we will test, analyze, and discuss the best and fastest browsers for your Windows PC. Let's race through the cyber highway and find a browser that covers your browsing needs entirely.
To reach an informed and unbiased decision about which browser is the fastest on the market, we have tested these software options with two essential methods:
Speed benchmark test

All browsers were tested in the same conditions for exact results. The speed benchmark test, Speedometer 2.0, was performed on the same system, with all other applications closed. This test runs a set of virtual activities in the browser, and a higher number represents a more significant number of trials completed in the benchmark's given time, indicating a faster browsing experience.
System resource impact using the Task Manager

To gauge the actual impact on system resources for each of the browsers, we used the following conditions:
– Five browser tabs were opened with different levels of impact on resources: MSpoweruser, Youtube playing a video at 1080p quality, Gmail, Facebook, and Instagram.
– Task Manager is kept open to check system resource impact
– All other applications were closed using the Task Manager
Online safety and security benchmark

We used the popular BrowserAudit benchmark for this test, which exposes the browser to various tests, including a Same-Origin Policy test, Content Security Policy, Cross-Origin Resource Sharing, Cookies, Request Headers, and Response Headers. The total number of trials is 431, so the higher the number of passed tests, the better the results.
Now that we understand the conditions used when testing the browsers in this list, we can have a look at a helpful table covering all aspects of the software options we chose for this guide:
| Browser | Speed Benchmark (Higher Value is Better) | Privacy and Security Benchmark (Higher Value is Better) | Customization and Features | RAM Usage in MB (Lower Value is Better) |
| --- | --- | --- | --- | --- |
| Opera One | 209 Runs/Min | 401/431 | Limited extension library | 770 |
| Firefox | 155 Runs/Min | 402/431 | Extensive customization | 955 |
| Edge | 197 Runs/Min | 397/431 | Valuable features, like Collections | 792 |
| Opera GX | 174 Runs/Min | 399/431 | Customizable with GX Corner and GX Player | 893 |
| Vivaldi | 185 Runs/Min | 399/431 | Highly customizable interface | 543 |
| Chrome | 174 Runs/Min | 401/431 | Great customization options | 1100 |
| Brave Browser | 206 Runs/Min | 401/431 | Compatibility with Chrome extensions | 568 |
Now that we have a helpful overview of the test results and how they compare, we will take every software option and describe some of their best features and recommendations, so let's dive right in!
1. Opera One – Fastest Free Browser for PC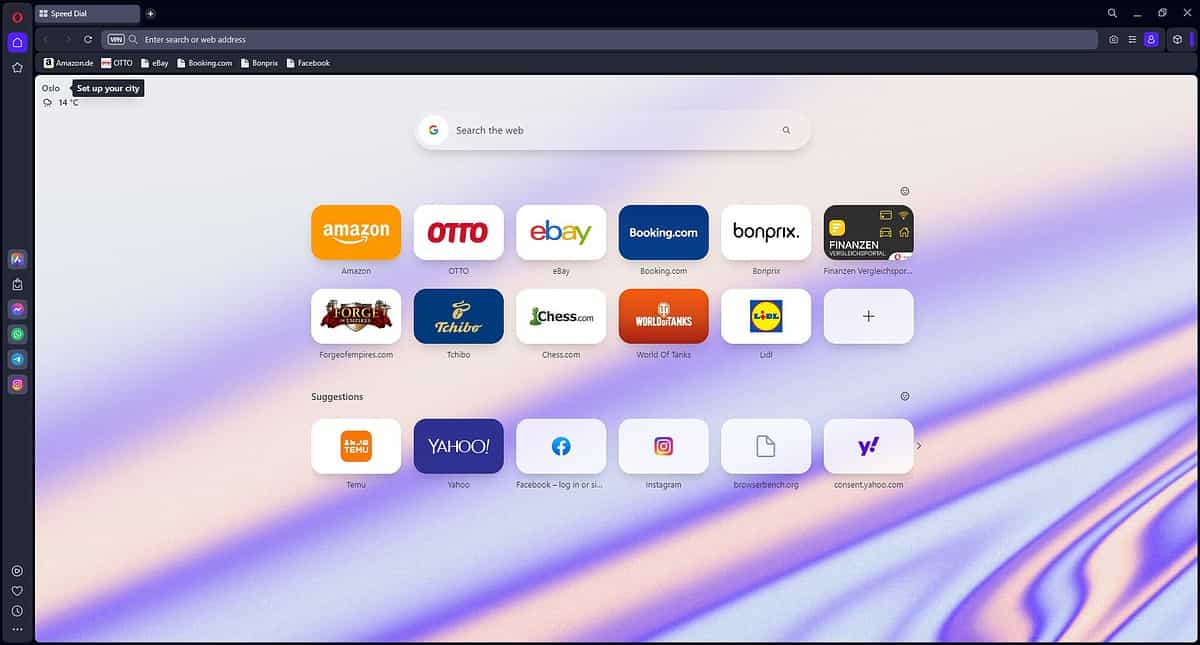 Opera One takes the crown as the Speed Champion among web browsers, ensuring lightning-fast performance and a powerful engine to back up any user type.
The Turbo Mode feature ensures that all web pages are compressed before loading them, thus reducing the loading times considerably, even on slower internet connections. Since our goal is to understand which browsers are the fastest, this feature ensures that Opera One takes the lead.
Besides this, Opera One also includes a versatile ad-blocker, ensuring no time is wasted with ads when loading your web pages while reducing distractions.
To round this software up even better, the browser has a built-in free VPN service, allowing users peace of mind regarding privacy and security. These features make Opera One the best browser for various systems, users, and internet connections.
Pros
The fastest browser on the market
Built-in VPN
User-friendly interface
Built-in ad blocker
Cons
Limited extension library
2. Brave Browser – Fastest Browser for Windows 10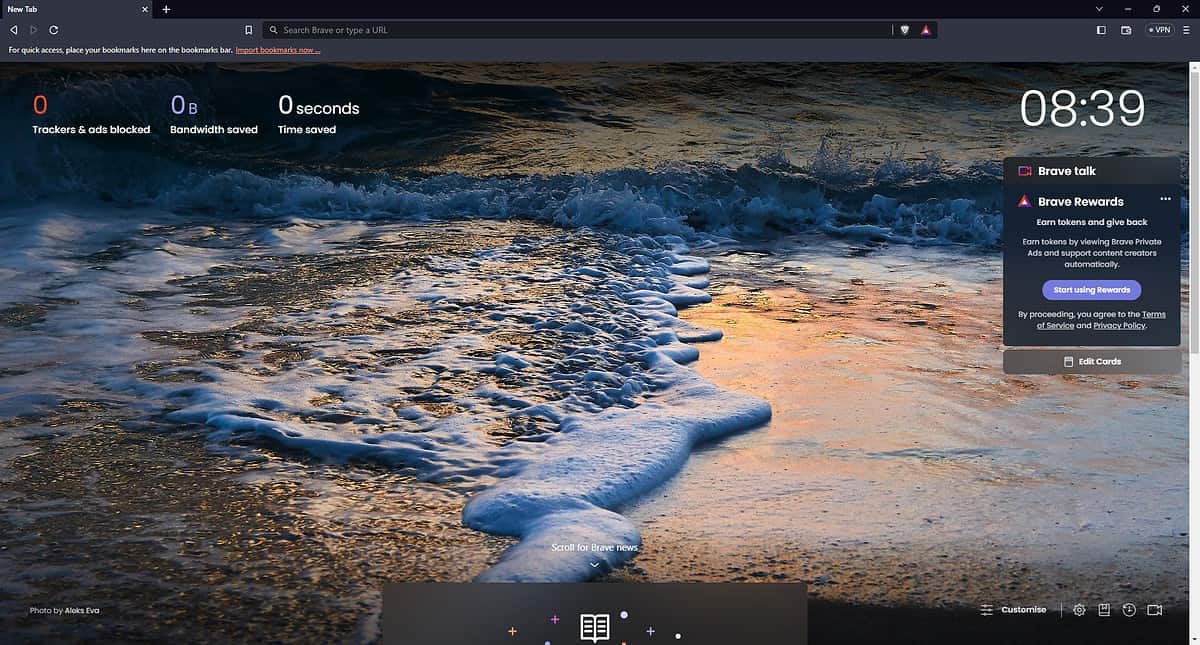 Brave Browser has evolved considerably in the last few years to become one of the market's fastest and most secure browsers, only surpassed by our top pick: Opera One.
This user-friendly browser stands out from the crowd with its versatility and combination of speed and privacy. Our expert test team has been impressed with its ad and tracker-blocking capabilities.
Another element that makes it stand out is the Brave Rewards feature, which enables users to earn cryptocurrency while viewing privacy-respecting ads. Even though this sounds counter-intuitive, this process allows the company to grow while offering users a 'cash-back' method of making money.
Pros
2nd place when it comes to browsing speeds
Low impact on system resources
Excellent online privacy and security features
Fully compatible with Chrome extensions
Cons
It has a considerably smaller userbase than other options
3. Edge – Microsoft's Powerhouse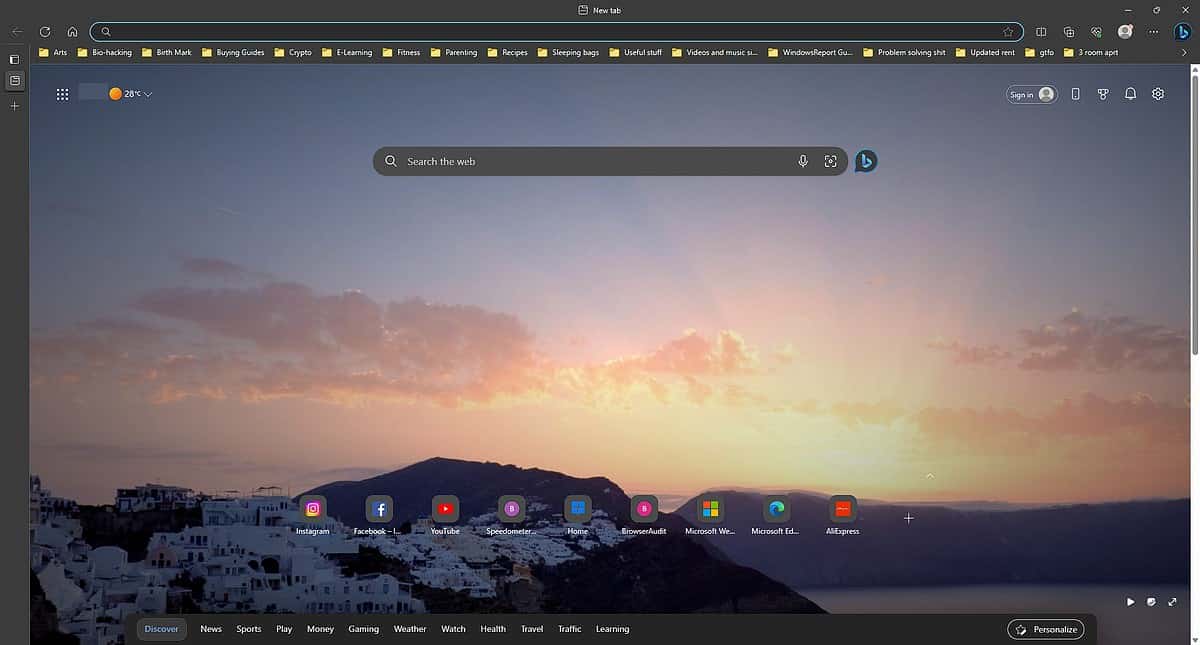 Edge is Microsoft's built-in browser, which has been revamped in the last few years and reached the podium in our search for the fastest browsers for PC. Edge has scored 197 Runs/Minute, which makes it worthy of the 3rd position in our top.
Edge has also scored good results in the RAM usage department, with 792MB used to run the five tabs presented above, which doesn't set it too in this domain compared to the top choice.
The most significant advantage of using this browser is the seamless integration with any Microsoft services, including Outlook, Office 365, and others. This browser features Cortana as a virtual assistant and has a good range of privacy features, passing 397 out of 431 tests in our benchmark.
Pros
The 3rd fastest browser on our list
Seamless integration with Windows services and apps
Integrated Microsoft Defender SmartScreen
Decent impact on system resources
Cons
Primarily designed for Windows-based systems
4. Vivaldi – Good Speed & Low Resource Requirements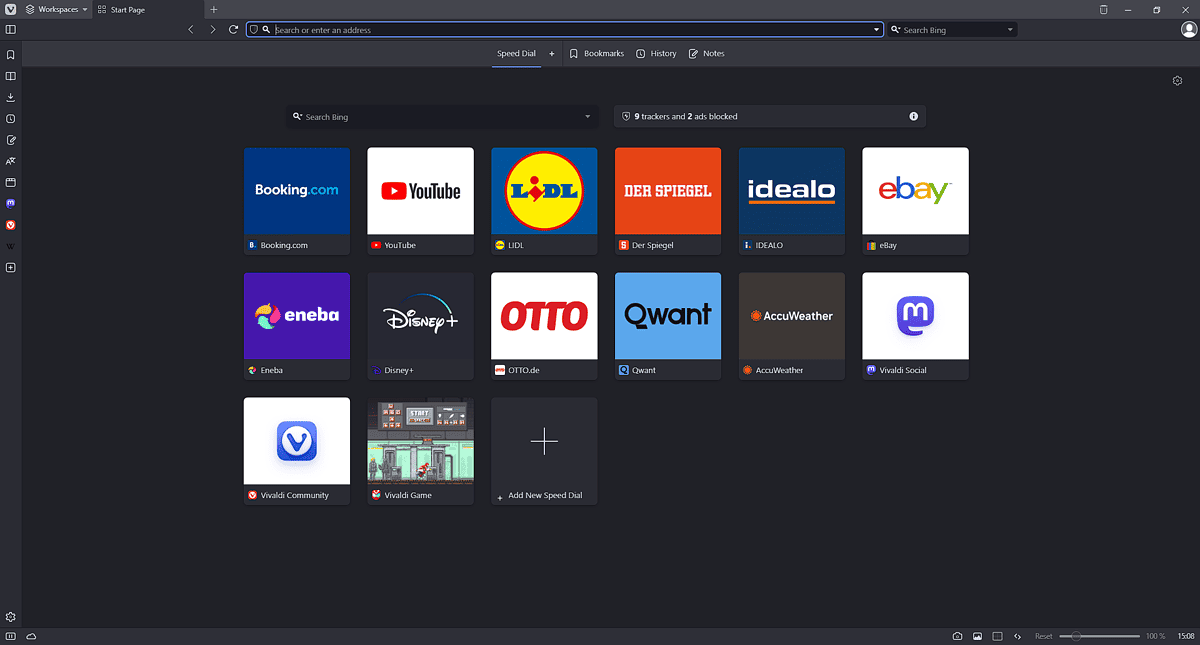 Vivaldi didn't reach the podium for this guide, as it scored 185 Runs/Minute in our speed benchmark, just under the 3rd position occupied by Edge. Getting the 4th position in a competition of this caliber is an excellent result, making Vivaldi a perfect option for users who want almost unlimited customization for their browsing experience.
Vivaldi passed 399 out of 431 tests during our online security benchmark, making it a secure option. That being said, Vivaldi proved in our tests that it could optimize five running tabs by using 543MB of your system's RAM, making it the most efficient browser in this department.
Additionally, Vivaldi offers users a built-in note-taking and screenshot tool, making it very useful for people who need to think on the go.
Pros
Extensive customization features
Good interface personalization options
Includes a Quick Commands feature, which can be helpful
The lowest impact on system resources
Good online privacy and security features
Cons
Only 4th in browsing speed
Requires a learning curve for inexperienced users
5. Opera GX – Versatile Gaming-Oriented Browser with Good Speed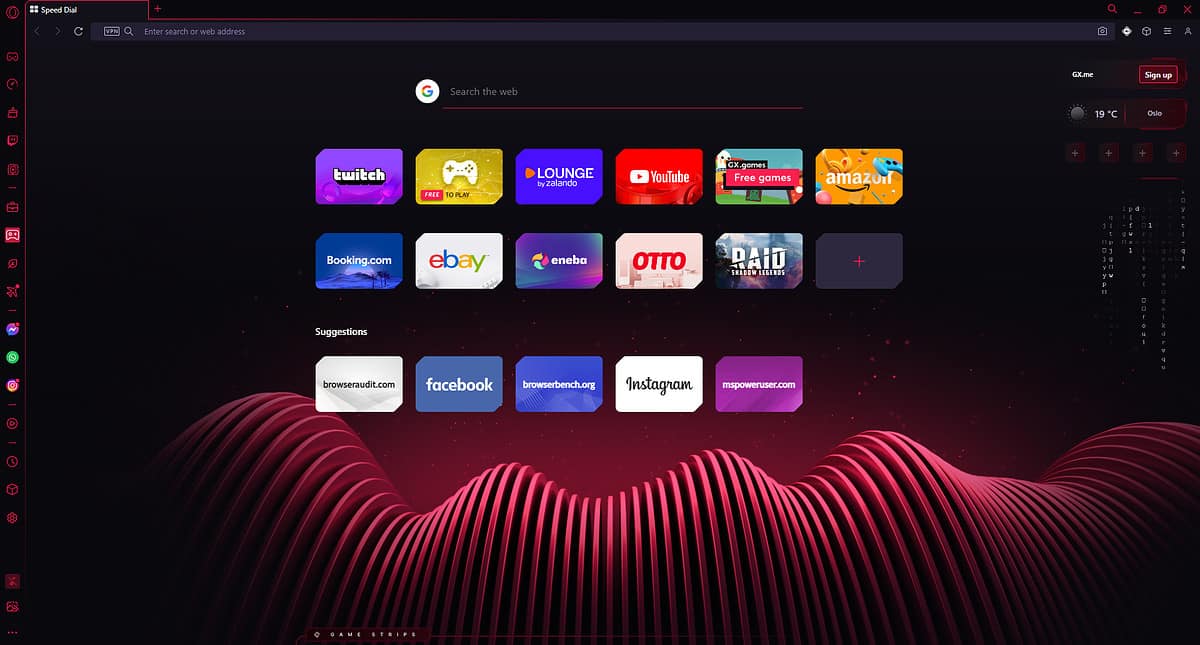 Opera GX, as we all know by now, is the gaming-oriented variant of the Opera browser, which promises a wide range of customization options for professional and amateur gamers alike. This powerful browser has scored decent results during our tests, so let's look at them.
During our speed benchmark tests, Opera GX has completed 174 tasks/minute, our security and privacy benchmark test has shown 399 tests passed out of 431 total, and the impact on system resources was 894MB for the five tabs mentioned in the test description. Even though Opera GX reached only the 5th position when it comes to speed, the security and privacy benchmark has shown the same level of protection as Vivaldi, which is above it in our list.
Opera GX, even though it was created for gamers, provides users with all the tools they need for a safe and secure browsing experience without impacting their system resources. Opera GX has a wide range of valuable features for the user base it is aimed at, including a RAM and CPU limiter for in-browser gaming, quick access to social media and messaging apps through the built-in sidebar, and also provides users with a free VPN and ad-blocker.
Pros
Gamer-oriented browser with valuable tools
GX Control integration for game performance optimization
Good customization features
Integration with gaming apps like Discord
Cons
The gaming-focused features are not for all users
6. Chrome – Great Security But Slow Browing Speeds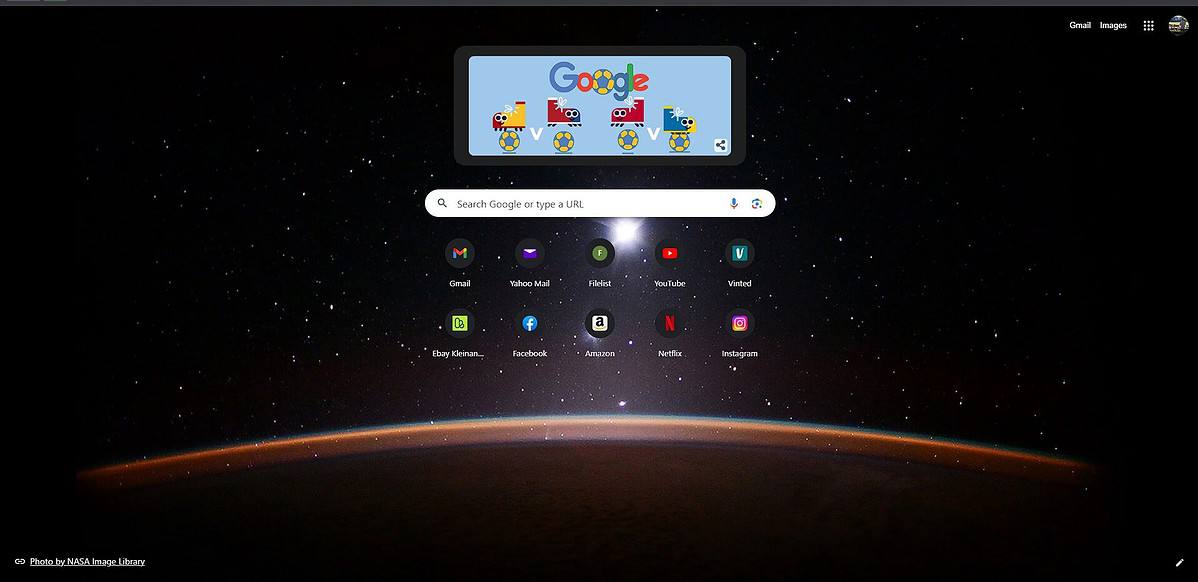 Google Chrome is a longtime favorite of users because of its reputation for speed and stability. Still, the so-called king has been de-crowned by the benchmark tests we conducted during our research: Chrome is only the 6th entry in our list regarding browsing speed, as this was the focus of our guide.
That doesn't mean that Chrome is not still one of the best browsers on the market, as it scored 401 points in our privacy and security benchmark, making it as safe as our top contender Opera One.
Unfortunately, Chrome scored very low on the RAM usage test, with a whopping 1100MB used to run 5 of the previously mentioned tabs. This makes it even more resource-intensive than our last position browser, using almost double Brave's resources for the same tasks.
Its seemingly endless number of extensions, full integration with Google services, and its capability to deal with resource-intensive web applications make it stand out from the crowd.
Pros
Minimalist design with a large number of extensions
Fully and seamlessly integrates with any Google product
Excellent privacy and online security features
Cons
The highest impact on system resources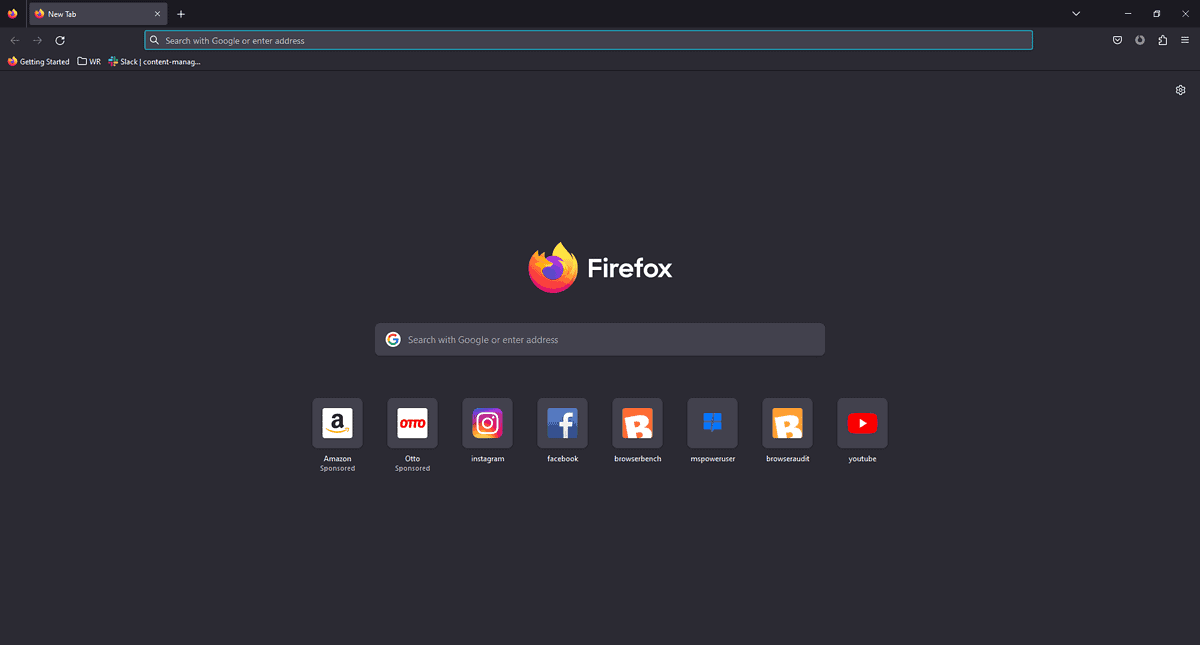 Firefox is a great browser option. Even though it doesn't reach the capability, speed, and stability of Opera One, it does score better regarding security in our benchmark tests. The differences are, unfortunately, minimal, and users looking for faster speeds should still consider Opera One.
That said, Firefox passed 155 tests from the speed benchmark, making it a decent contender and a good option for people already using this software. Regarding RAM usage, this browser has used 955MB, which makes it acceptable but not even close to the best.
The vast number of extensions makes this software stand out, enabling users to customize their experience. Firefox is, unfortunately, the least speedy browser option found on the market.
Pros
A vast number of extensions and customization options
Decent levels of resource usage
Built-in tracking protection
Cons
The slowest browser on the market
---
As our quest for the fastest browser for PC ends, we are pleased to know that our tests have presented you with some beneficial insights.
If you want to ensure high-speed browsing, stability, and online privacy and security, you can't go wrong with our top choice: Opera One. Brave Browser comes very close to the capabilities of the first position but lacks a bit in speed and security features when compared. If, for some reason, these two options don't seem like a good fit for you, you can always use Edge and take advantage of the seamless integration with any Microsoft product.
What browser did you choose, and why? Regardless of your choice, we would love to hear from you in the comment section.