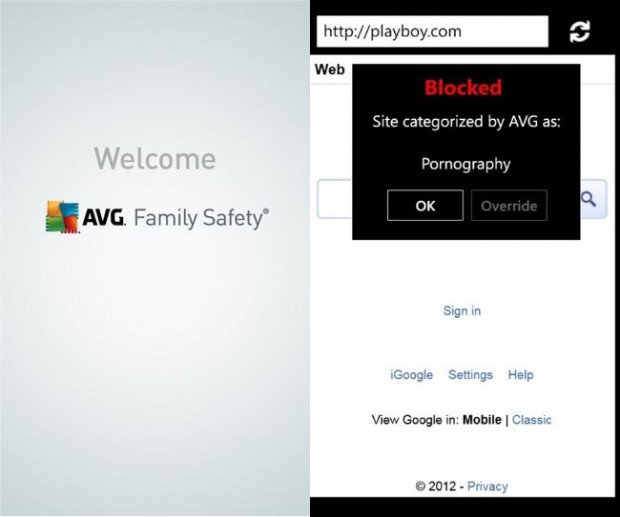 AVG has released its Family Safety app for Windows Phone devices today. This is their second attempt in Windows Phone Marketplace after their first app  AVG Mobilation virus-scanning app debacle. That app was pulled from marketplace as it was found to be a spyware kind of thing.
App Description:
AVG Family Safety is a free, secure, family-friendly Web Browser, which helps protect your children from inappropriate websites while also keeping your family safe from scam, fraud, phishing and potentially malicious online content. AVG Family Safety helps your family make the right choices online.

AVG Family Safety comes on top of the built-in mobile security provided by Microsoft for your Windows Phone. It blocks sites that you may not wish your children to see when they are surfing the Web on a Windows Phone device, and also helps prevent your family visiting malicious websites that try to misuse personal data.
By using the AVG Family Safety secure browser as an alternative to Internet Explorer you can take steps to ensure:
• You and your family only visit safe websites. Websites that are known to be malicious or contain scams or malware will be blocked, using data provided by AVG's Linkscanner® technology. You will be notified and prevented from accessing the rogue site.
• Your children are kept safe from mature and inappropriate content. Sites that are deemed inappropriate are blocked with the category displayed on screen.
AVG Family Safety works like other web browsers and features:
• Browser history of websites visited
• Bookmarks for favorite websites
• Works with WiFi and mobile data Internet connections
When AVG Family Safety is used in conjunction with the AVG Family Safety PC product you can also:
• Easily customize the list of allowed and blocked sites
• Monitor the online activity of the different users of your Windows and other devices
• Block social networking and other sites (per individual login for each child)
AVG Family Safety PC software can be downloaded from: http://www.avg.com/gb-en/avg-family-safety
Find it here from the marketplace.