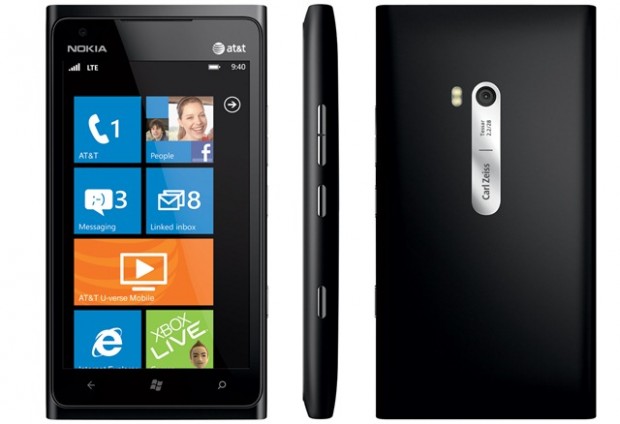 The good: The Nokia Lumia 900's eye-popping unibody design sets a new direction for smartphone style. Its LTE speeds, vivid 4.3-inch screen, and 8-megapixel camera are high points.
The bad: Problems with call quality and minor design flaws like some gaps in the construction and weirdly placed buttons get in the way. The designer camera optics are good, but they don't live up to the hype. The phone shoots 720p video rather than 1080p video.
The bottom line: The Nokia Lumia 900's unique design and high-end features make Windows Phone look fantastic, and the $99 price is extremely fair. Despite some flaws, this is my favorite Windows Phone yet.
For $99.99, the Lumia 900 is a superb value. But even if the phone wasn't just under $100, it would be considered a great smartphone. It has a striking design, beautiful display, solid camera, fast data speeds, and a very clean and easy-to-use operating system.
But one thing is clear: Nokia is now the maker of one of the best and most attractive phones on the market, and my guess is that will put an end to questions like "Nokia still makes phones?"
As a smartphone, the Lumia 900 is more than competent, and a better choice than many Android phones out there for the same price (if you aren't tied into the ecosystem). On design, it certainly wins against most Android phones, even higher-end models, and it bests many on features.
Compared to the similarly-priced iPhone 4, the Lumia 900 is a better choice, hands down.
For the first time in a while, I'm genuinely excited by a new Windows Phone. With the Lumia 900, it seems as though some of Nokia's rhetoric about being the first OEM to put its best hardware and design forward with the platform is starting to ring true. Similar to our take on the first members of the Lumia family, the 900 is easily the best Windows Phone on the market today.
The $99 launch price is absolutely crazy and very welcome for a flagship phone, particularly one with such high build quality and camera standards. Not only does this obviate other Windows Phones, but it increases competitive pressure on Apple as well as Android smartphone providers. I don't know that there's still a lot of iPhone/Windows Phone cross shopping, but a trend towards even cheaper on-contract prices for high-end smartphones is absolutely welcome.
Engadget:
Pros:
Solid camera
Fluid user experience
Blazing LTE speeds
Useful Internet Sharing feature
Screen is easily readable outdoors
Cons:
Low-res display
Bottomline:
Nokia's Lumia 900 is a steal for consumers looking for dependable performance, ease of use, LTE connectivity, an attractive design and reasonable price.
At $100, the Lumia 900 also blows away most similarly-priced smartphones. Numerous Android devices are available for $100 and under, but in my experience the cheaper you go with Android devices, the more hellish the experience. Apple's $100 8 gigabyte iPhone 4 is the strongest competitor to the Lumia 900, but for those consumers who avoid Apple products at all costs, Nokia's new flagship is one of the few worthwhile mid-range smartphones.
Should I Buy It?
Probably—it's only $100, or zero dollars if you're a new AT&T subscriber, which you might be. Either way, it's paltry cover fee to enter the Nokia LTE Windows Phone beauty pageant. It's so quick and elegant.
I feel I must reiterate that this is NOT AN UPMARKET DEVICE! By pricing the Lumia 900 at just $99, Nokia is targeting the mass market consumer. Yet with a solid body, solid camera, nice screen, and 4G connectivity, the hardware value is unquestionably through the roof. The mass market is getting an impressively well-rounded device. Whether or not the software backs up that value is up to the individual user and what he needs his phone and related Web services to do. For me, those qualities pass too, despite my love for the little
At $99.99 for returning AT&T customers, the Lumia 900 is tempting for any smartphone aficionado. At zero dollars for new customers (or $49 if you brave the Wal-Mart aisles) it's a downright steal. A solid and stylish build, reliable software and excellent value should put this phone on your short list, no matter what you're currently using. You can consider LTE as a bonus, since AT&T will surely add many more markets over a two-year contract period.
I've said consumers should walk into an AT&T store and get their hands on a Windows Phone device just to see how solid the platform is. That statement is even truer now that the Lumia 900 is available. It's the perfect marriage of Windows Phone and beautiful, first-class hardware all in a super affordable $99 package. If you want more applications, then I don't blame you for walking out of the store with an iPhone or an Android device. But if Windows Phone does suit your fancy, the Lumia 900 is, hands down the best option available.
There has been a lot of interest and anticipation for the Nokia Lumia 900. It's the first real flagship Nokia Windows Phone to come to the U.S.A. Of course the Lumia 710 was the first Nokia Windows Phone in the U.S. and it has been selling very well on T-Moble, but the Lumia 900 is really the one everyone has been waiting for. It's got everything: great build quality, large screen, high speed LTE, great battery life, beautiful design, a stable/smooth/fun/easy/capable operating system, great reception, and a fantastic price. I'm a little disappointed that our review version is the black model since the Cyan version just looks so incredibly eye-catching. I think it's going to be difficult to find a reason not to buy one of these if you're on AT&T and are up for a contract renewal.
Nokia has always been known as the best mobile phone manufacturer in the world. The Lumia 900 is here to remind you of that.
I give the Nokia Lumia 900 a 4.5/5.
Update:
We will be adding more review conclusions from more sources as we find them. If you find any interesting reviews of Lumia 900, let us know in the comments.