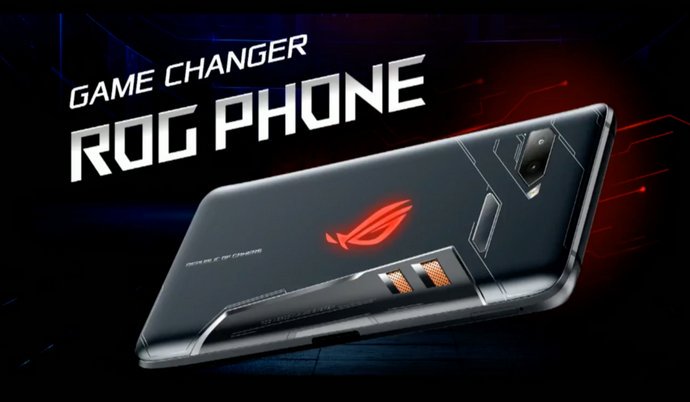 ASUS Republic of Gamers lineup is adding a smartphone to it today as the company announces its first ROG phone. The company launched the ROG phone at Computex 2018 in Taipei.
The phone comes with amazing specs to run high-end mobile games without problems. It equips a Qualcomm octa-core Snapdragon 845 chipset with a clock speed up to 2.96GHz. The display is a 6-inch 2,160 x 1,080 AMOLED screen with a refresh rate of 90Hz. ASUS has put in 8 GB RAM and comes with 802.11ad WiGig connectivity. The company has also added a decent 8MP front, 12MP/8MP ultra-wide on the back. For security, ROG phone comes with a rear fingerprint sensor and ASUS has added a ROG logo with programmable backlight. You can also sync up to 5 ROG phones using Aura Sync. ASUS has also added 3 USB Type-C ports which will allow uninterrupted gaming experience. Another unusual feature of this device is the presence of 3 ultrasonic sensors for a better gaming experience. ASUS has put in a 4,000 mAh battery to power the hardware and comes with ASUS HyperCharge.
ASUS has also added a few accessories like TwinView Dock and AeroActive Cooler which attaches to the back of the phone and cool it done. As an added bonus, AeroActive Cooler also comes with a 3.5 mm headphone jack. ASUS also is launching its own Continuum type dock called Mobile Desktop Dock which will let the users hook up the ROG phone to a desktop.
Honestly, ASUS ROG phone is a beast and kicks out Razor Phone for good but one question still remains unanswered, is this really needed? ASUS ROG phone will be available in the market sometime in Q3 and that when we might get to know if this device or any gaming smartphones really have a market. Until then, you can head to the comments section below and let us know your thoughts on this device.