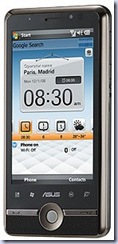 ASUS has finally formally announced the Asus P835.  The P835 is equipped with a large 3.5" touchscreen that runs at WVGA resolution. The P835 including blazing fast HSUPA 7.2Mbps download speeds, a responsive trackball that makes scrolling effortless and Opera Mobile, a user-friendly and full-featured Web browser. It wraps all of its impressive functionality in an elegant touch-optimized interface which is intuitive, interactive and attractive.
Unparalleled Internet Browsing Experience
The ASUS P835 is designed to help users get the most out of the Internet. It is embedded with Opera Mobile, a fast, user-friendly and rich-featured browser that brings a complete Web experience to the P835. Users will be able to perform the full breadth of online tasks—from hopping onto their social networking sites and updating their blogs, to checking email and viewing streaming video. The P835 also enables users to switch between 12-key, half-Qwerty and full-Qwerty virtual keyboard modes, allowing them to choose an input method that best suits their current task. A responsive tracking ball significantly improves scrolling, and the phone's large 3.5" display ensures every webpage is displayed crisply and vividly.
Crystal Clear 3.5" WVGA Touchscreen
The P835 is equipped with a large 3.5" touchscreen that runs at WVGA (800 x 480 pixels) resolution—offering five times the number of pixels of most phones—thus rendering the P835 capable of delivering unprecedented clarity and screen real estate. Regardless of whether it is used for watching movies in full screen, browsing through photos, perusing documents or surfing the Internet, the P835 will provide visual enjoyment on the mobile platform like never before.
New Glide: The Best Mobile Interface, Now Even Better
The P835 features an updated, streamlined and enhanced iteration of ASUS' exclusive Glide—the most innovative, intuitive and interactive mobile user interface available today. New Glide has been given a significant facelift over its predecessor, boasting new icons that take the beauty and interactivity of the interface up a notch—making the best even better. Subtle, bold, modern, swanky or sweet—the P835 has a theme that will appeal to everyone.
Doubles as a Wi-Fi Access Point
The P835 has the additional ability to function as a Wi-Fi Access Point. It can share its high-speed HSPA cellular data or Internet connection over Wi-Fi with up to 10 devices, such as laptops or other PDA phones. Connecting devices is a simple affair thanks to the P835's user-friendly interface, and dropped connections are automatically restored.
Networks
HSPA (DL: 7.2Mbps, UL: 2Mbps), UMTS 900/1900/2100
EDGE/GPRS/GSM 850/900/1800/1900, Class 12
Operating System
Microsoft Windows® Mobile 6.1™ Professional
Color
Black
Form factor
Bar type
Dimensions
115mm x 59mm x 13.8mm
Weight
148g (with battery)
Standby Time
350hrs with 3G and 300hrs with 2G*
Talk Time
6hrs with 3G and 7hrs with 2G*
Display
3.5" TFT, 65K-color Touchscreen, WVGA (800 x 480 pixels)
Processor
Qualcomm 7201A 528MHz
Memory
4GB Internal Storage + 288MB SDRAM + 256MB ROM
Expansion Slot
MicroSD with SDHC support
Connectivity
WLAN 802.11b+g , USB v2.0, Bluetooth 2.0+EDR
WAP Browser
HTTP / WAP 1.2.1/2.0
Messaging
SMS / MMS / Email / MSN / Push Email
Battery
1100mAh Lithium
GPS
Yes (AGPS supported)
Business Applications
PIM
Word (editor), Excel (editor), PowerPoint (viewer), Adobe Reader, Windows® Live, MSN, Voice Commander** and Push Email (Exchange Server).
Other Features
Opera browser, Wi-Fi Access Point, YouTube, Flickr, ASUS Virtual Keyboard, Anytime Launcher, ASUS Today, EziMusic, EziPhoto, Google search and RSS Reader.
Multimedia and Entertainment
Camera
5 Megapixel Auto Focus
Video
Record: MPEG4/H.263
Playback: MPEG4/H.264/H.263/WMV
Video Call, Audio/Video Streaming
Picture Format
JPEG, PNG, GIF, BMP
Audio Format
MP3, WMA, WAV, AMR, AAC and AAC+
Ringtone
Polyphonic (MIDI, 128CH), MP3, WMA and WAV
JAVA
J2ME (CLDC 1.1 + MIDP2.0)
 
Source: Asus press release