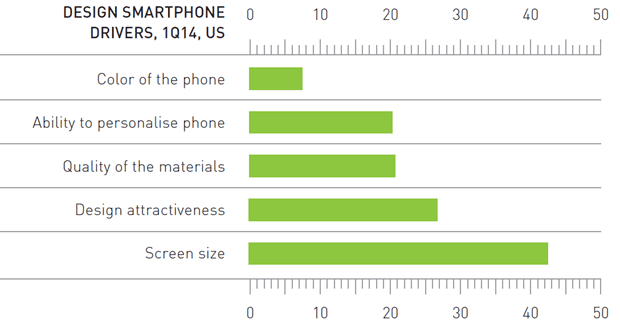 The Green Nokia Lumia 1520 has just arrived on AT&T, and is now available for $199 on contract.
Recent research from Kantar on the US market however found that a new colour is unlikely to stimulate much new buyers.
According to their research, when it comes to choosing a phone only 8% of buyers prioritized colour, with screen size being the main factor for more than 40% of buyers, with bigger being better. Interestingly the availability of apps did not feature on the list, and screen resolution and quality did not really matter.
Unaligned buyers ie those who were not convinced to buy an iPhone or Samsung by sales people, (around 35%) were particularly preoccupied with specs, with the myth of the uninformed smartphone buyer now just that.
70% did research prior to buying a smartphone, often by reading reviews, visiting websites or talking to friends.  It would come as no surprise that iPhone buyers however did the least amount of research.
Having said that, recommendations by sales people were still very important, with sales teams recommending Samsung for example 63% of the time, and buyers following these recommendations 59% of the time.  Nokia handsets were recommended only 7% of the time, showing a close correlation with the market share of the OS running on these handsets.
Given all this research, conducted in Q1 2014, what is the formula for a best-selling handset?
Online recommendations by review sites and opinion sites are important, with 40% reading online before buying, often in store, and recommendations by sales teams also critical.
Buyers are also pretty concerned with functionality and specs of devices, preferring devices with LTE, large screens, great cameras and good build quality, and great battery life.
The perfect device would then be something like the Nokia Lumia 930, marketed with a campaign that draws on Nokia's tradition of great durability, camera quality, and Microsoft's reputation for productivity, sold at a lower price for value buyers, but with less online negativity and more backing by sales staff.
This is difficult but does not seem to be an insurmountable challenge, but what is clear is that simply updating the 1520 to a green case will not do the trick.
The full report by Kantar can be read here.