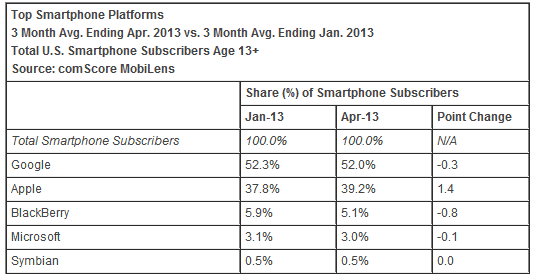 The latest Comscore numbers for the 3 months ending April 2013 shows 3% of the 138.5 million smartphone users in USA, or around 4.155 million people, own Windows Mobile or Windows Phone handsets.
This percentage is slightly down from the 3.1% in the 3 months ending January 2013, but due to the growing smartphone market in the US, still represents an addition of 143,600 new Windows Phone users since that period.
On a month to month basis Windows Phone has remained steady at 3%, which also due to the growing smartphone market represents the addition of 54,000 people.
This contrasts with Blackberry, who last 600,000 users over the 3 month period, despite the launch of the Blackberry Z10 in March this year.
I expect the release of the Nokia Lumia 521 and Nokia Lumia 928 in May will move the needle somewhat, and with rumours of the Nokia EOS in July I expect this number to trend up eventually.