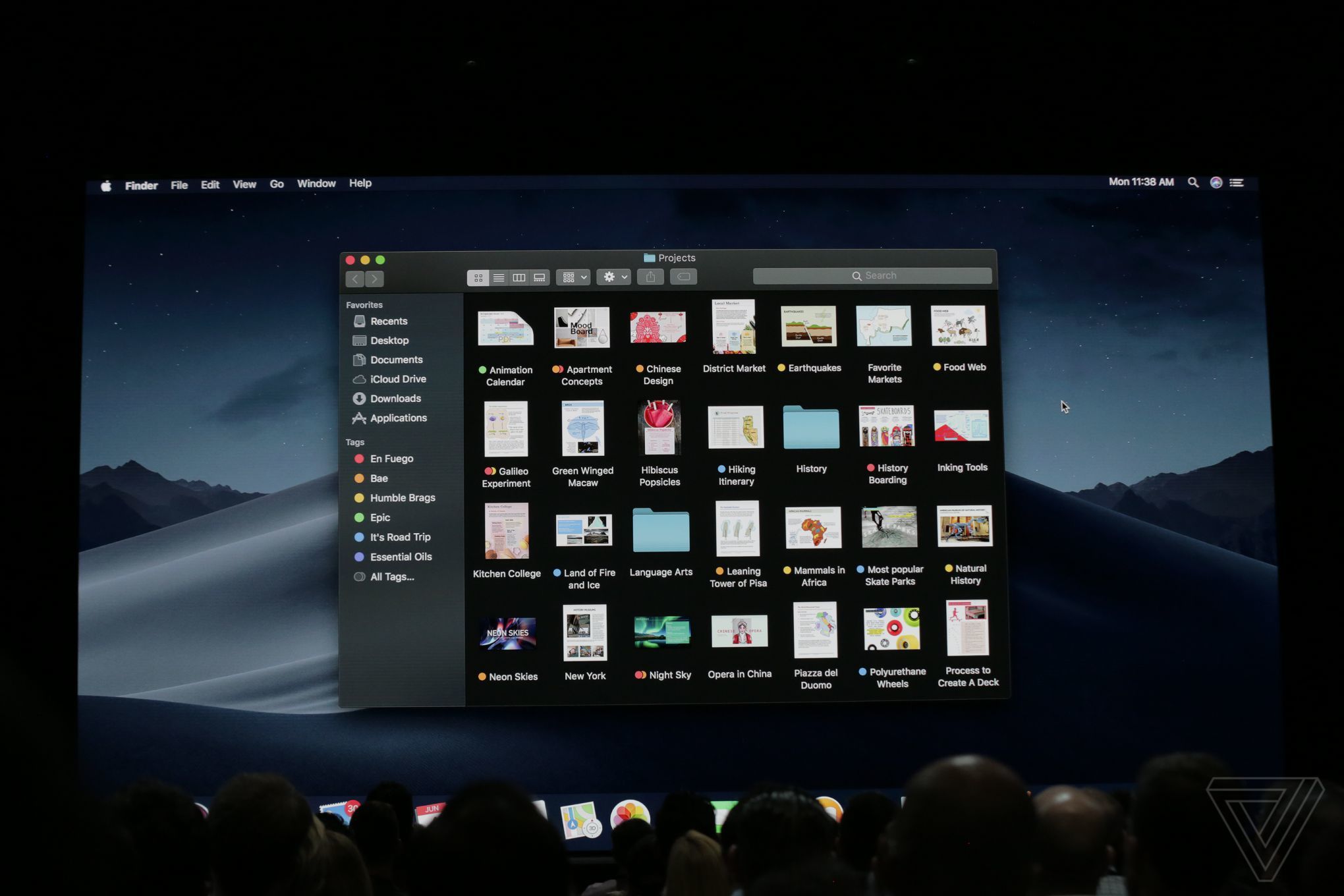 Just after announcing iOS 12 at WWDC 2018, Apple is announcing a whole bunch of updates for its macOS platform with macOS Mojave.
First of all, and most obviously Apple is finally implementing a dark mode on in this release.
Mac users will now be able to make use of a feature Windows 10 users have enjoyed for nearly two years now, and swap their blinding white UI for a dark one. It isn't simply the system elements like the dock and window chrome that are going dark, Apple's native apps now plug into the dark theme as well as apps which are built with the latest MacOS APIs in mind. Unlike Windows, it seems users of Apple software will see the dark theme more widespread than Windows apps are.
Apple is also implementing a new feature called stacks on the desktop. Stacks is an easy way to collate files of the same file type you have scattered around on your desktop. Should you have PDFs all over your desktop, Apple will collect all these into a  neat and organised PDF stack. While many power users tend to have their desktops neatly organised, some users treat their desktop as a virtual dumping ground. Stacks helps bring some easy sanity for those users who can't be bothered to be organised but would benefit regardless.
Apple is also redesigning the macOS App Store to take design cues from the iOS store, bringing a unified design to all its platforms. The firm will also be partnering with Microsoft to launch Office 365 to reinvigorate the store. Adobe will also be participating, supporting Lightroom Creative Cloud in the store. In the same vein, Apple is bringing more of its iOS apps to the mac. Users will fins Google News, Voice Memos and Home on their Macs come fall. They'll work the same way as they do on your iPhone and iPad, taking advantage of the familiarity.
Apple is adding more security and privacy features to macOS. It'll put up pop-ups throughout toe OS to alert you when apps want access to various services, and it'll stop ad networks from stalking you and building a shadow profile over you in a direct middle finger to Zuckerberg's panopticon.
Finally, Apple is improving the screenshot functionality of MacOS, taking a screenshot will now pop up a window like that in iOS which will allow you to markup and edit file. It's somewhat similar to a feature which Microsoft offers in Windows 10 as well.
Apple will roll out macOS Mojave to its MacBook line of devices this fall along with iOS 12.