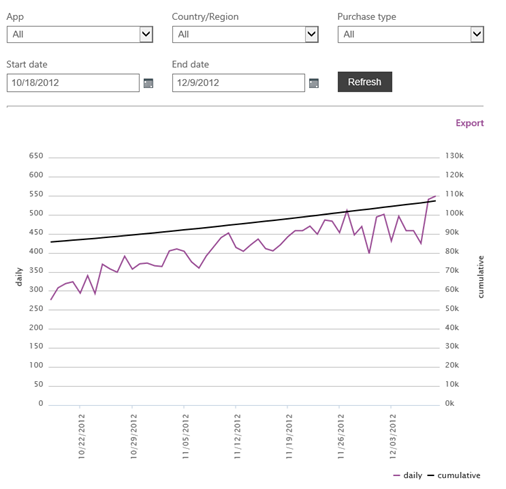 Windows Phone 8 was billed as the coming messiah for Windows Phone that would correct most of the ills of the platform.
It seems in many ways that prophesy is coming true, with Microsoft reporting on their blog that app submissions have seen a sustained 40% increase since the advent of the OS, to the degree that they will keep the app certification mills cranking through-out most of the holiday season, pausing only on Christmas eve, Christmas and New Years Day.
At the same time developers are also reporting significant increases in their downloads, with one, on the WebSurfaces.co.uk blog, writing:
At this stage downloads of my own Windows Phone Apps appear to have doubled since the release of Windows Phone 8 – with downloads continuing to increase on a daily basis.

While reading positive sales stats and figures from Microsoft and Nokia is always a good thing, having access to 'real data' such as this helps confirm that the positive buzz around the platform is being translated into real world results.

As a developer I am energised around the development of future Apps for Windows Phone, particularly in light of the opportunities for shared code and Apps with Windows 8.
Maybe Microsoft's mobile ambitions will be having a Christmas miracle after all.
Via TNW.com