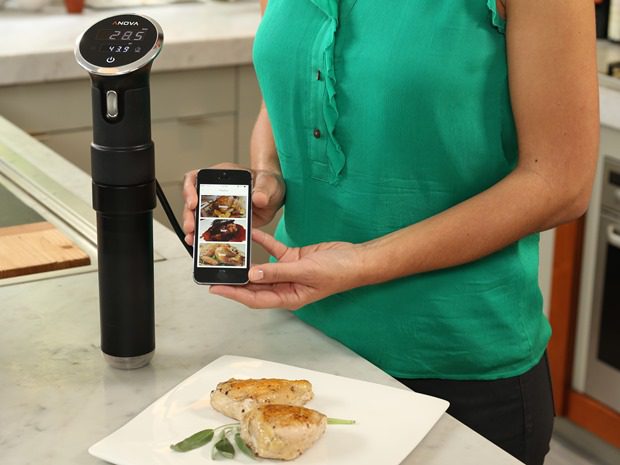 Techhive reports that Anova Culinary's new Anova Precision Cooker, which looks like an immersion blender but is in fact a sous vide cooker, comes with Windows Phone support.
A sous vide machine is a water circulator that heats water to a precise temperature and maintains it there. Cooking with this appliance involves vacuum-sealing food in a bag, then slowly cooking it in your sous vide water bath.
Everything is cooked at less than 100 degrees Celsius (212 degrees Fahrenheit), and often for at least an hour. In addition to cooking meat extraordinarily well, sous vide is great for cooking soft-boiled eggs, fish, and veggies.
Anova's Precision Cooker can be controlled from your smartphone, making it easier for cooks to control the time and temperature of the cooking.
The Precision Cooker is Bluetooth enabled, and pairs with an app already filled with recipes and directions.
After you've filled a pot with water and set the Precision Cooker in place, all you have to do is launch the app, find a recipe, and tap a button; the Precision Cooker will then heat the water to the proper temperature, and notify you when it's ready to go.
With the app, you can check in with the recipe's progress from time to time, and allows for changing the temperature of the water for gradient cooking.
The device originated from a kickstarter which raised $1.8 million, and the gadget will only ship in January 2015.
The Anova Precision Cooker is available for pre-order now for $179 and ships in January 2015. The app will be available for iOS, Android, and Windows Phone devices.
See the kickstarter video below.
See Anova's range here.