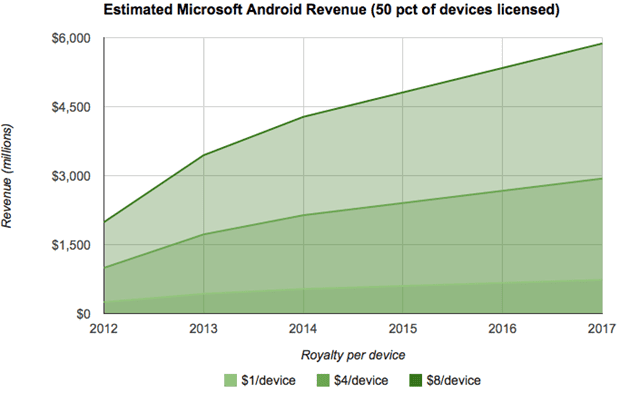 The rise of Android has been pretty inexorable, but it seems not many people besides Samsung are making much money off it.
That is, except Microsoft of course, who counts more than 50% of the handsets sold worldwide as paying it license fees for using its patents.
Exactly how much has remained a mystery however.
"The only people who know are the companies themselves or people with access to sealed court records where disputes have been hammered out," said Carol Jeffries, a Silicon Valley intellectual property lawyer not involved in Android litigation or negotiations. "Industry analysts may have inside sources, but the lists [of names] are short and the odds are long."
Some estimates exist however.  In 2011, Goldman Sachs calculated Microsoft would earn about $444 million in Android licensing during 2012. In 2013 analysis firm Trefis estimated Microsoft pulled in over $790 million on Android royalties during one quarter of 2012 just from HTC and Samsung.
Now Gartner projects of 1.5 billion Android devices sold each year by 2017, which could be a massive windfall for Microsoft.
If Gartner's forecast proves accurate and Microsoft gets an average royalty of $1 per Android device, it stands to generate about $430 million in 2013.
If Microsoft earns an average of $8 per device, that figure jumps to $3.4 billion just for 2013. By 2017 the figure could be almost $5.9 billion. If Microsoft managed to get more OEMs and collect royalties on 75 percent of Android devices sold, by 2017 that could be worth over $8.8 billion.
DigitalTrends suggests this could have an unusual effect – if Android makes Microsoft as much money as the profit from their Server and Tools division now, Microsoft may actually become rather invested in the on-going success of Android.
Do our readers think things are set to become rather complicated at the Microsoft Mobile division? Let us know below.