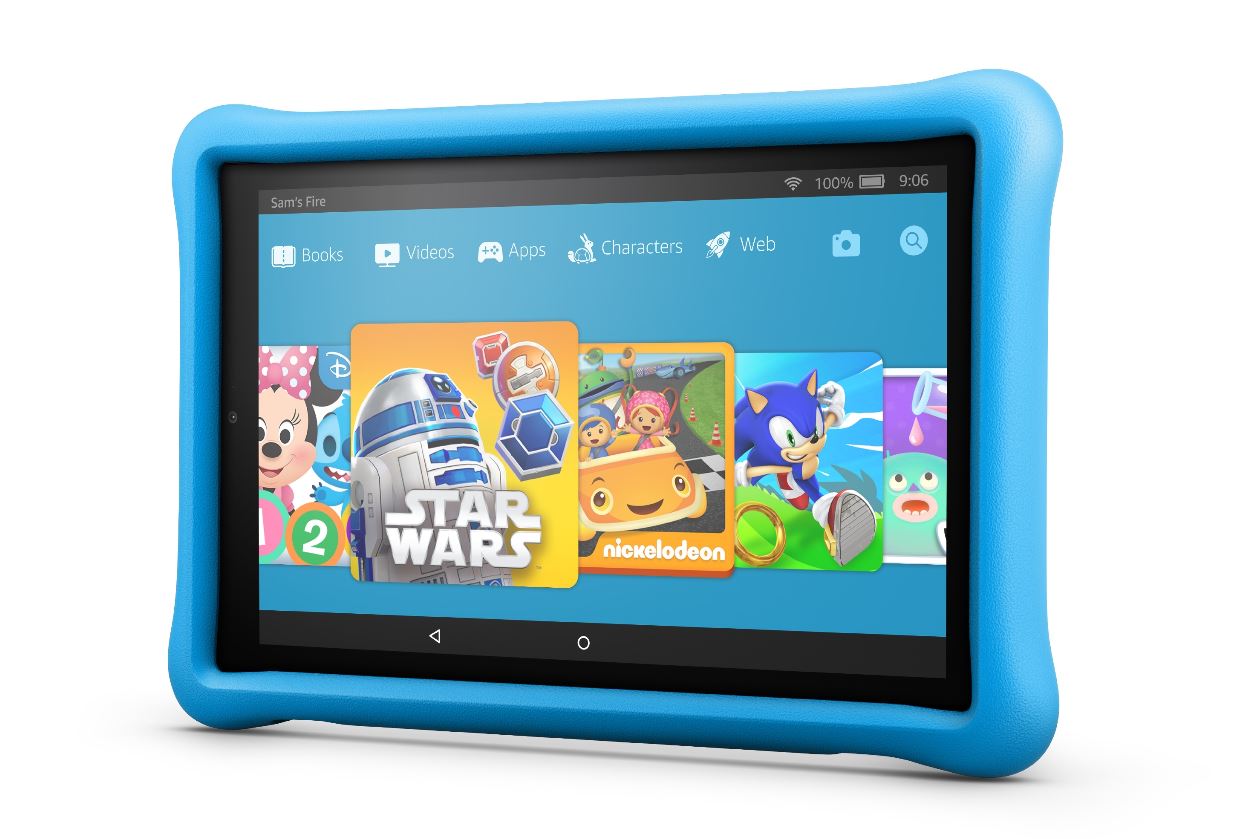 Amazon today announced the all-new Fire HD 10 Kids Edition tablet. This new tablet comes with a 10.1" 1080p Full HD display, a quad-core processor, 32 GB of storage with up to 256 GB of expandable storage via a microSD card, and up to 10 hours of battery life. As you can expect from any Fire Kids Edition tablet, it comes with the following:
A year of Amazon FreeTime Unlimited, which offers more than 15,000 books, videos, educational apps, and games that have been curated for age-appropriateness, plus access to tens of thousands of hand-selected websites and YouTube videos and world-class parental controls—at no additional cost.
Fire Kids Edition tablets come with a kid-proof case available in blue, pink, or yellow, and a two-year worry-free guarantee—if kids break it, return it and Amazon replace it.
After the first year, you can continue your FreeTime Unlimited subscription for $2.99 per month for Prime members and $4.99 per month for non-Prime members. In addition to large library of kids content, Amazon FreeTime offers several parental controls, including:
Weekday and weekend settings—parents can set time limits by weekdays and weekends.
Bedtime—parents can control when FreeTime shuts down for the day and turns back on the next morning.
Educational goals and time limits—parents can set daily limits or restrict certain categories, such as apps and games, while leaving unlimited time for reading.
Learn First—parents can block access to entertainment content until after educational goals are met each day.
Total screen time—parents can choose a set amount of total screen time per day, after which the tablet will shut down for the day.
Age filters—parents can adjust settings to tailor the FreeTime experience for each child and ensure the content their kids are viewing is age-appropriate for them.
Add or remove content—parents can add titles from their own content library into FreeTime, or choose to remove unwanted FreeTime Unlimited content.
Enable the web browser—parents can choose to enable or disable the kid-friendly web browser within FreeTime.
The new Fire HD 10 Kids Edition is available for pre-order starting today for $199.99 here and starts shipping July 11.