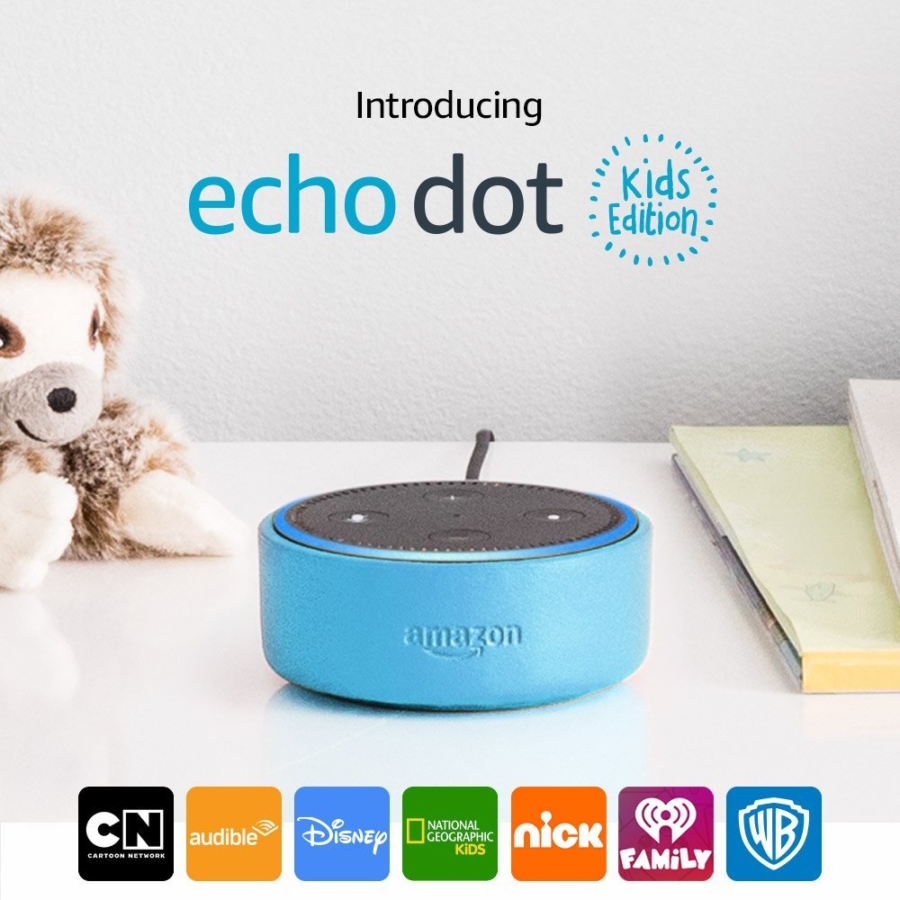 Amazon has just unveiled another device in the Echo lineup. The new Echo Dot is similar to the existing Echo Dot but is aimed at Kids.
The new Echo Dot comes in more colors than just Black and White and is also sturdier than the regular device. Also, Amazon is introducing a new entertainment service with the new Echo Dot. Called FreeTime Unlimited, the subscription will cost you extra $2.99 per month even if you have Amazon Prime. However, Amazon is offering a free 1-year subscription to FreeTime Unlimited with the purchase of Echo Dot. The major highlight of this device, however, is the fact that it carries plenty of parental controls for the parents. You can head below to take a look at all the parental controls built-in Echo Dot:
Time Limits – Set bedtime time limits to protect against kids talking with Alexa late into the night, or simply pause Echo devices for dinner or homework time.
Parental Controls – Use the Parent Dashboard and Alexa app to choose which services and skills kids can use, turn off voice purchasing, and more.
Block Explicit Songs – Both in the Alexa experience and FreeTime on Alexa experience, parents with Amazon Music now have the ability to filter playback of songs with explicit lyrics, and we'll continue to add compatible music services to this feature over time.
Activity Review – Parent Dashboard allows parents to see their kid's FreeTime on Alexa activity, plus review their voice recordings in the Alexa app.
Magic Word – The new Magic Word feature offers positive reinforcement when kids use the word "please" while asking questions of Alexa.
Educational Q&A – Kids can ask Alexa questions about science, math, spelling, definitions, or any other topic that piques their curiosity. Since Alexa is built in the cloud and always getting smarter, she'll continue to learn new information every day.
Alexa Speaks "Kid" – Alexa has age-appropriate suggestions at the ready, all kids have to say is, "Alexa, I'm bored." Kids can also ask for knock-knock jokes, ask Alexa for a song, and more. The more they use Alexa, the smarter she will get.
Household Communications – Gone are the days of shouting up the stairs for the kids to come down to dinner. FreeTime on Alexa allows for household announcements, calling, messaging, and Drop In within the home.
Amazon Echo Dot will cost you $79.99 and will include one year of FreeTime Unlimited service, two years of worry-free guarantee, and a kid-friendly case. You can pre-order the device starting today from Amazon. The company will ship the device to customers from May 9.
Via: BGR