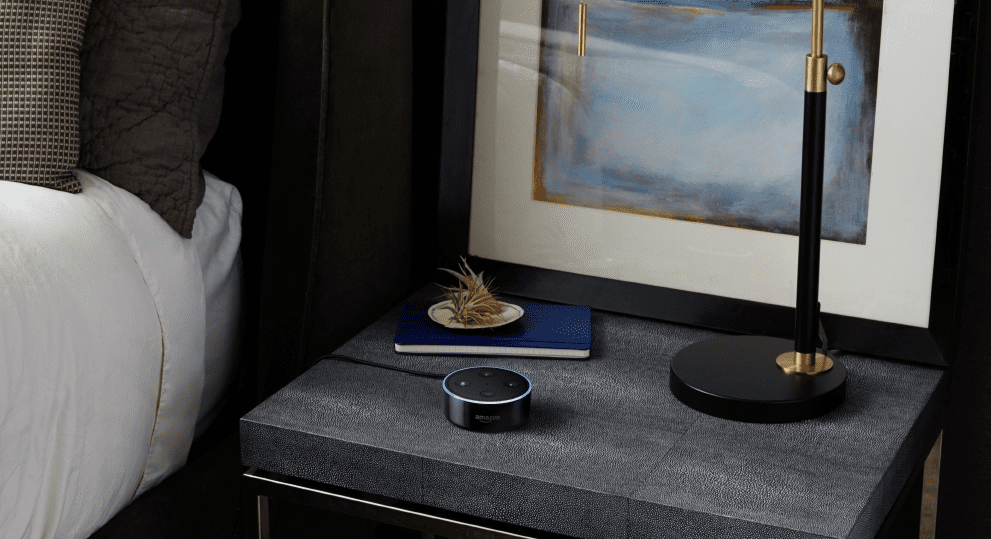 Amazon today announced a new program called Alexa for Hospitality that will bring Alexa to hotels, vacation rentals, and other hospitality locations. Amazon is partnering with major hospitality providers including Marriott International to place Echo speakers in guest rooms. Marriott is rolling out the new Alexa experience at select properties in Marriott Hotels, Westin Hotels & Resorts, St. Regis Hotels & Resorts, Aloft Hotels, and Autograph Collection Hotels starting this summer.
Here's what guests can do with Alexa in their hotel room:
Guests can ask Alexa for information like pool hours or fitness center location, request hotel services like room service or housekeeping, call the concierge, and more.
Alexa can also be configured by hospitality providers to allow guests to control and adjust in-room devices like lights, thermostats, blinds, and TVs to their individual preferences or ask Alexa to play music from popular services including iHeartRadio and TuneIn.
Guests can also be given access to thousands of Alexa skills to check airport wait times, play games, get in a quick guided workout, play white noise to help them fall asleep, and more.
Alexa for Hospitality will also soon support the ability for Amazon customers to temporarily connect their Amazon account to the Alexa-enabled device in their room. Once connected, they will be able to play their personal music from services including Amazon Music, Spotify, and Pandora; and listen to audiobooks with Audible. When a guest checks out, Alexa for Hospitality will automatically disconnect their Amazon account from the in-room device.
To make Alexa work great with large number of hotels, Amazon has designed Alexa for Hospitality to work with existing hotel technologies. It works with a range of existing hospitality solution providers like DigiValet, Intelity, Nuvola, and Volara. Alexa for Hospitality also works with popular guest room entertainment providers including World Cinema and GuestTek for voice control of TV experiences, and in-room control of connected devices using Crestron and Inncom by Honeywell.
You can learn more about this new program here.