We live in a world where first impressions are made online, so your profile picture significantly influences how others perceive you, especially if they don't know you personally. Whether you're trying to create a perfect profile picture for your LinkedIn profile, social media accounts, or online gaming avatar, having an eye-catching profile picture can significantly improve your experience.
That said, AI has permeated almost every aspect of our lives and is expanding exponentially, so why not take advantage of some of YouTube's best AI image generators? Or, if you want to revamp your home, employ an AI generator for interior design to simplify the process and get a helpful preview of what you're creating. You can also design entire buildings using AI, so endless possibilities exist.
As not everybody has experience using sophisticated photo cameras or creating high-end photo edits, a good AI profile picture generator can help. This guide will explore some of the best options on the market, so try them all out to find the best match for your needs!

The Fotor Profile Picture Generator is an excellent blend of creativity and cutting-edge technology. This app enables you to use an extensive range of filters and effects, allowing you to customize your photos no matter where you plan to use them. Whether looking for vintage, artistic, or modern styles, you can explore all these and more inside Fotor.
You can easily upgrade your profile photo with Fotor in just a few clicks. Thanks to the user-friendly UI, you can effortlessly experiment with numerous enhancements until you get the desired outcome. Fotor allows you to either emphasize your flair or leave a lasting impact. With Fotor AI Profile Picture Generator, you may wave goodbye to boring profile pictures and explore countless creative options.
Above, you can see some different styles that you can use with the Fotor Profile Picture Generator, and as you can see, the quality is exquisite.
Pros
Wide range of filters and effects
User-friendly interface
Encompassing style database from vintage to modern
Cons
Some users might be overwhelmed by the broad spectrum of styles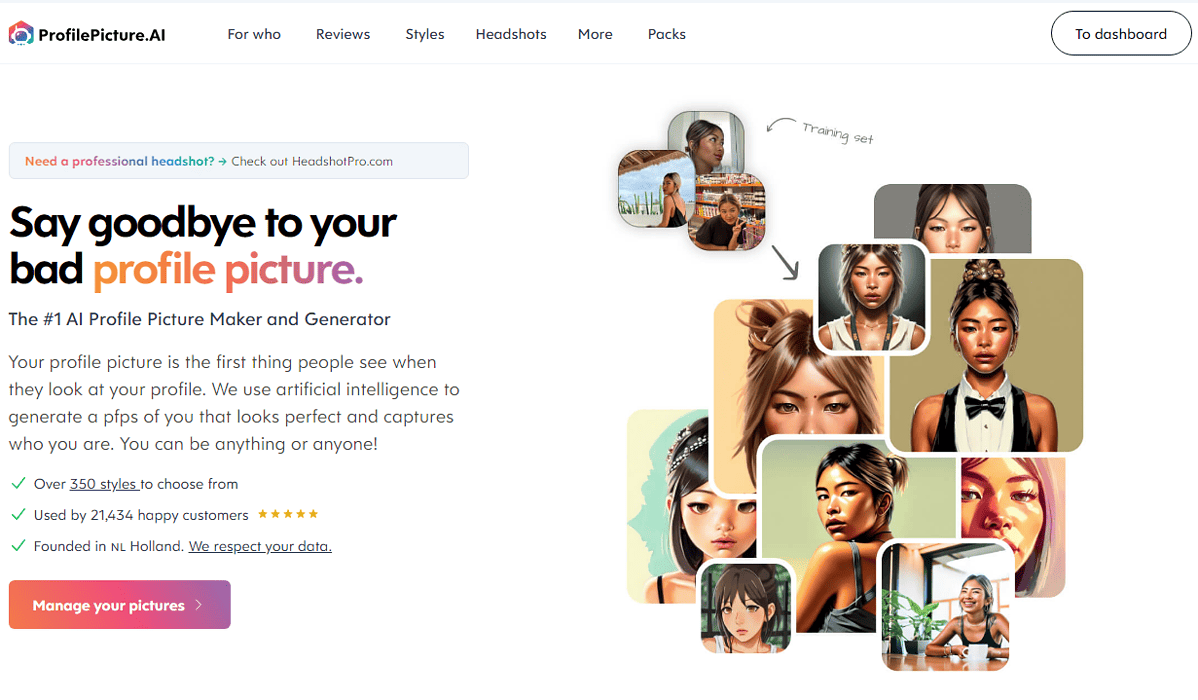 ProfilePicture.ai transforms your photos into unique, high-quality portraits that you can use to improve your online presence. This AI-powered app was designed to bring out the best features in your images and offer an easy way to create professional profile pictures from any picture.
Whether you want to update your LinkedIn profile or improve your social media presence, this app has covered your needs. The advanced skin tone adjustments and background enhancements this app provides will surely take your profile pic to the next level.
Above, you can see a series of photos that other users designed, and the results are incredible! The app can modify your face, change the background, change your clothes, and even add elements that were not in the picture, thus providing you with unlimited customization options.
Pros
Specialized in high-quality portraits
Advanced skin tone adjustments for a natural appearance
Useful background enhancement features
Cons
The price is more accessible than the previously-mentioned software
3. HeadshotPro – Best Overall AI Profile Picture Generator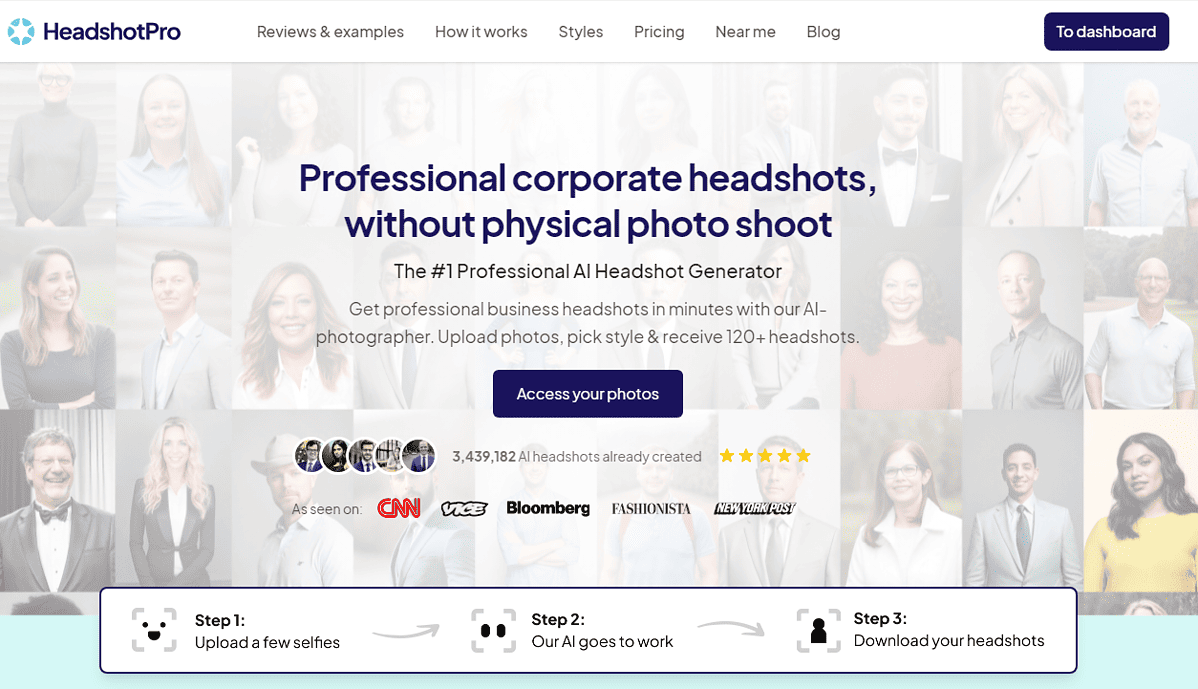 HeadshotPro is the go-to choice for people who must improve their profile pictures to reach professional standards. This powerful AI software offers valuable features designed to improve your photos quickly.
With this powerful app, you can forget about background clutter, as it is one of the best tools to remove this element, providing you with a clear and polished look. The software also helps with skin retouching requirements, thus ensuring that the results look natural and exclude imperfections.
This app stands out because it can enhance facial features, add custom lighting, and even brighten your eyes. If you are searching for a professional-level profile picture AI creator, then you've found the best one!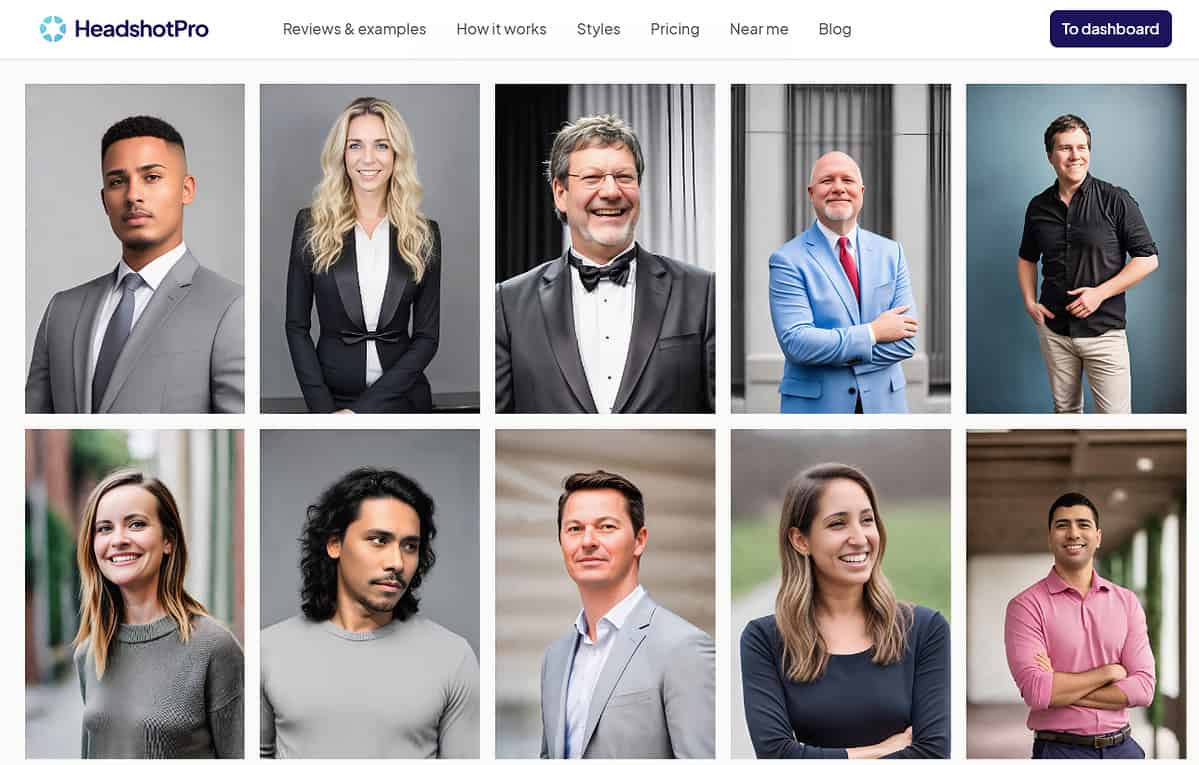 In the picture above, you can see a set of professional-looking profile pictures created with this app, so don't hesitate to try it out now and revamp your online presence.
Pros
Professional-level enhancements
Versatile features, including background replacement and facial feature enhancements
User-friendly interface
Cons
While the quality is high, the premium features come at a higher cost than most similar apps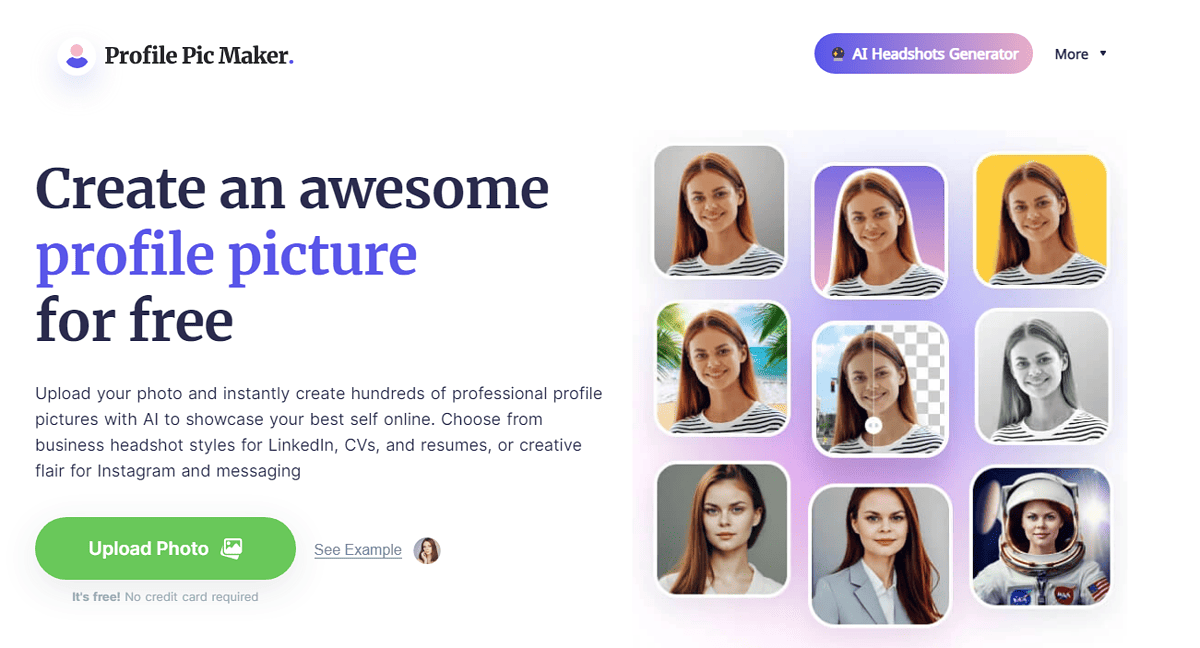 If you want to make your profile image look classy and charming, use Profile Pic Maker. This app specializes in enhancing your pictures with subtle yet profound adjustments. It takes your standard photos and creates profile pictures that exude class, professionalism, playfulness, and fun.
This makes Profile Pic Maker from other apps on this list – the results are incredibly varied, and you can choose from a wide range of customizations. After selecting the perfect background for your profile pic, you can customize the image even more using the built-in image editor.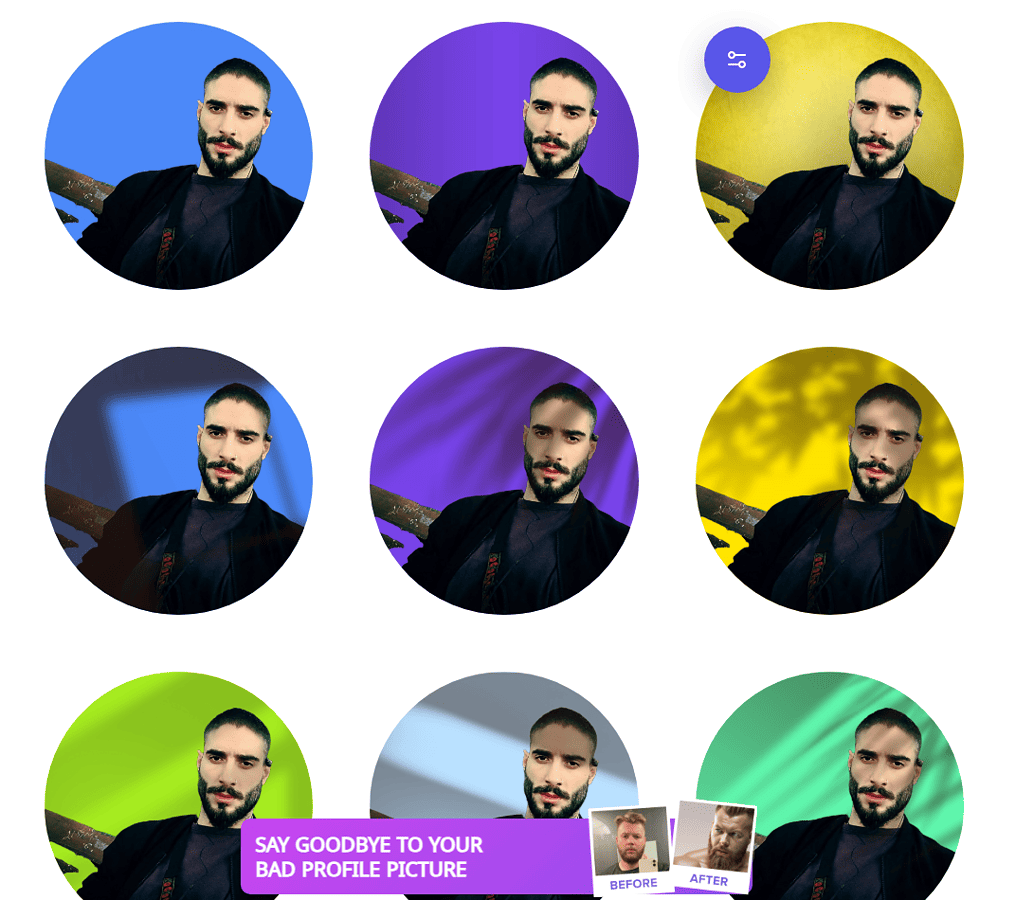 As you can see from the image above, the effects are varied and include great customization options, but even more are presented with more varied backgrounds and lighting effects.
Pros
Extremely simple to use, perfect for quick and straightforward improvements
Results are good quality if the source photo is clear enough
Cons
It doesn't include the level of advanced features of other similar apps
5. Picofme.io – Customized Profile Picture Creator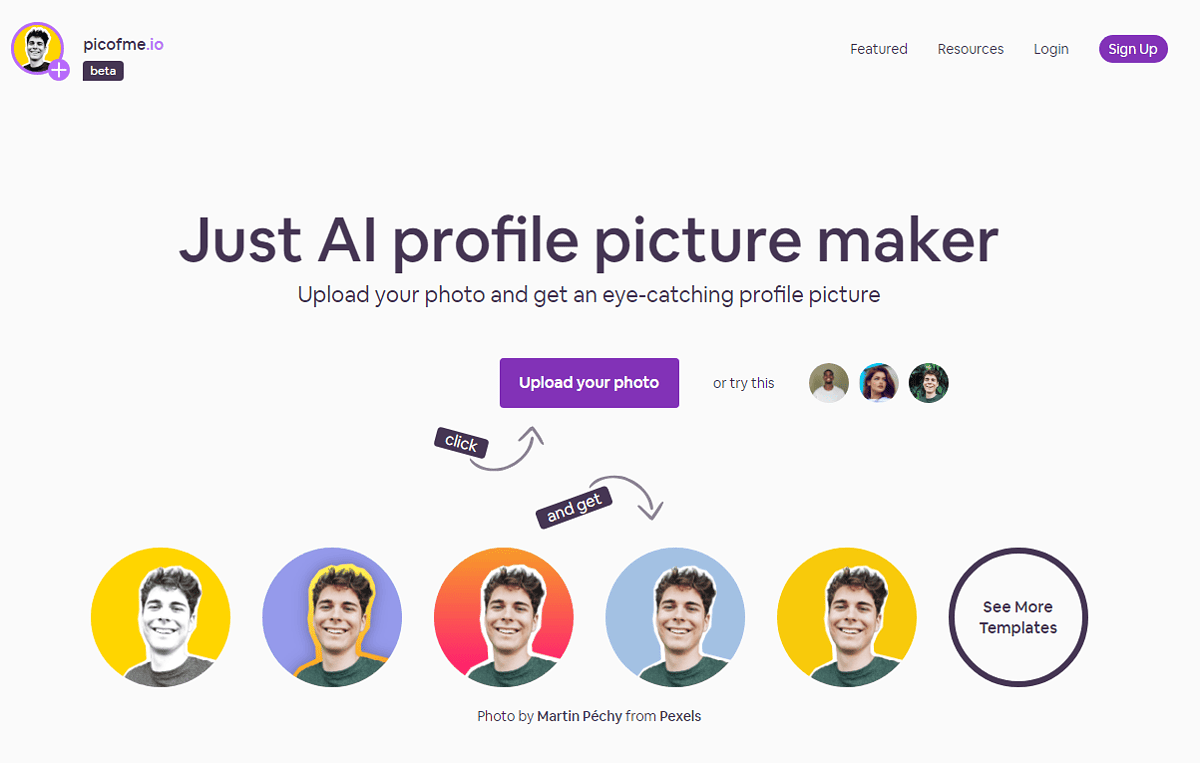 Picofme.io adds a whole new degree of personalization to profile picture improvement. To perfect every element of your photo, use this software's wide variety of settings. Picofme.io gives you complete control over your profile photo, allowing you to make fine color tweaks and facial feature upgrades.
Besides being completely free, the Picofme.io app ensures you have various backgrounds and other effects. As you can see below, you can choose your preferred canvas shape and then scroll through the effects.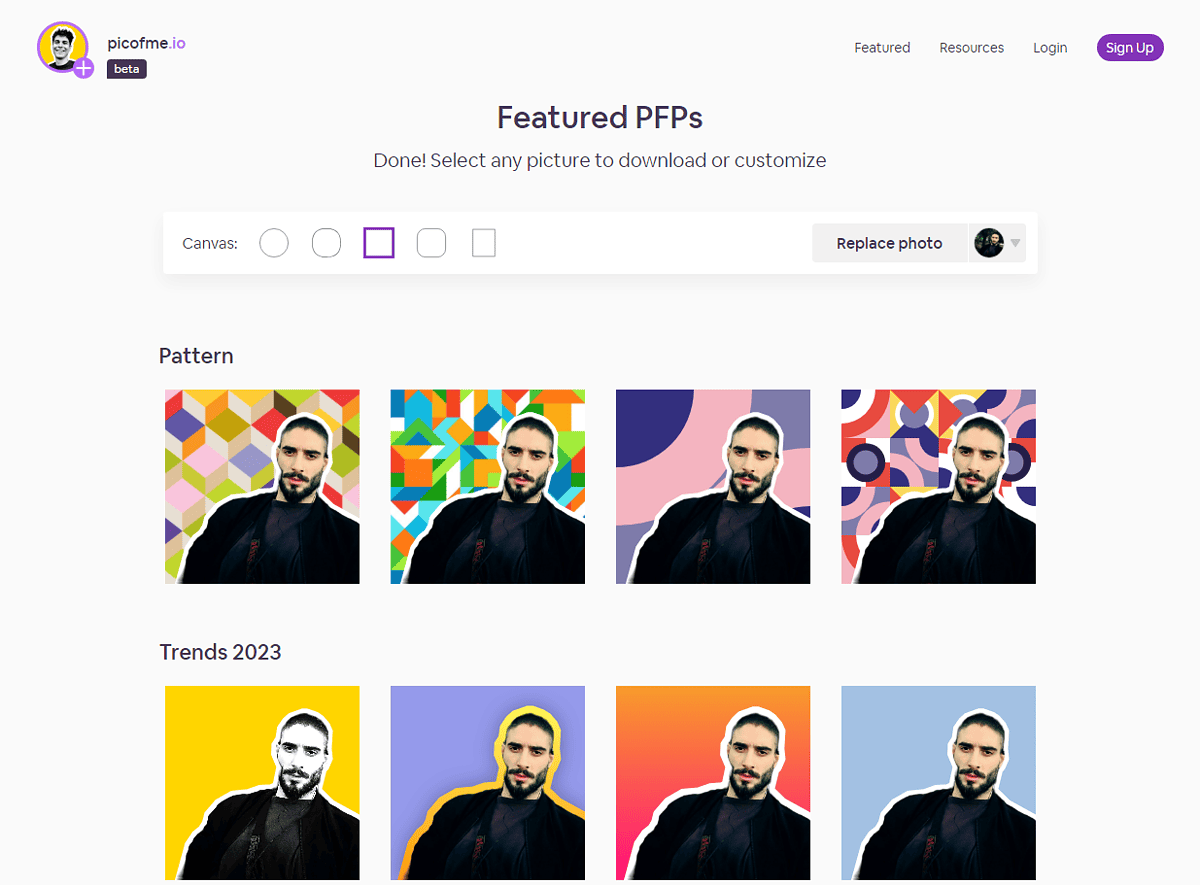 This is one of the most accessible profile picture generators on the market. Still, it is worth noting that it only occupied the 5th position in our guide because of how inaccurate the background replacement is. In the picture above, a side of my face was removed, as it was integrated into the background and disappeared.
Pros
Wide range of customization options and result styles
Ensures that you can create the perfect profile picture for your brand/online profiles
Cons
The background replacer is not as well-calibrated as other options
How do I create an AI-generated profile picture?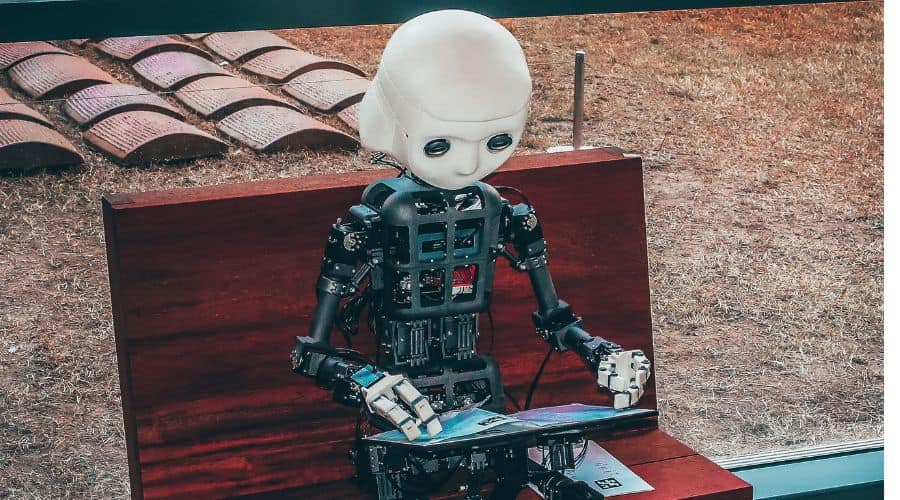 To create an AI-generated profile picture, you will need to follow these simple steps:
Choose and open the AI profile picture generator you want from the list above.
Create an account on the official website and confirm your email.
Upload the photos required to generate an AI profile picture for your accounts.
Click Generate or any similar button and wait for the AI-powered app to process and generate your profile pictures.
Download the profile picture to your PC.
---
Elevating your online presence has never been easier. You can now get all the help you need from one or all of the best AI profile picture generators.
You now have all the tools to turn ordinary photos into captivating profile pictures for any online account. If you want to expand your capabilities even more, you can explore some AI image generators for clothing brands to stand out from the crowd, even in real life.
Choose the one that suits your style from the list above, and share your choice with us by using the comment section.