An AI image generator for interior design serves as a valuable tool for designers worldwide. It offers various features to visualize endless concepts and turn them into reality. Combining your inspiration and creativity with effective AI tools creates stunning designs for your homes.
However, it is critical to identify your requirements and pick an AI image generator having the capabilities to cater to your specific needs. Reach the peak of imagination by making use of the best AI image generators for interior design reviewed in this article.
1. DreamStudio — Best AI image generator for interior design overall
DreamStudio is an AI image generator developed by Stable Diffusion that uses natural language processing techniques and provides users with desired designs. It allows designers to unleash creativity by experimenting with various templates and image formatting tools. The easy-to-use interface only requires you to enter a description of your design and get stunning results.
Moreover, DreamStudio AI offers different tutorials and prompt guides to help you throughout the design process. This AI tool generates high-quality images for your interior designs and allows for visual expression. You can also make use of negative prompts and eliminate any element you do not prefer in your design.
Customize and edit your generated design by adjusting settings such as image strength or combine a prompt with an image reference for a more specific result. This platform can be accessed via a Google account, Discord, or email. Make realistic adaptations of your room by using the options offered by DreamStudia AI.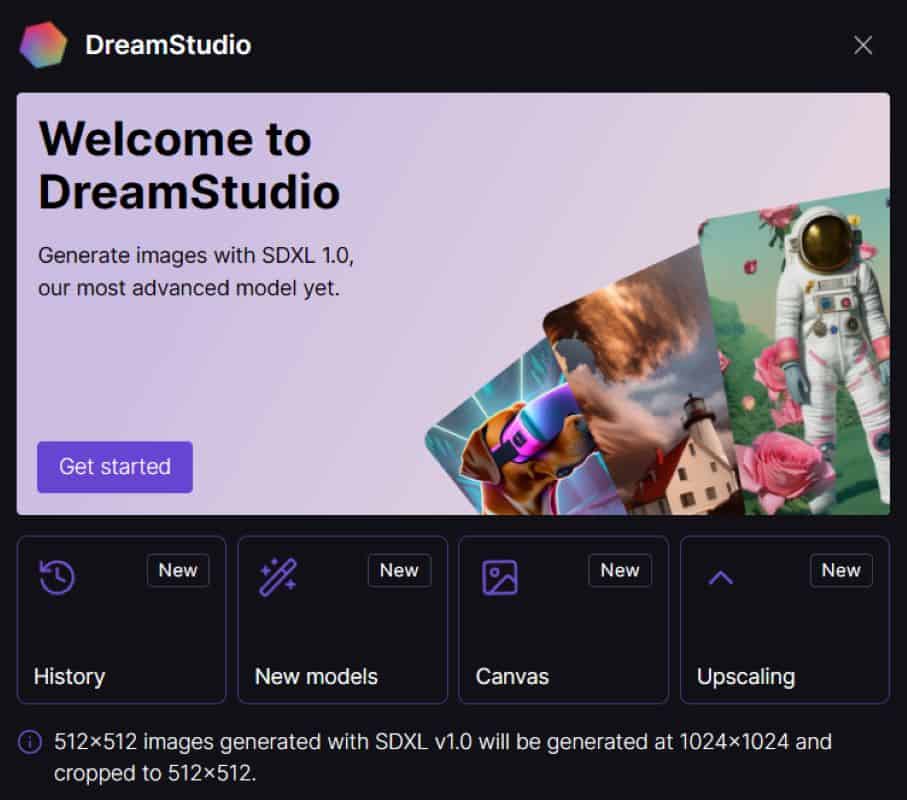 2. OpenArt — Best for Wide Style Exploration
OpenArt is another big name in the Artificial Intelligence industry that helps numerous artists and designers create the designs of their dreams through a simple process. This AI uses cutting-edge technology and allows users to express their creativity and imagination as well as upload their own designs.
So, if you're looking for inspiration, you can check out their Discover page or Prompt book to generate specific interior designs. Moreover, it gives you access to countless templates and libraries to explore your style. This platform integrates with Adobe tools and effectively generates smooth results to streamline your interior designing process and create layout plans.
You can easily edit your designs using the negative prompt option and choose from different AI models. Opt for image-to-image generation or make use of OpenArt's ability to comprehend artistic prompts and turn your dream designs into realistic plans. Experiment with a wide range of settings and options to maximize the quality of the outcome using OpenArt.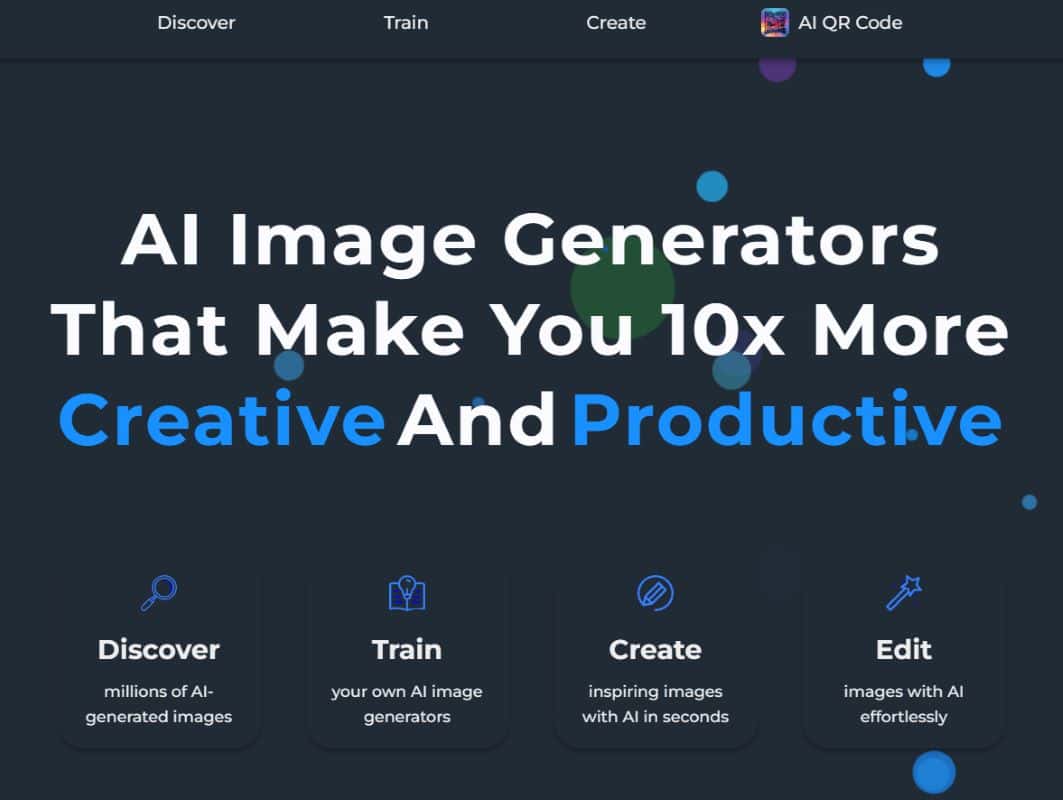 3. Bing Image Creator — Best for Incorporating Real-World Resources
The Binge image generator by Microsoft is based on the Bing search engine. It uses advanced AI algorithms to create realistic renderings and interior design plans for users. This platform offers designers plenty of resources and ideas, collecting information from the internet, images, articles, and incorporating them into your specific design.
In addition, this AI image generator focuses on your style and preferences and keeps you updated with the latest trends. Its integration with other Microsoft products enables designers to create presentations and simplify the whole planning process. 
By processing natural language descriptions, Bing image generator produces an image of your interior design accordingly. Simply enter your requirements in the form of a prompt and wait for your designs to be articulated. You can also modify the visuals provided to fit your needs.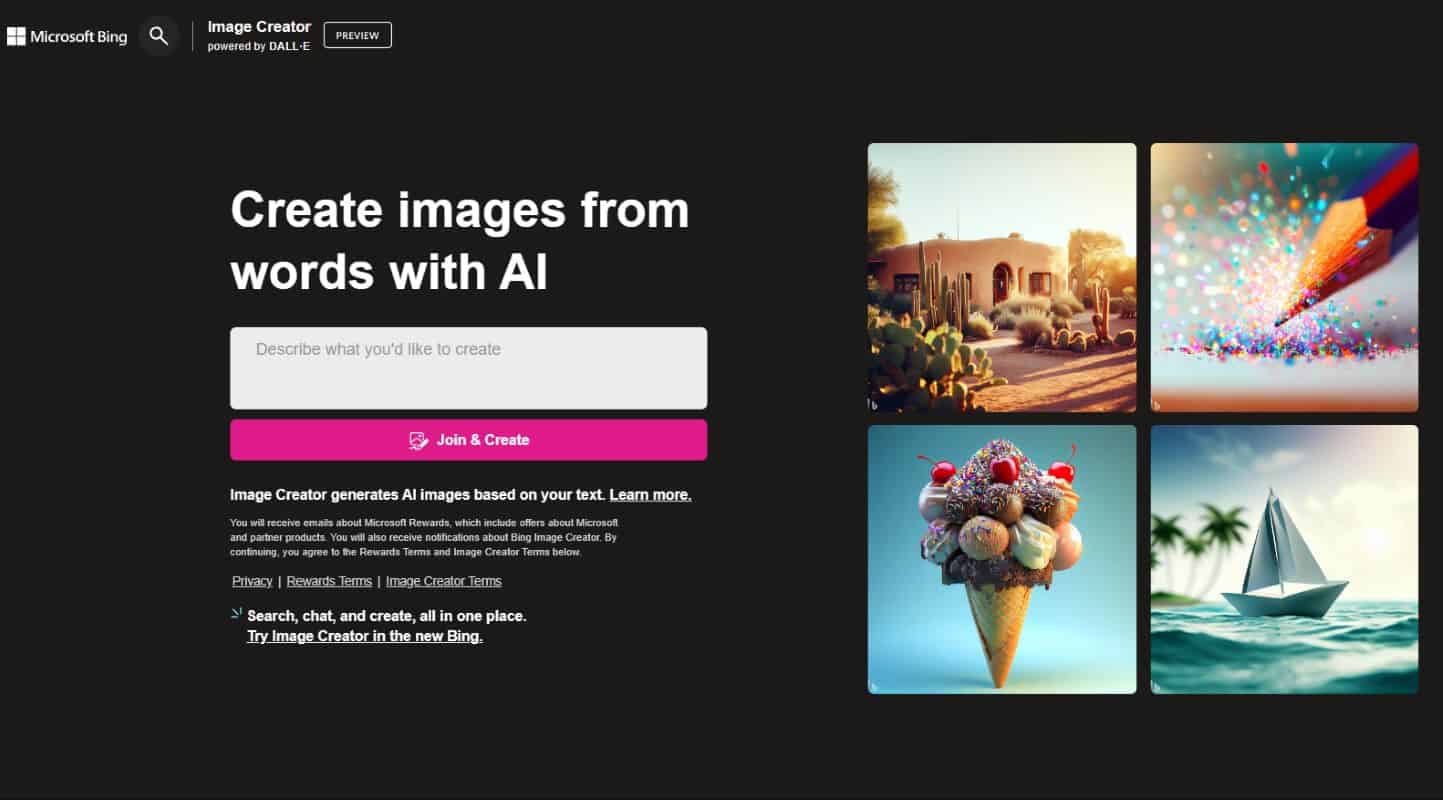 Microsoft prioritizes user's safety; hence this AI tool ensures to block any harmful image or prompts that could lead to unsafe image generation. Therefore, this AI image generator provides a safe environment for designers to express their creative style without compromising on quality and delivers highly efficient results.
4. Diffusion Bee — Best for Tailored Design Generation
By making use of deep learning algorithms, Diffusion Bee is an artificial intelligence tool offering text-to-image and image-to-image generation for your interior designs. After providing the AI sufficient data required to create a design tailored to your specific needs, this AI image generator will work wonders to generate the desired results.
Diffusion Bee pays attention to your preferences, that is, the size and layout space of your design as well as its theme. Moreover, you can maximize the design outcomes by having clear knowledge about the functioning of this software. This platform can be accessed offline, allowing you to continue creating at any location.
Diffusion Bee also enables users to edit their design renderings using various options such as In-painting, Out-painting, or Upscaling. For more specific high-quality results, you can configure the default settings and alter the height or width to produce the images of your choice. 

5. RoomGPT — Best for Quick and Efficient Design Recommendations
This AI-powered tool for interior design can help create thousands of customized plans. RoomGPT is based on the GPT-3 model, hence it is able to process a wide range of requests and creates realistic responses. It comprehends simple language, allowing users to enter descriptive prompts to achieve their desired results.
RoomGPT serves to be a highly productive and time-saving solution for designers as it uses previous data to align with your preferences and creates stunning designs. It has an easy-to-use interface and allows users to explore multiple themes all the while providing design recommendations. 
Simply upload your style and obtain a rendering according to your preferences. Furthermore, RoomGPT provides many features leading to quick and efficient results of your designs. Turn your simple room into a stunning space by adding all sorts of colors and furniture, and experiment with different layouts offered by this AI.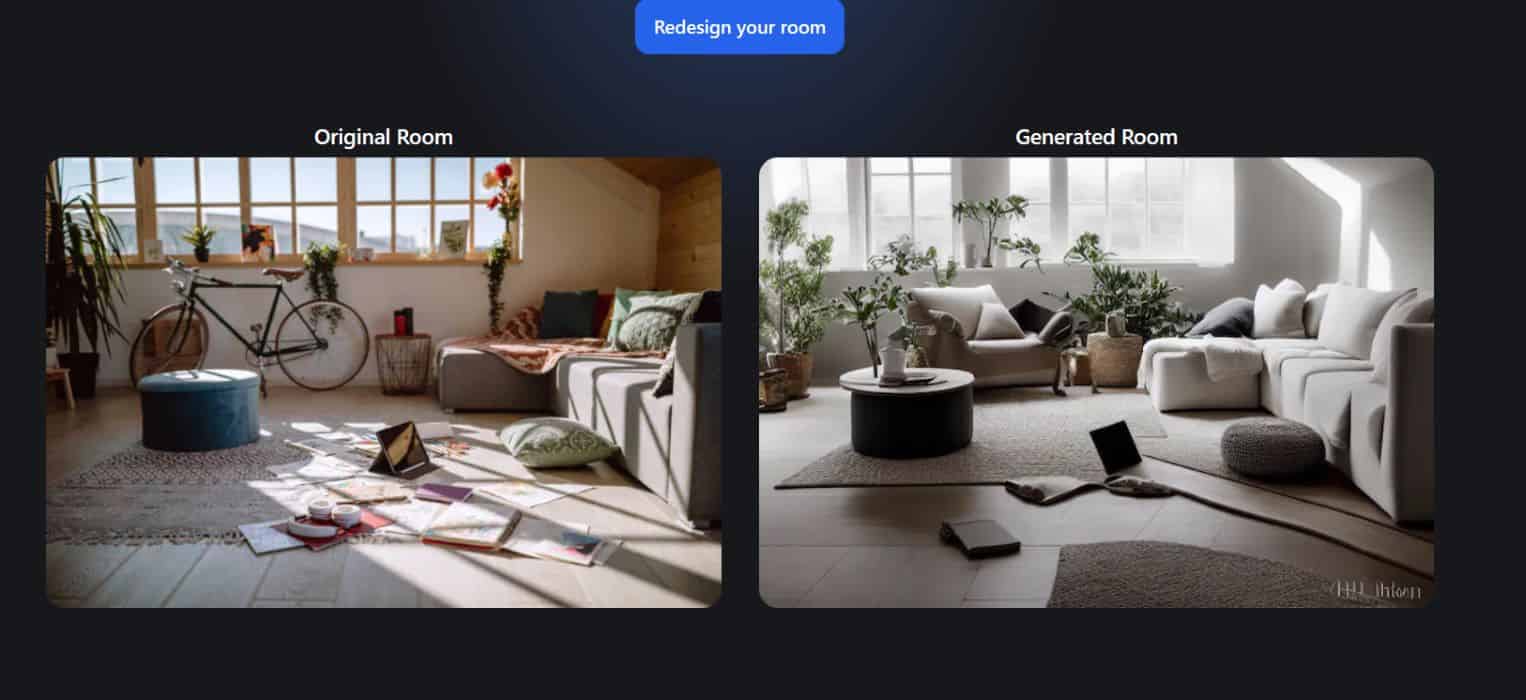 Conclusion
By incorporating AI techniques into your design process, you can simulate striking concepts that revolutionize the interior design field. All the AI image generators in the article give you access to a plethora of tools and features to efficiently design like professionals. 
Moreover, add innovation by exploring various themes and styles offered by any of the mentioned AI image generators for interior design. Be clear about your requirements and make your dream home a reality!