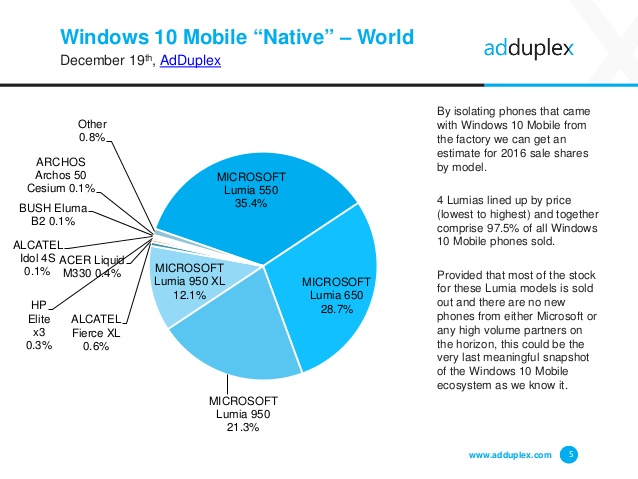 AdDuplex has released the last set of statistics showcasing trends in the Windows platform for 2016. As usual, there is a look that the growth and development of Windows 10 Mobile in the market, and for the first time in a while, we get a look at the Surface line.
As has been covered earlier, Microsoft has abandoned making hardware for Windows 10 Mobile with the last notable hardware in this space released over a year ago and the last Lumia – the Lumia 650 – coming out in February of this year.
AdDuplex also notes that there are no other high volume traders partners making meaningful pushes for Windows 10 Mobile market share. What this means is that for Windows 10 Mobile – this is as probably the last time we will get to see exactly how much users value niche devices like the Elite x3 and so on. This is because without a massive sample size provided by the Lumia line, knowing that the flavour of the day phone clocks in at 10% in Uruguay becomes a meaningless stat.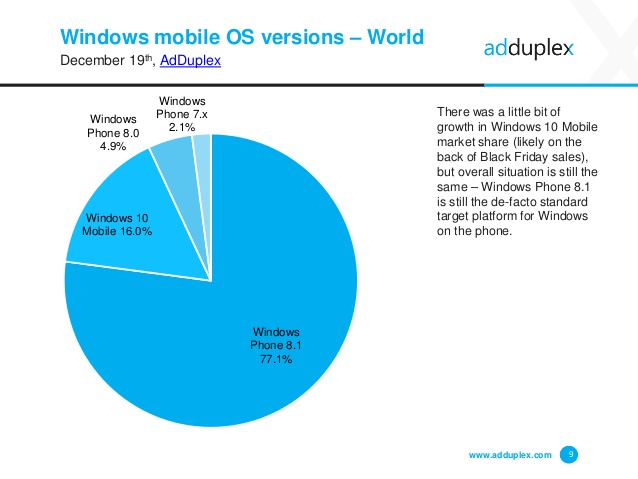 In other news, 16% of Windows (phone/mobile) users are now on Windows 10 Mobile, with 77% remaining on Windows Phone 8.1. The slight bump in market share comes from old users finally moving on to other modern smartphones, and a slight sales bump from all the deals Microsoft has been running during the Black Friday shopping season.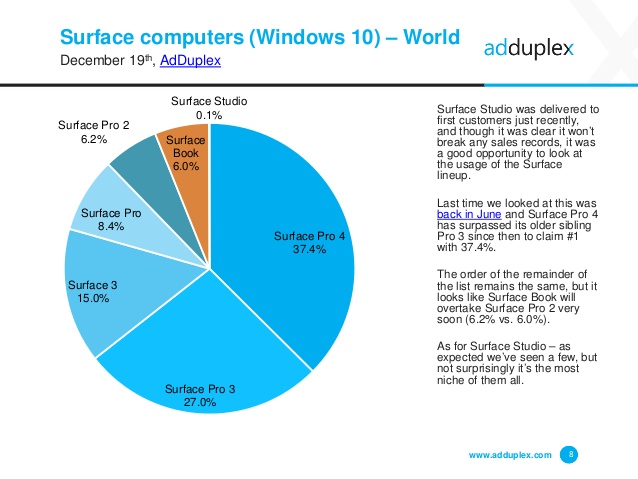 As far as the Surface Line goes, the usage spread across devices comes across as expected. Microsoft's Surface Pro 3 and 4 take up over 54% of Surface sales, with the Pro 4 now the most used Surface device with 37.4%.
While the Surface Book and Surface Studio occupy the lowest positions on the chart, with the former coming in at 6% and the latter coming up as just 0.1%. It should go without saying that those are the most expensive Surface devices and are overkill for the vast majority of people, their respective market shares are entirely appropriate.
While AdDuplex also shares more stats on the overall worldwide market share of both Windows 10 PCs and Windows phones as a whole as above, much of it is the same as the last time we checked.
Do you have any thoughts on the latest batch of stats? Let us know in the comments below.