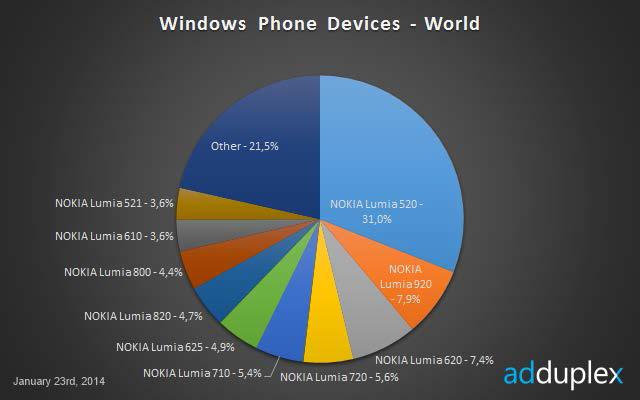 In many ways it seems developing handsets is like making movies or TV shows – you create a wide range of products in the hope that one or two of them will be successful enough to sustain the company through the next cycle of doing the same.
While the Nokia Lumia 520 was the one Nokia smartphone to stick to the wall in 2013, that handset is now fading, and another Windows Phone has to take up the reins for the OS to grow.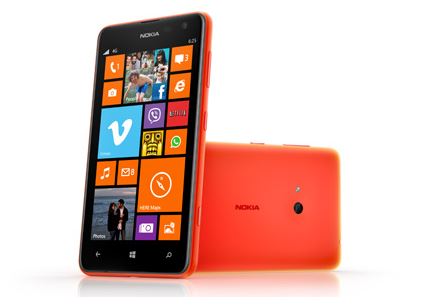 From this month's AdDuplex data is appears that handset is the Nokia Lumia 625.  The Nokia Lumia 625 (which has a 4.7 inch WVGA screen and 5 megapixel camera)  at 4.9% of all Windows Phones is currently the 6th most used Windows Phone, having grown 0.4% in the last month and climbing 2 spots, while the flagging Nokia Lumia 520 only gained 0.2% share.  In UK the handset grew from 2.8% and 10th position 2 months ago to 6.4% and 4th position this month, while in France it is now second place with 9.5%.  In Italy it is now 5%, double its share from a month ago, and in India it has 7.1%
That is not to say Nokia's higher end handsets are doing completely terribly – AdDuplex notes that there appears to be more Nokia Lumia 1520's than 525's, a surprise finding for what was meant to be the 520 successor.
AdDuplex also has some insights into unreleased handsets,with the Nokia RM-997 appearing to be a low-end WVGA handset running WP8 for China.
More interesting is the Samsung SM-W750v, which is a 1080P handset with an amazing 4.3 inch screen.  Unfortunately that handset is confined to Verizon's network, which seems rather unfair considering the carrier is already getting the 5 inch 1080P Nokia Icon.
AdDuplex will publish their full report tomorrow.