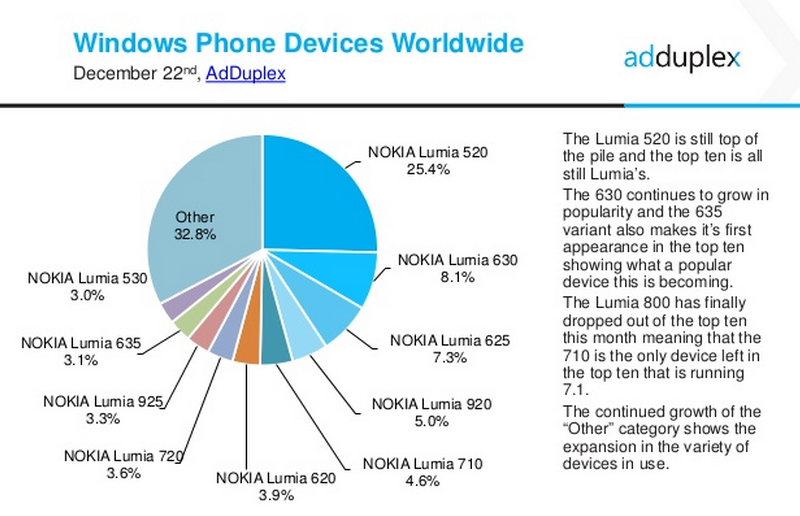 AdDuplex have posted their monthly survey of devices running their cross promotional ad network.
Today's report, from data taken on the 22nd December, has two themes.
One is the rise and rise of the Lumia 63x series, which together now make up 11.2% of the market, or if (roughly) converted to actual numbers more than 5 million handsets.  The increased prominence of these handsets are also worldwide, including areas as disparate as USA and India.
The other interesting element is the rise of the "other" section, which rose from 23.2% 6 months ago in June to 32.8% now.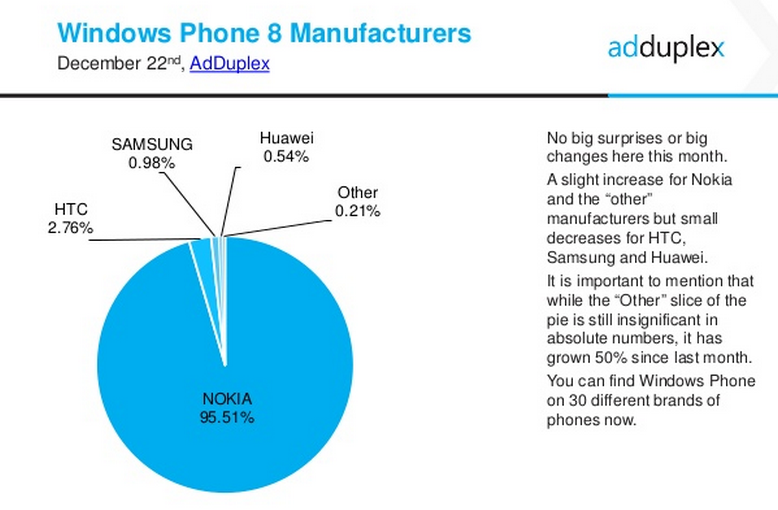 Unfortunately this is not due to the success of Microsoft's OEM strategy, as that is still a tiny 0.21% or less than 1 million devices in use (though AdDuplex notes this has doubled).
In fact Nokia/Microsoft Mobile has increased its share of the OEM pie once again, to 95.51%, meaning that Microsoft Mobile' very wide range of devices are almost all seeing traction, and there may be some benefit to their shotgun strategy of a device for each pricing level.
There are however 30 different OEMs active at present, meaning 27 are competing for 0.21% of the pie. This can not be seen other than as a failure of Microsoft's low cost OEM plans, which more or less pay OEMs such as Xolo to sell branded but generic Windows Phones.
On a brighter note AdDuplex has detected a new LG Windows Phone, the LG LGVW820.
Unfortunately the 4.7 inch device only has a 480×854 screen, indicating a low-cost handset, and has so far only been seen in Korea, so we have no indication where and when it will hit the market.
Given Microsoft Mobile's dominance of their Windows Phone market, do our readers think Microsoft should stop wasting their energy on pursuing new low-cost OEMs?
See the full report embedded below.