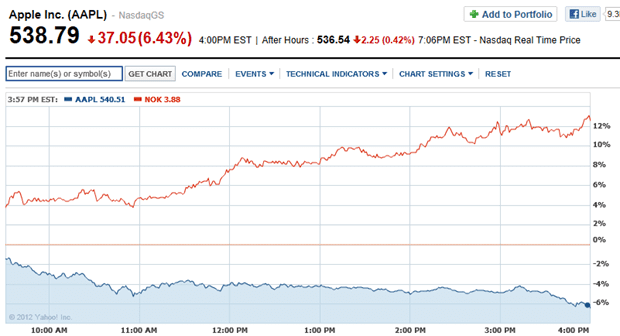 Apple share holders did not have a good day today, with the company losing $35 billion in value today on fears that its margins are being squeezed, that it is losing tablet market share, and crucially that the company was edged out by Nokia in negotiations to have their smartphone released on China Mobile, the world's largest carrier with 700 million subscribers.
Nokia today announced that they will be releasing their flagship, the Nokia Lumia 920T, on China Mobile's network before the end of the year.
Meanwhile Apple will be selling their iPhone 5 on the much smaller China Unicom and China Telecom.
"Nokia announced that they are launching one of their Lumia phones with China Mobile, and there was some hope that Apple would launch their iPhone on that network," Gus Papageorgiou, an analyst with Scotia Capital Inc. in Toronto, said in an interview.
While the iPhone has become Apple's profit centre recently, more bad news has been that consumers are increasingly opting for cheaper models, such as the iPhone 4 and 4S instead of the 5, and the iPad Mini instead of the more profitable iPad.  It seems Apple, who previously could do no wrong, is developing an increasing crisis of confidence in the market, with its share price more than 23% down from its September peak.
Nokia on the other hand is hitting a 6 month high, with its after hours price hovering around $3.90 at the time of writing. Good news include its China Mobile deal, and the release of the cheap mid-range Nokia Lumia 620, which should bring significant volume to Windows Phone 8.