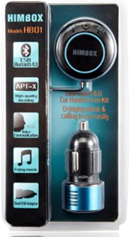 We have been given the opportunity to do a review of the HIMBOX HB01 Bluetooth Car Kit.
The Bluetooth 4.0 device lets you add A2DP and Cortana/Siri support cheaply to your older or less well specified vehicle.
The carkit plugs into the charger and a 3.5mm headphone jack in your car, and pairs easily via Bluetooth with your phone.  It uses the A2DP and Voice profiles.
What's in the box
In the box you will find the Bluetooth Car Kit, a Car Charger with Dual USB power port (one 1A and one 2A), an adhesive and magnetic base of the car kit, the user manual and a one year warranty card.
Installation
Installing it is easy, merely involving plugging in the USB charger and cable into your power port, the 3.5 mm headphone end into your audio port and mounting the adhesive/magnetic base to your fascia. The cables are thin and should be easy to conceal.
The length of the 3.5mm headphone cable is somewhat short, but was able to reach my port in the glovebox of my car. The cable for the car kit is much longer, and should let you place the actual control unit and microphone conveniently.
The car kit is mounted using an adhesive disc which then attaches magnetically to the kit.  Unfortunately the 3M adhesive was not that strong and came loose fairly easily. This should however be easily solvable by using another adhesive pad in its place.
How does it work
In terms of functionality, the kit worked exactly as advertised.  It streamed music flawlessly with good volume and quality via A2DP, and a long press on the main control button did activate Cortana.  The other transport control buttons let you advance to the next track or move to an earlier one, and a long press on the same buttons raised or lowered the volume (though your normal stereo controls are probably better for that).
There was only a few issues. One is that it does seem to require you to raise your voice to heard by Cortana, but that may have been due to my placement or other local issues. The other is that Cortana is activated by a long press on the main control button, and if you press too long the car kit will enter pairing mode and disconnect from your phone.
See a quick demo below.
Conclusion
The iClever Himbox HB01 only costs $35.99 on Amazon.com and delivers very well on the promise of bringing Cortana to your older vehicle.
To me the only flaw was needing to shout a bit, and that the attachment is not very secure out of the box.  These are really minor issues, and at the price I can highly recommend this solution.
The iClever Himbox HB01 can be found for $35.99 at Amazon.com here or for £24.99 at Amazon.co.uk here.